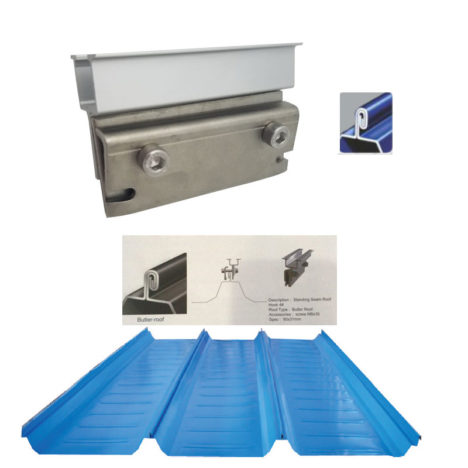 Standing Seam Metal Roofing Clamps SPC-CK-23
Product Type: solar accessory and solar mount for metal roofs

Product Model: Solar-Standing-Seam-Bulter-Metal-Roof-Clamps

Material: Aluminium, Steel

Max Wind Load : 60 m/s

Max Snow Load : 1.4 KN / M 2

Application:  Seam Profile Metal Roofing PV module Installation
Contact by Email
Product Description :
This metal rooftop standing seam clamp is designed for solar panel installation for tin / metal roofing .
The key advantage of our bulter roofing metal clamp is :
You don't need to penetrate metal roofs when installing PV modules, prevent damage of zinc tin roofs,Clamps are reusable if
necessary . In other word, this solar roof brackets attach solar panels directly to standing seam metal roofs without drilling .
Another advantage is : with this solar attachment and matched aluminum short rails, you don't need whole long aluminum rails ,
just by our 12″ long short rails. It can save mounting budget cost pretty well .
They also can be used for fixing signs / satellite dishes, street lamps, snow guard system … besides solar arrays .
Specification & features of standing seam metal roof hook SPC-IK-S04:
– Heavy-duty, non-penetrating structure clamp design ;
– Essential fasten hardware for stand seam roofing tops ;
– Pre-assembled / ready packing to job site is available ;
– Anti rust / anti deform / anti break down with high quality SUS304 & Aluminum components;
– Reduce total solar plant installation costs;
– Cost-optimized short aluminum rail structure ;
– 10 years quality warranty ;
Great & universal PV panel racking bracket choice for your Green power plant project without piercing PV modules .
Contact SolarPartsComponents.com for any questions on purchasing this product & tech supports .
Brief Descriptions :
Solar Mounting Components – Solar Panel bulter roofing metal clamp SPC-CK-23
Item type:
Solar Panel Mounting Clamps
Type :
Mounting Structure Parts
Installation Site :
Metal / Tin Roof
Profile Material :
AL 6005 – T5 Aluminum / SUS 304
Fasten Parts :
Stainless Steel Bolts / Nuts
Color :
Silvery or according to customer requirements
Wind Load :
60 m / s
Snow Load :
1.4 KN / M2
PV Modules :
Framed, Frameless
Module Orientation :
Portrait and Landscape
Standards :
AS/NZS 1170
DIN 1055
GB50009-2012
IBC2009
TUV
JIS C 8955 : 2011
International   Building Code IBC 2009
California   Building Code CBC 2010
Warranty
10 years
Designed Life Span
25 years
Packing Details :
Inner :
Bubble bag+inner box+Carton
Outer :
Wooden Box, Steel Pallet, MDF, etc
How do you install solar panels on a standing seam metal roof?
"How do you install solar panels on a standing seam metal roof? I have PV panel, 4 ft. square.What is your price for Solar Standing Seam Metal Roof Clamps?Thank you."
"Thank you for your inquiry for our Solar Standing Seam Metal Roof Clamps.
Could you please share me more infomation about your solar standing seam roof mounting :
1.  Picture or drawing of your standing seam roofing, this is very import for recommending proper clamp for you.
2. Thickness of your PV panel?
3. What's tile angel or can you explain more about small adjustable tilt mount?
If you have existed mounting picture / design, please share with us.
If you can share me your delivery address, I will come back to you with freight cost if needed."
"Seams of roof are 1 1/2 inches tall, spaced 16 1/2 inches apart. I sent photos of the seam and the panel as the picture shown below:
Frame of PV panel is 2″ thick.
The tilt angle of the roof is approx. 10 degrees – very low angle shed roof. I need to be able to raise the panel angle to approx. 60 degrees for the winter, or maybe more.
Delivery would be to zip code 78879. Price?"
"Well understanding.I have send our qotation about your solar panels standing seam roof mounting through your email.
Please kindly check, Thank you!"
Request quote for PV Mounting Clamps for Standing Seam Metal Roof
Q:
Dear Sir,
Request you to quote for PV Mounting Clamps for Standing Seam Metal Roof for our project.
Requirement is as below for fixing around 4000 PV Modules on "Metal Standing Seam Roof"
Also confirm that the selected items are suitable for the roof.
Aluminum Standing Seam Metal Roofing Clamps SPC-IK-CK23 – 8000 pieces
Aluminum End Clamp – 1000 pieces
Aluminum Middle Clamp – 7000 pieces
We don't want to use long rails. That will be an expensive solution.
S. Raman
Sr. Estimation Engineer
Adliya, Kingdom Of Bahrain
A:
Dear Raman
We ensure that "Metal Standing Seam Roof Clamp" you chose can fit your Standing Seam size.
As Requirement factory prices for Steel Standing Seam Metal Roofing Clamps / mid clamps / end clamps are sent by email to you
Thank you !
Have a nice day.
Best regards,
Solar Roof Clamps Factory
Seeking fixings for COMAX KLIK standing seam roof clamps
"
Can a member of your sales team contact me please.
We are seeking fixings for an aluminium seamed roof for housing projects in UK and Ireland.
Please contact me as we need to order samples.
The roofing details for our client,
can yours COMAX KLIK standing seam roof clamps meet this application?
We are planning to install the solar panels in 2 rows of 4 panels in portrait style.
Thank you
Stephen
Tallaght, Dublin 24, D24 XK80
"
"
Dear Mr. Stephen
Nice to receive enquiry about our solar roof mounting clamps .
We would very like to seek the way to be your qualified supplier with years of experience , satisfying services .
After study your roof profile,
Yes, our COMAX KLIK roof clamps (SPC-S04) can meet for this project .
For solar panels in 2 rows of 4 panels in portrait style,
our layout sketch like below :
The BOM as following:
(1)SPC-S04-Clamp: 20 pcs;
(2)SPC-Mid-Clamp: 12 pcs;
(3)SPC-End-Clamp:8 pcs ;
Factory prices for these 8 Solar Panels and freight has sent by email for you.
Don't hesitate contact us if you need more information about this COMAX KLIK metal roof clamps solution.
Thank you !
Standing Seam Solar Parts & Components Factory
"