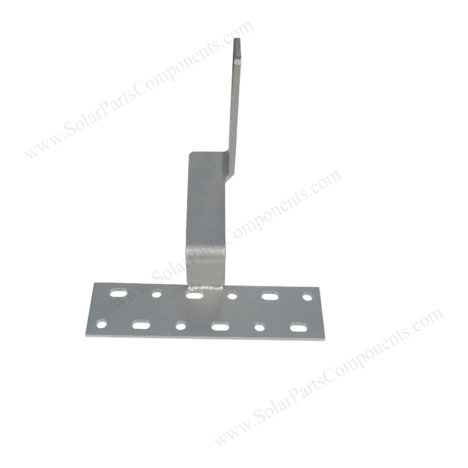 Solar roof hook for side mounted
Product Type:Clay/Roman/curved tile roof hook

Product Model:SPC-IK-04

Material: stainless steel

Max Wind Load : 60 m/s

Max Snow Load : 1.4 KN / M 2

Application: Pitched roof racking system
Contact by Email
Product Description :
Tile Roof Hook (SPC-IK-04) is suitable for different types of tile roofs, such as Roman tile roof hooks, clay tile roof hooks and curved tile roof hooks.
Designed specifically for strength, tile hooks can be easily installed on more tile roof operations.
This hook is made of high-quality 304 stainless steel to ensure excellent corrosion resistance.
Lightweight waterproof panels and matching wood screws enable fast and economical installation without having to penetrate or replace tiles.
Advantages :
1.Cost-effective installation
2.Has excellent compatibility.
3.Strong waterproof performance and beautiful appearance
4.100% meet customer requirements
5.different with other installations, the direction of the rail is vertical
6.Guarantee durability
7.7.Designed for curved tile rooftop mounts
Parts and Components for solar tile roof hook,SPC-IK-04 :
(a) 3 pieces of M6.3×80mm, Timber Screws, LAG screw, hex head, 5/16" ×3-1/2" ;
(b) Flashing Plate ;
Item No:
SPC-IK-04
Item type:
Solar tile roof hook #04
Installation Site:
Clay/Roman/curved tile roof
Installation Angle:
0°~60°
Profile Material:
SUS 304 Stainless Steel
Fasten Parts:
Stainless Steel wood screw
Color:
Silvery or according to customer requirements
PV Modules:
Framed, Frameless
Module Orientation:
Portrait and Landscape
Warranty
10 years
Designed Lifespan
25 years
Packing Details
Unit size:
Unit weight:
Carton size:
Carton weight:
Installation Manual for Solar Roof Hooks SPC-IK-04