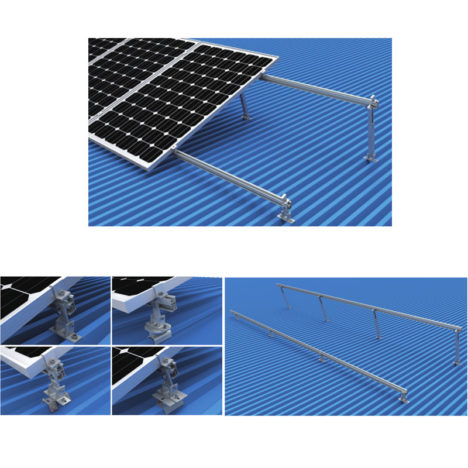 Adjustable Tilt Solar Metal Roof Mounting Systems
Product Type: Solar Panel Mounting Systems

Product Model: solar-metal-roof-mounting-systems-adjustable-tilt

Material: Aluminium, SUS 304 Steel

Max Wind Load : 60 m/s

Max Snow Load : 1.4 KN / M 2

Solar Module Orientation: Vertical or Horizontal

Application: Metal Roof Top
Contact by Email
Product Description :
Spceial design solar panel installation for metal roof tops, it can be adjusted and tilt angles with three options:
10° – 15°, 15° – 30° or 30° – 60° . Flexible suit for different optimized installing direction according to local sun lights .
With our waterproof EPDM rubber plates, tilted front and rear legs can be firmly mount to metal roofing .Good performance in severe weathers like snow season or storm days .
Our adjustable PV mount kits are using AL 6005 – T5 ( Anodized ) and SUS 304 Stainless Steel for sandwich metal roofing .
Our mounting structure is sturdy , anti-rust and with 10 years warranty and 25 years' life designing .
By changing angle and height of front and back leg , it can adjust your solar panel array to less slopes and pitched roof .
Our 10 -15 deg, 15 – 30 deg and 30 60 deg are mainly controlled by back leg's height , in this way installers can eliminate welding and cutting on site . Simple and save labour cost .
Advantages :
(1) Quick, Easy, Cost-effective for pre-assembled adjustable mounting kits ;
(2) Good Quality Aluminum parts & SUS 304 components gurantee ;
(3) IP 65 rubber washer included ;
(4) One-Stop-Shop for fasteners, bolts, screws, nuts … Save time and satisfying service .
Parts and Components for this Adustable tilt solar panel metal roof racking mounts system:
Mid clamp , End clamp , Alum Rail, Adjustable Front Leg , Adjustable Rear Leg …
Easy Installation, Safety And Reliability, 10-Year Warranty .
Installation Guide :
fix front leg to metal rooftop with two screws and water-proof rubber washers ;
fix rear leg to metal roofing top with our screw kit ;
fix solar rails to front and rear leg ;
put solar panels onto rails and fix with our mid & end clamps .
Install the solar modules according to the solution drawings :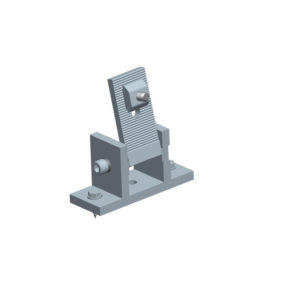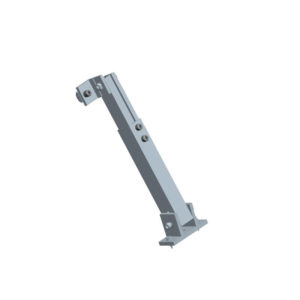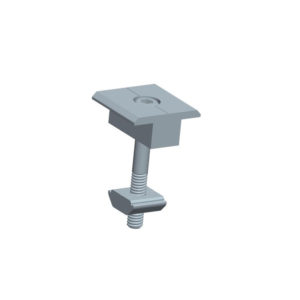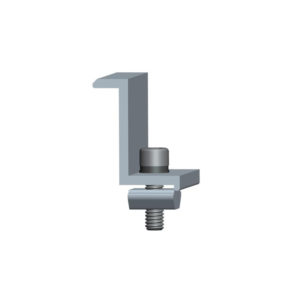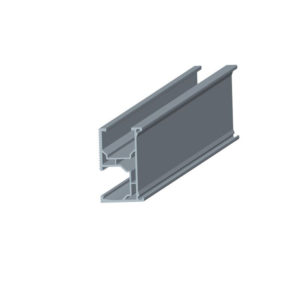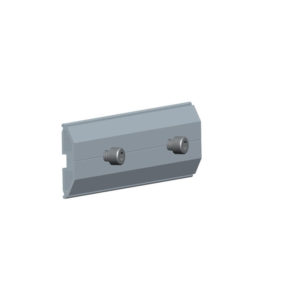 Brief Descriptions :
10 ~ 15, 15 ~ 30 or 30 ~ 60 degrees Adjustable Tilt mounting systems for metal roof top solar panel installation
Item type:
Metal Roof Mounting Systems
Technical Parameters :
Type :
Adjustable Tilt Solar Panel Mounting Kits
Installation Site :
Metal roof top
Installation Angle :
10° ~ 60°
Profile Material :
AL 6005 – T5 ( Anodized )
Fasten Parts :
SUS 304 Stainless Steel
Small Components :
Alum & Stainless Steel
Color :
Silvery or according to customer requirements
Wind Load :
60 m / s ( 130 mph )
Snow Load :
1.4 KN / M2  ( 30 psf )
PV Modules :
Framed, unframed
Module Orientation :
Portait and Landscape
Standards :
AS/NZS 1170
DIN 1055
GB50009-2012
IBC2009
TUV
JIS C 8955 : 2011
International   Building Code IBC 2009
California   Building Code CBC 2010
Warranty
10 years
Designed Life Span
25 years
Packing Details :
Inner :
Bubble bag+inner box+Carton
Outer :
Wooden Box, Steel Pallet, MDF, etc
Can you offer this Adjustable Tilt Solar Metal Roof Mounting Systems for photovoltaic installation?
Yes, as factory direct.
We can offer various Solar Roof Mounting Systems like:
Adjustable Tilt Solar Metal Roof Mounting Systems
Side Mounted Hook Solar Curved Tile Mounting Systems
Metal Rooftop Mounting System – L feet
Solar Metal Roof Mounting Systems – Trapezoid Type
More details,kindly check>>>
Can you offer mounting system for photovoltaic assembly installation?
Do you have Solar Metal Roof Mounting System Kits for Small Quantity ?
Adjustable Metal Roof Mounting Kits: 1×3 Solar Panels
Yes, we have pre-ready for delivery tine metal roofing mounting structure for our clients .
Like below is one of our most popular kits  with  1×3 PV modules array ,
One Row with three Portrait Solar Panels :
Adjustable metal roof racking system can have several options 10 – 15° / 15 – 30° / 30 – 60° …
This mounting structure design can help to choose optimized solar installation solution base on local exact requirements .
All components like alum rails, clamps, front and rear legs can be pre-assemble before shipment .
SolarPartsComponents.com newly released seral pre-packing kits for small quantity PV modules like :
1×1 , 1×2 , 1×3 … This greatly help residential / rural places with small power electric requirements .
This Adjustable Roof Mounting System Kits are used on corrugated tin metal roofs .
Our whole 1×3 Adjustable Metal Roof Mounting Components includes :
Adjustable Roof Mounting System -BOM
PV Array:
1×3, Portrait;
1960×992×40
Name
Item Number
Specification
Qty
2#Rail
SPC-DR
3100mm
2
Front Base-40(adjustable)
SPC-AD-FL
L:40mm
3
Rear Leg (adjustable)
SPC-AD-RL-02
L:410mm
3
2# Mid Clamp-40
HE-17-IC1740-D50
L:40mm
4
1# End Clamp-40
HE-18-EC4040-D25
L:40mm
4
Welcome to purchase solar mounting parts & components with durability, quick to installing, flexible tilt, cost effective features from us .
How to install This Adjustable Tilt Solar Metal Roof Mounting Systems ?
Solar Panel Roof Mounting System Tilt Angle
Triangle angle tilt mounting system is very popular for roof mountings .
In order to get most optimized angle for PV modules, we have to Adjustable angle when install on roof tops .
Please calculate best solar panel angle according to your location and season , so that you can get highest energy output .
Our tilt roof mounting structure includes all hardware which you need to mount your solar panels on open ground / metal roof , flat concrete roof .
We have
several angle for choosing : 5 – 60 degrees .
Features of our Solar Panel Roof Mounting System Tilt Angle model :
– Durability , 10 years warranty ;
– Easy to installing ;
– All weather suitable with international load carrying standards ;
– Off Grid / On Grid compatible ;
Full list solar parts & components includes : rails, rail splice, mid / end clamps, grounding clips, grounding lug, Adjustable angle support racks .
Welcome to purchase this roof solar PV mounting kits for you !
Adjustable Solar Panel Mounting System
Adjustable PV Module Mounting Racking
This solar pv module mounting structure can be tile up or down for different angles from 5 degree – 60 degrees .
Our support kits have adjustable front leg ang rear leg, which allow installers optimized right angle and direction
base on local sun shine radiations . Our racking solution help quick slope for maximum power for different seasons .
Advantages of Adjustable Solar Panel Mounting Kit :
– Long life service with good corrosion resistance ;
– Main frames are made of aluminum alloy, fasten parts are made of stainless steel ;
– Can be applied for metal roof , flat roof, open concrete ground …
– Fits for framed / frameless solar panels ;
– Layout direction : horizontal / vertical ;
– Cost effective ;
Welcome to get more information of our sturdy and strong mounting solution from www.SolarPartsComponents.com