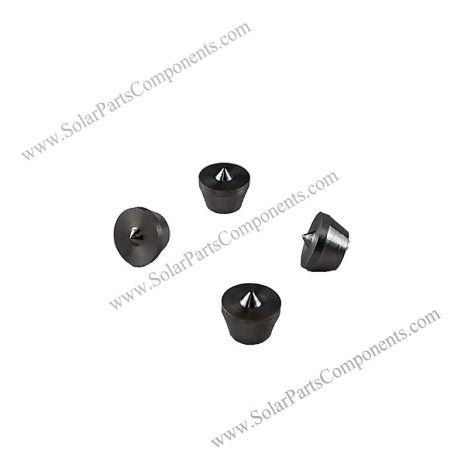 Solar Grounding Pin
Product Type: Solar grounding pin

Product Model: SPC-GP-02

Material: Stainless steel

Max Wind Load : 60 m/s

Max Snow Load : 1.4 KN / M 2

Solar Module Orientation: Landscape / Horizontal

Application:  Unframed / Bifacial / Frameless modules
Contact by Email
Details:
solar grounding pin is one of the most popular solar installation methods.
Solar clamp pin product needs to be used together with the mid-side pressure, replacing the solar grounding clip. Small and exquisite appearance can not only keep the appearance of the project beautiful, but also ensure the safe operation of the solar system.
solar grounding pin supplier is forged from high-quality 304 stainless steel. Although the product is small in size, it has the characteristics of high strength, meticulous workmanship, and a smooth surface without burrs. The spike at the center of the top of the steel needle is extremely sharp and is used to pierce the oxide layer on the surface of the aluminum rail, thereby forming an airtight electrical circuit connected with the bracket system.
solar grounding pin factory' s product is simple and convenient to use. Only need to nail the product into the clamp. When installing the clamp, it can simultaneously pierce the surface of the guide rail and form an electrical circuit. The step of installing the solar grounding clip is omitted, and the use of the clamp pin directly blocks a series of dangers that may be caused,such: the slipping of the solar grounding clip. It saves the cost and installation cost of grounding clip, shortens the construction period, and saves space. From all aspects, the use of clamp pin will gradually replace grounding clip!
Features:
–Small and beautiful appearance;
–Strong hardness and corrosion resistance;
–Replacing grounding clip to save costs;
–Ensure safe use of components;
–Easy and quick to install.
Solar Parts Components Factory is a company specializing in the production of solar installation accessories. With 12 years of professional experience, it can provide satisfactory solutions for your solar installation projects. solar grounding pin is an innovative product carefully launched by our R&D department after careful market research. Compared with solar grounding clip, its advantages are obvious. Our factory can not only provide products that meet the needs of the public, but also customize according drawings. Welcome to purchase.
Brief Descriptions:
Solar Mounting Components – solar grounding pin
Item type:
Solar grounding pin
Type:
SPC-GP-02
Installation Site:
Solar panel
Profile Material:
stainless steel
PV Modules:
Framed, Frameless
Color:
Silvery or according to customer requirements
Module Orientation:
Portrait and Landscape
Standards:
AS/NZS 1170
DIN 1055
GB50009-2012
IBC2009
TUV
JIS C 8955:2011
International   Building Code IBC 2009
California   Building Code CBC 2010
Warranty
10 years
Designed Lifespan
25 years
Packing Details:
Inner:
Bubble bag + inner box + Carton
Outer:
Wooden Box, Steel Pallet, MDF, etc
[contact-form-7 id="4″]
Details:

solar grounding pin is one of the most popular solar installation methods.

Solar clamp pin product needs to be used together with the mid-side pressure, replacing the solar grounding clip. Small and exquisite appearance can not only keep the appearance of the project beautiful, but also ensure the safe operation of the solar system.

solar grounding pin supplier is forged from high-quality 304 stainless steel. Although the product is small in size, it has the characteristics of high strength, meticulous workmanship, and a smooth surface without burrs. The spike at the center of the top of the steel needle is extremely sharp and is used to pierce the oxide layer on the surface of the aluminum rail, thereby forming an airtight electrical circuit connected with the bracket system.

solar grounding pin factory' s product is simple and convenient to use. Only need to nail the product into the clamp. When installing the clamp, it can simultaneously pierce the surface of the guide rail and form an electrical circuit. The step of installing the solar grounding clip is omitted, and the use of the clamp pin directly blocks a series of dangers that may be caused,such: the slipping of the solar grounding clip. It saves the cost and installation cost of grounding clip, shortens the construction period, and saves space. From all aspects, the use of clamp pin will gradually replace grounding clip!

Features:

–Small and beautiful appearance;

–Strong hardness and corrosion resistance;

–Replacing grounding clip to save costs;

–Ensure safe use of components;

–Easy and quick to install.

Solar Parts Components Factory is a company specializing in the production of solar installation accessories. With 12 years of professional experience, it can provide satisfactory solutions for your solar installation projects. solar grounding pin is an innovative product carefully launched by our R&D department after careful market research. Compared with solar grounding clip, its advantages are obvious. Our factory can not only provide products that meet the needs of the public, but also customize according drawings. Welcome to purchase.

Brief Descriptions:
Solar Mounting Components – solar grounding pin
Item type:
Solar grounding pin
Type:
SPC-GP-02
Installation Site:
Solar panel
Profile Material:
stainless steel
PV Modules:
Framed, Frameless
Color:
Silvery or according to customer requirements
Module Orientation:
Portrait and Landscape
Standards:
AS/NZS 1170
DIN 1055
GB50009-2012
IBC2009
TUV
JIS C 8955:2011
International   Building Code IBC 2009
California   Building Code CBC 2010
Warranty
10 years
Designed Lifespan
25 years
Packing Details:
Inner:
Bubble bag + inner box + Carton
Outer:
Wooden Box, Steel Pallet, MDF, etc

[contact-form-7 id="4″]