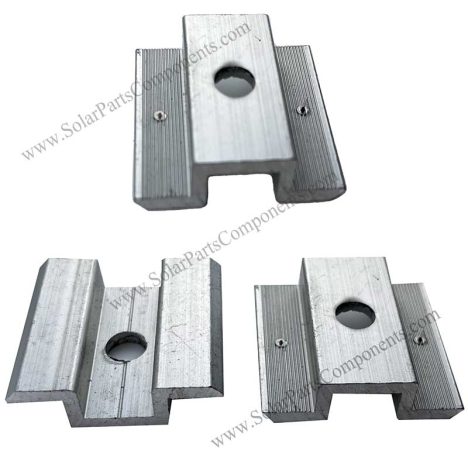 Solar panel mid clamps with earth
Product Type:Solar panel mid clamps with earth

Product Model:SPC-IC-GP40

Material:AL6005-T5

Max Wind Load : 60 m/s

Max Snow Load : 1.4 KN / M 2

Solar Module Orientation: Landscape / Horizontal

Application:  Unframed / Bifacial / Frameless modules
Contact by Email
Solar panel mid clamps with earth has the most prominent advantage that it has pin on the contact surface with the solar panel (https://cn.topbestsolar.com/solar-grounding-pins-for-earthing).
Pins are made of SUS304 and integrated with the mid clamp, exposing the sharp part, which will pierce the oxide layer on the surface of the solar panel frame during installation, so as to connect the circuit between the panel and rail.
The unique design of the clamp from Solar panel mid clamps with earth supplier makes the mid clamp not only fix the panel but also replace the grounding clip.
The grounding clip is omitted, which cleverly avoids the danger caused by the inadvertent slipping of the grounding clip, and also saves the material demand and costs; and makes the installation process more concise, shortens the construction period, and saves labor and time.
The high-quality aluminum structure of Solar panel mid clamps with earth factory provide brings light weight, strong electrical conductivity, corrosion resistance and beautiful appearance to the product.
This product has been optimized and improved on the basis of ordinary mid clamp, and has been continuously improved to provide a more convenient installation solution for the installation of solar panels.
It is a trustworthy and selected product at present.
Features of Solar panel mid clamps with earth :
High security;
Shorten the construction period;
Save installation time and cost;
With pindesign, grounding clipless.
Professional manufacturer of PV accessories relies on its innovative solutions to provide customers with satisfactory PV accessories.
With its unique advantages, Mid clamp with pin occupy a certain position in the PV accessories market. SPC will be your best choice!
For more details, please click: https://www.solarpartscomponents.com/
Brief Descriptions:
Solar mounting component-Solar panel mid clamps with earth
Item type:
Solar panel mid clamps with earth
Type:
SPC-IC-GP40
Installation Site:
Metal Roof solar panel mounting
Profile Material:
AL6005-T5
PV Modules:
Framed, Frameless
Color:
polishing
Module Orientation:
Horizontal / Vertical
Standards:
AS/NZS 1170
DIN 1055
GB50009-2012
IBC2009
TUV
JIS C 8955:2011
International   Building Code IBC 2009
California   Building Code CBC 2010
Warranty
10 years
Designed Lifespan
25 years
Packing Details:
Inner:
Bubble bag + inner box + Carton
Outer:
Wooden Box, Steel Pallet, MDF, etc
[contact-form-7 id="4″]
Solar panel mid clamps with earth has the most prominent advantage that it has pin on the contact surface with the solar panel (https://cn.topbestsolar.com/solar-grounding-pins-for-earthing).

Pins are made of SUS304 and integrated with the mid clamp, exposing the sharp part, which will pierce the oxide layer on the surface of the solar panel frame during installation, so as to connect the circuit between the panel and rail.

The unique design of the clamp from Solar panel mid clamps with earth supplier makes the mid clamp not only fix the panel but also replace the grounding clip.

The grounding clip is omitted, which cleverly avoids the danger caused by the inadvertent slipping of the grounding clip, and also saves the material demand and costs; and makes the installation process more concise, shortens the construction period, and saves labor and time.

The high-quality aluminum structure of Solar panel mid clamps with earth factory provide brings light weight, strong electrical conductivity, corrosion resistance and beautiful appearance to the product.

This product has been optimized and improved on the basis of ordinary mid clamp, and has been continuously improved to provide a more convenient installation solution for the installation of solar panels.

It is a trustworthy and selected product at present.

Features of Solar panel mid clamps with earth :

High security;
Shorten the construction period;
Save installation time and cost;
With pindesign, grounding clipless.

Professional manufacturer of PV accessories relies on its innovative solutions to provide customers with satisfactory PV accessories.

With its unique advantages, Mid clamp with pin occupy a certain position in the PV accessories market. SPC will be your best choice!

For more details, please click: https://www.solarpartscomponents.com/

Brief Descriptions:
Solar mounting component-Solar panel mid clamps with earth
Item type:
Solar panel mid clamps with earth
Type:
SPC-IC-GP40
Installation Site:
Metal Roof solar panel mounting
Profile Material:
AL6005-T5
PV Modules:
Framed, Frameless
Color:
polishing
Module Orientation:
Horizontal / Vertical
Standards:
AS/NZS 1170
DIN 1055
GB50009-2012
IBC2009
TUV
JIS C 8955:2011
International   Building Code IBC 2009
California   Building Code CBC 2010
Warranty
10 years
Designed Lifespan
25 years
Packing Details:
Inner:
Bubble bag + inner box + Carton
Outer:
Wooden Box, Steel Pallet, MDF, etc

[contact-form-7 id="4″]