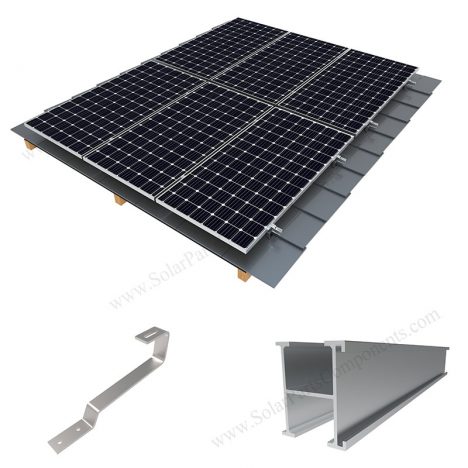 Product Type: Roof Mounting Systems for Flat Tile

Product Model:SPC-RF-IK11-DR

Material: Aluminium, Steel

Max Wind Load : 60 m/s

Max Snow Load : 1.4 KN / M 2

Solar Module Orientation: Portait or Landscape

Application:  Pitched Flat Rooftop
Contact by Email
Product Description:
Different installation methods on rooftop uses different hooks. The roof hook used must be suitable for the roof type to ensure the safety and normal operation of the system. The photovoltaic panels on flat tile solar mount is suitable for the installation of solar panels on most roofs. Usually stainless-steel hooks are used to fix the solar panels in place. Hook is an economical and simple component for roof system mounting and an important component of most flat tile roof mounting system solutions.
The hook is an innovative design for flat tile roof installation, which is used to install solar panels on the flat tile roof, thereby increasing the utilization rate of the tile roof. Strict testing on real-size roof panels can ensure the safety, compliance and structural integrity of pv installations. Therefore, tile roof brackets can be used for flush installation to roofs as well as tilt systems. In order to achieve and maintain the improved water tightness of solar installations on flat tile roofs, our water retaining panels designed for different hooks are non-penetrating waterproof accessories.
The flat tile roof solar installation hook kit is suitable for flat tile roof residential and commercial solar projects. The system adopts a modular installation structure design, which can achieve a stable and firm connection between the roof support structure and the solar module. The pre-assembled kit can save on-site installation time and cost.
Feature of flat tile roof solar mounting system, SPC-RF-IK11-DR:
1. Applicable to residential and commercial solar projects;
2. Flexible choice of where to install system components;
3. Compatible with different types of solar modules;
4. Framed and frameless modules are compatible;
5. Provide installation manual to save on-site installation time and cost;
6. Strong and durable 304 grade stainless steel hook equipped;
7. Flashing for waterproof can be purchased separately;
Installation steps for this flat tile roof solar racking structure, SPC-RF-IK11-DR:
– Remove flat tiles and keep precise alignment;
– Fix roof bracket with two lag screws;
– Recover tiles after keep great sealant;
– Fix alum rails on roof hooks;
– Put solar panels on rails with mid / end clamps;
This new type of solar roof hook for flat tile solar install simplifies installation and does not require any brick grinding. This can reduce workload and save costs. Just lift the tiles, install the hooks on the flat tile, and replace the tiles. The hook is made of lightweight stainless steel and can be strengthened by increasing the width.
SPC is a solar module factory with a history of more than 10 years. It also provides solutions for solar projects. Our company's bracket components have been designed and tested to withstand extreme weather conditions, and have passed engineering and building code certification. If you have any needs, please feel free to contact us: www.solarpartscomponents.com.