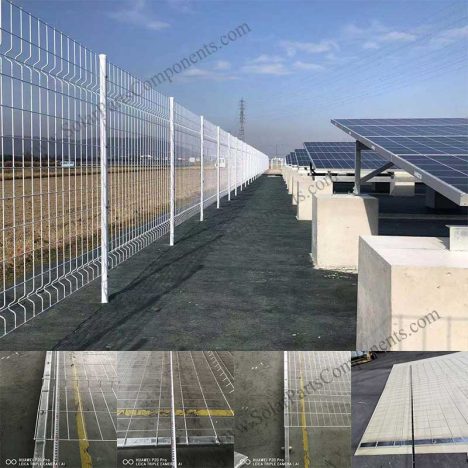 Galvanized Metal Fence for Solar Power
Product Type: Solar Fence

Product Model: Solar protect fence

Material: QB235

Max Wind Load : 60 m/s

Max Snow Load : 1.4 KN / M 2

Solar Module Orientation: Landscape / Horizontal

Application:  Solar mounting
Contact by Email
Product Description:
Galvanized fence for solar energy wholesale, the galvanized treatment can keep long life pretecting solar power farm safe.
The wire mesh can be 40*40 / 50*50… including fence post and gate from factory direct.
Content:
Product Description:
A metal fence is very important gear to protect solar system from aninals or livestock.
Keep whole solar power station a clean circumstance by using this galvanized steel fence kits.
Features of this fence for solar:
a) Anti-corrosive by galvanizing surface treatment;
b) Pre-assembled, pallet-packed quick installation;
c) Cost effective by factory mass production;
d) Customized hole design is available, like hexagonal/rectangular / square / diamond…
e) Good appearance with smooth and bright galvanized treating surface.
Parameter of galvanized fence:
(1) Application: solar ground station;
(2) Material: metal wire;
(3) Span: 180cm / 200cm / 220cm…
(4) Mesh size: ϕ4-80X80,ϕ4-100X100…
(5) Height: 60 -220cm;
(6) Color: galvanized coating;
(7) Life warranty: 10 years;
Parts and Components for galvanized steel fence for solar farm:
– column;
– mesh fixing hook;
– slope area connector;
– rectangle mesh connector;
-galvanized fence post;
-galvanized fence gate;
-galvanized fence wire;
This steel metal fence is good option for rabbit, cattle, horse… guarding. If you need strong fence around solar pv modules, SPC solar fence is strong anti-corrosion, affordable, durable and easy to installing.
Wide options of fencing type / pattern / wire style available like powder coated / pvc coated… for choosing besides galvanized metal fence for your pv power farm from www.SolarPartsComponents.com.
Brief Descriptions:
Solar Mounting Components – galvanized fence for solar energy
Item type:
Solar Panel Components
Type:
Solar Panel Fasten Hardware
Installation Site:
Ground solar Panel Mounting
Profile Material:
QB235
Color:
Silvery/customer requirements
PV Modules:
Frameless or Glass
Module Orientation:
Landscape and Portrait
Standards:
AS/NZS 1170
DIN 1055
GB50009-2012
IBC2009
TUV
JIS C 8955 : 2011
International   Building Code IBC 2009
California   Building Code CBC 2010
Warranty
10 years
Designed Lifespan
25 years
Packing Details:
Inner:
Bubble bag+inner box+Carton
Outer:
Wooden Box, Steel Pallet, MDF, etc
Installation Manual for galvanized fence for solar energy
Installation Manual for solar fence
Installation Manual for Solar Fence
Construction sequence
Surveying and setting off → digging foundation earthwork → laying foundation → pouring column → installing fence
1.1    Drawing Size for the Fence:
1.2   Installation Tools
| | | |
| --- | --- | --- |
| Allen wrench M6 | Spana | Torque wrench |
| | | |
| Taper | Ruler Water Level (1~2m) | Hex Wrench (M6~M12) |
| | | |
Electric driver                                                Electric dalay drill      (5mm)
1.3  Fence specification parts list (due to different designs, some parts may not be included)
************************
No.
Parts Name
Size

1

Column

48*48
2
Fence
2000X800~1800

3

:

L shape screw hook

L
4
Connector Clamp
35*27
5
Pile under pillar
Φ 38X2
6
内六角ポルト
M6*16
1.4 Picture of the parts
************************
| | | | | |
| --- | --- | --- | --- | --- |
| | | | | |
| Column | Fence | L shape screw | Pile under pillar | Connector Clamp |
************************ 1)Clonmn
Support the fence, and the mesh fence is fixed to the column with the connecting for the fence.
2)Fence
Fence is placed according to the terrain, so that the ground is flat when necessary to make a clean fence
3)L Screw
It is used to connects the column and fence to secure the entire structure.
After the position of pile is settled, the operation and construction are carried out according to the requirements
It is used to connect the fence.
2.1  Putting a stake in the right position
************************
Installation of piles according to the design drawings:X
As shown in the figure above, X is the distance between the two piles, drive the pile into the ground, and the exposure of the whole pile is 100mm.
Notice: Please keep the inclination of the post within 3 degrees.
Installation of the Column
************************
Attach the standing column to the pile in the following way.
The position of the hole is adjusted to be perpendicular to the horizontal line. Please refer to the photos below for the specific method.
3   Installation of the fence
3.1 * Set the fence to the ground level XXMM, and lock the fence to the column with three L-shaped screws.
************************
3.2 *The fenc is connected to the mesh wire with the connector clamps and fixed as follows.
************************
3.3    *Lock the fence to the column with L-shaped connecting metal fittings, as shown in the picture below!
************************
3.4 *The wires of the two fences are connected, and they are connected by a three-piece connector clamps.
************************
4Connect the fence
4.1   Single juction
************************
In the same way, connect and fix with corner fittings, as shown in the picture below.
************************
Use the wire cutters to take care of the unnecessary parts.
After the fence installed
************************
Please kindly check more details about the installation manual for solar fence>>
Installation Manual for solar fence
Product Description:

Galvanized fence for solar energy wholesale, the galvanized treatment can keep long life pretecting solar power farm safe.
The wire mesh can be 40*40 / 50*50… including fence post and gate from factory direct.

Content:

Product Description:

A metal fence is very important gear to protect solar system from aninals or livestock.

Keep whole solar power station a clean circumstance by using this galvanized steel fence kits.

Features of this fence for solar:

a) Anti-corrosive by galvanizing surface treatment;

b) Pre-assembled, pallet-packed quick installation;

c) Cost effective by factory mass production;

d) Customized hole design is available, like hexagonal/rectangular / square / diamond…

e) Good appearance with smooth and bright galvanized treating surface.

Parameter of galvanized fence:

(1) Application: solar ground station;

(2) Material: metal wire;

(3) Span: 180cm / 200cm / 220cm…

(4) Mesh size: ϕ4-80X80,ϕ4-100X100…

(5) Height: 60 -220cm;

(6) Color: galvanized coating;

(7) Life warranty: 10 years;

Parts and Components for galvanized steel fence for solar farm:

– column;
– mesh fixing hook;
– slope area connector;
– rectangle mesh connector;
-galvanized fence post;
-galvanized fence gate;
-galvanized fence wire;

This steel metal fence is good option for rabbit, cattle, horse… guarding. If you need strong fence around solar pv modules, SPC solar fence is strong anti-corrosion, affordable, durable and easy to installing.

Wide options of fencing type / pattern / wire style available like powder coated / pvc coated… for choosing besides galvanized metal fence for your pv power farm from www.SolarPartsComponents.com.

Brief Descriptions:
Solar Mounting Components – galvanized fence for solar energy
Item type:
Solar Panel Components
Type:
Solar Panel Fasten Hardware
Installation Site:
Ground solar Panel Mounting
Profile Material:
QB235
Color:
Silvery/customer requirements
PV Modules:
Frameless or Glass
Module Orientation:
Landscape and Portrait
Standards:
AS/NZS 1170
DIN 1055
GB50009-2012
IBC2009
TUV
JIS C 8955 : 2011
International   Building Code IBC 2009
California   Building Code CBC 2010
Warranty
10 years
Designed Lifespan
25 years
Packing Details:
Inner:
Bubble bag+inner box+Carton
Outer:
Wooden Box, Steel Pallet, MDF, etc

Installation Manual for galvanized fence for solar energy

Installation Manual for solar fence

Installation Manual for Solar Fence

Construction sequence

Surveying and setting off → digging foundation earthwork → laying foundation → pouring column → installing fence

1.1    Drawing Size for the Fence:

1.2   Installation Tools

| | | |
| --- | --- | --- |
| Allen wrench M6 | Spana | Torque wrench |
| | | |
| Taper | Ruler Water Level (1~2m) | Hex Wrench (M6~M12) |
| | | |

Electric driver                                                Electric dalay drill      (5mm)

1.3  Fence specification parts list (due to different designs, some parts may not be included)

************************

No.
Parts Name
Size

1

Column

48*48
2
Fence
2000X800~1800

3

:

L shape screw hook

L
4
Connector Clamp
35*27
5
Pile under pillar
Φ 38X2
6
内六角ポルト
M6*16

1.4 Picture of the parts

************************

| | | | | |
| --- | --- | --- | --- | --- |
| | | | | |
| Column | Fence | L shape screw | Pile under pillar | Connector Clamp |

************************ 1)Clonmn

Support the fence, and the mesh fence is fixed to the column with the connecting for the fence.

2)Fence

Fence is placed according to the terrain, so that the ground is flat when necessary to make a clean fence

3)L Screw

It is used to connects the column and fence to secure the entire structure.

After the position of pile is settled, the operation and construction are carried out according to the requirements

It is used to connect the fence.

2.1  Putting a stake in the right position

************************

Installation of piles according to the design drawings:X

As shown in the figure above, X is the distance between the two piles, drive the pile into the ground, and the exposure of the whole pile is 100mm.

Notice: Please keep the inclination of the post within 3 degrees.

Installation of the Column

************************

Attach the standing column to the pile in the following way.

The position of the hole is adjusted to be perpendicular to the horizontal line. Please refer to the photos below for the specific method.

3   Installation of the fence

3.1 * Set the fence to the ground level XXMM, and lock the fence to the column with three L-shaped screws.

************************

3.2 *The fenc is connected to the mesh wire with the connector clamps and fixed as follows.

************************

3.3    *Lock the fence to the column with L-shaped connecting metal fittings, as shown in the picture below!

************************

3.4 *The wires of the two fences are connected, and they are connected by a three-piece connector clamps.

************************

4Connect the fence

4.1   Single juction

************************

In the same way, connect and fix with corner fittings, as shown in the picture below.

************************

Use the wire cutters to take care of the unnecessary parts.

After the fence installed

************************

Please kindly check more details about the installation manual for solar fence>>

Installation Manual for solar fence