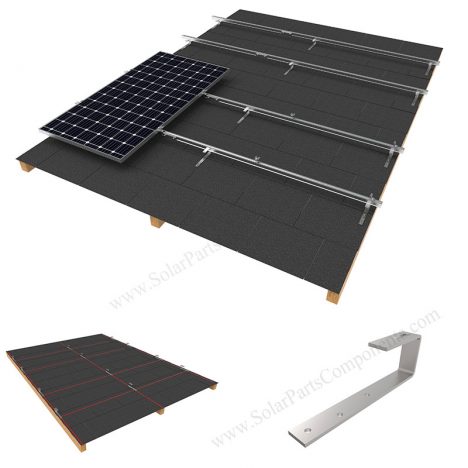 Solar Asphalt Tile Mounting Systems
Product Type: Shingle Tile Mounting Systems

Product Model:SPC-RF-IK13-DR

Material: stainless steel,Aluminium

Max Wind Load : 60 m/s

Max Snow Load : 1.4 KN / M 2

Solar Module Orientation: Portait or Landscape

Application:  Rooftop
Contact by Email
Product Description:
The asphalt shingle solar mounting system is easy to install and has high safety. Are you worried that your house will leak? Don't worry, we install the system together with the solar roof flap components. The roof flap is waterproof, durable and compatible. It is designed for different roof hooks and used in conjunction.
The photovoltaic panels are installed on aluminum rails. The aluminum profile is fixed on the roof with hooks, and wood screws are driven into the wooden beams and firmly fixed on the wooden beams. The outside of the screw must have a high-quality rubber (EPDM) gasket to ensure perfect waterproofness and prevent any leakage into the drill hole where the screw passes through the roof. The safest system is to use screws with metal plates or waterproof plates with EPDM washers. The top of this metal waterproof board always slides under the upper shingles.
Choose asphalt shingle solar mount to follow best practices in terms of solar roof panel installation and support components. Our installation components are tested to meet international standards and can be pre-installed in the factory, saving time and costs.
Feature of Asphalt shingle solar mount,SPC-RF-IK13-DR:
1. Stainless steel hardware optional;
2. 25-year service life, 10-year warranty;
3. Suitable for asphalt tile mounting system design;
4. Easy to install on shingle roof;
5. Convenient and quick installation to improve efficiency;
6. Fixed height, bottom mounted style;
There is a way to make the roof work properly and save money-rooftop solar system. Solar asphalt shingle mounts is also a breakthrough in the installation of solar asphalt shingle roof installation system, which solves a series of problems of asphalt shingle roof installation. With the development of the solar energy industry over the years, more and more people choose to DIY their houses, which is a very cost-effective investment.
Is the panel installed securely? Will they cause any damage? Will the service life be long after installing solar panels? We will answer all these questions and more so you can determine if a rooftop solar system is right for you. If you have any questions, please feel free to contact us: www.solarpartscomponents.com.
Brief Descriptions:
Asphalt Shingle Solar Mount, SPC-RF-IK13-DR
Item type:
solar asphalt shingle mounts
Type:
SPC-RF-IK13-DR
Installation Site:
Tile Roofing 0 °~ 60°
Profile Material:
SUS304 Stainless Steel, Aluminum Rail
Fasten Parts:
Stainless Steel / Aluminum T Sliding Nut
Color:
Sand blasting
Wind Load:
60 m / s
Snow Load:
1.4 KN / M2
PV Modules:
Framed, Frameless
Module Orientation:
Portrait and Landscape
Standards:
AS/NZS 1170
DIN 1055
GB50009-2012
IBC2009
TUV
JIS C 8955: 2011
International   Building Code IBC 2009
California   Building Code CBC 2010
Warranty
10 years
Designed Lifespan
25 years
Packing Details:
Inner:
Bubble bag+inner box+Carton
Outer:
Wooden Box, Steel Pallet, MDF, etc
Installation Manual for Solar Asphalt Roof Mounts, SPC-RF-IK13-DR
Need Rail-less Asphalt shingle solar mount SPC-RF-IK13-DR
Q:
I'm interested in Asphalt shingle solar mount SPC-RF-IK13-DR  for my asphalt shingles roof. each array:3 (59 inch each) panel tall by 8 (26.25 inch) panel wide,total 20 arrays 480 Nos. panels.
Cost delivered to USA?
Plans?
Railless mounts available to save shipping cost?
Is this a complete system (rails, hooks, screws, etc)?
Delivery time?
Thanks.
Marion
A:
Thank you for your interested in our asphalt shingle solar mounting system.
Please refer to our initial Design for your asphalt shingles roof mounting.
Our engineer recommadate the railless solution which is more cost effective.
If the design is workable, I will come back to formal quotation.
BOM list for each array of this Asphalt shingle solar racks as below:
Q:
Thank you for your design,it's OK.
please send me your best offer with freight cost.
A:
Thank you for your quickly respond, I have sent BOM price to your email.
Our produce time is 3-5 days against payment.
Q:
Well received. Will let you know when I arrange the payment.
Thanks!
Solar Roof Mounting System-SPC-RF-IK13-DR
Stainless steel hook installation steps