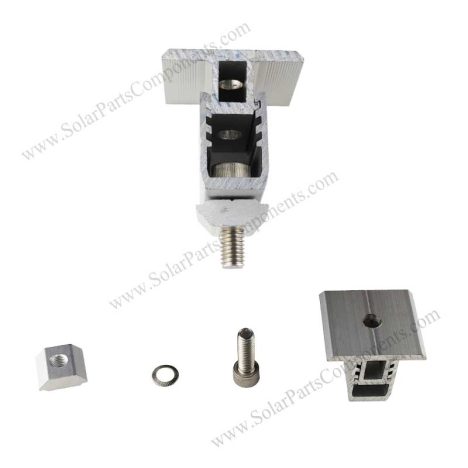 Adjustable Mid Clamp, made of anodized aluminum
Product Type: Solar Mounting Component

Product Model: SPC-IC-AD40

Material: Aluminium

Max Wind Load : 60 m/s

Max Snow Load : 1.4 KN / M 2

Solar Module Orientation: Landscape / Horizontal

Application:  Ground or Roof mounted
Contact by Email
Product Description:
Product Description:
Allowing to be adjusted is the superiority of our adjustable mid clamp. The component is made of extruded anodized aluminum material, which has good rust-proof and corrosion protection. The clamp for solar mounts is used to clamp the neighbouring solar panels by fixing with rail to firmly clamping panels from wind and any other shaking. The adjustable mid clamp solar is anodized on surface finish normally, it can be mill finish as customer's request also. Besides the mid clamp, our factory offers other clamp for your choice or customized to meet your demands. The adjustable mid clamp is matching with a socket head screw, a serrated ribbed washer and a sliding nut. It also can be equipped with grounding clip to fix into mounting rail to reach grounding propose. The adjustable mid clamp can be suitable for the thickness of the solar panel from 30mm to 50mm. For this way, it is very convenient for solar mounting system because it can solve the problem of choosing exact the mid clamp to fit the panel modules. We are serious with the quality of our products from kit to the whole bracket and provide the guarantee for all of our products.
Features of adjustable mid clamp solar panel:
Superior quality for Corrosion protection and anodized treatment on surface;
Save space and time for transporting;
Be simpleand easier to be installation;
Can be adjusted to fit the thickness of the solar panel;
Highly cost effective and factory price
We can offer good products and service for all of our clients.If you're interested in our adjustable mid clamp solar or solar mounting systems we'd love to provide and discuss with you about it.
Contact us and we will be in touch with you shortly.
More details for you. Contact us by our website:
Brief Descriptions:

Solar mounting components- adjustable mid clamp
Item type:
Solar mounting components
Type:
SPC-IC-AD40
Installation Site:
Ground or roof solar panel mounting

Profile Material:
Aluminum alloy 6005-T5
Fasten Parts:
Stainless Steel
Color:
Silvery
Wind Load:
60 m / s
Snow Load:
1.4 KN / M2
PV Modules:
Framed, Frameless
Module Orientation:
Landscape / Portrait
Standards:
AS/NZS 1170
DIN 1055
GB50009-2012
IBC2009
TUV
JIS C 8955: 2011
International   Building Code IBC 2009
California   Building Code CBC 2010
Warranty
10 years
Designed Lifespan
25 years
Packing Details:
Inner:
Bubble bag+inner box+Carton
Outer:
Wooden Box, Steel Pallet, MDF, etc
What is the material of Adjustable Mid Clamp?
The Adjustable Mid Clamp component is made of extruded anodized aluminum material, which has good rust-proof and corrosion protection.
Here is a related inquiry.
Q:
We are a Master Distributor of Solar BOS products sold to contractors and Utility customer on large Utility projects.
Can you give me price and availability on
SPC-IC-AD40   Adjustable Mid Clamp Qty 12
SPC-IC-AD40   Adjustable End Clamp Qty 6
Thanks,
A:
Hi Gail
Nice day!
Thank you for your inquiry about our products!
Please see the attachment for specific quotation information.
If you have any questions, please don't hesitate to ask me.
If yes, any comments please kind let us know.
Thanks.
FYI
Q:
Thank you for your early reply!
How or where to purchase it.
Adjustable mid clamps and end clamps wholesale factory
Q:
Hi, I am interested in your adjustable mid clamps and end clamps, I need a quotation for 1500 adjustable mid clamp & 700 adjustable end clamp,  for a project in Saudi Arabia.
A:
Glad to receive your inquiry on our adjustable clamps for solar panel,
I have sent the price with freight cost to your email,please advise.
The feature of Adjustable Mid Clamp
Features:
Good corrosion resistance: Due to the material of aluminum and anodized treatment on surface, it's safe and durable, which could be used for very long time. It also has advantages of good toughness and light texture.
High Pre-assembly: Save labor costs and time at the installation site.
Adjustable structure: Increase flexibility to adapt to different thicknesses of solar panels.
Simple to install and easy to use, bring much convenience to you. With high construction efficiency.
Factory direct sales, higher cost performance.
Wide variety to meet the pv mounting installation.
Solar mounting adjustable mid clamp
Product Description:

Product Description:

Allowing to be adjusted is the superiority of our adjustable mid clamp. The component is made of extruded anodized aluminum material, which has good rust-proof and corrosion protection. The clamp for solar mounts is used to clamp the neighbouring solar panels by fixing with rail to firmly clamping panels from wind and any other shaking. The adjustable mid clamp solar is anodized on surface finish normally, it can be mill finish as customer's request also. Besides the mid clamp, our factory offers other clamp for your choice or customized to meet your demands. The adjustable mid clamp is matching with a socket head screw, a serrated ribbed washer and a sliding nut. It also can be equipped with grounding clip to fix into mounting rail to reach grounding propose. The adjustable mid clamp can be suitable for the thickness of the solar panel from 30mm to 50mm. For this way, it is very convenient for solar mounting system because it can solve the problem of choosing exact the mid clamp to fit the panel modules. We are serious with the quality of our products from kit to the whole bracket and provide the guarantee for all of our products.

Features of adjustable mid clamp solar panel:

Superior quality for Corrosion protection and anodized treatment on surface;
Save space and time for transporting;
Be simpleand easier to be installation;
Can be adjusted to fit the thickness of the solar panel;
Highly cost effective and factory price

We can offer good products and service for all of our clients.If you're interested in our adjustable mid clamp solar or solar mounting systems we'd love to provide and discuss with you about it.

Contact us and we will be in touch with you shortly.

More details for you. Contact us by our website:

Brief Descriptions:

Solar mounting components- adjustable mid clamp
Item type:
Solar mounting components
Type:
SPC-IC-AD40
Installation Site:
Ground or roof solar panel mounting

Profile Material:
Aluminum alloy 6005-T5
Fasten Parts:
Stainless Steel
Color:
Silvery
Wind Load:
60 m / s
Snow Load:
1.4 KN / M2
PV Modules:
Framed, Frameless
Module Orientation:
Landscape / Portrait
Standards:
AS/NZS 1170
DIN 1055
GB50009-2012
IBC2009
TUV
JIS C 8955: 2011
International   Building Code IBC 2009
California   Building Code CBC 2010
Warranty
10 years
Designed Lifespan
25 years
Packing Details:
Inner:
Bubble bag+inner box+Carton
Outer:
Wooden Box, Steel Pallet, MDF, etc

What is the material of Adjustable Mid Clamp?

The Adjustable Mid Clamp component is made of extruded anodized aluminum material, which has good rust-proof and corrosion protection.

Here is a related inquiry.

Q:

We are a Master Distributor of Solar BOS products sold to contractors and Utility customer on large Utility projects.

Can you give me price and availability on

SPC-IC-AD40   Adjustable Mid Clamp Qty 12

SPC-IC-AD40   Adjustable End Clamp Qty 6

Thanks,

A:

Hi Gail

Nice day!

Thank you for your inquiry about our products!

Please see the attachment for specific quotation information.

If you have any questions, please don't hesitate to ask me.

If yes, any comments please kind let us know.

Thanks.

FYI

Q:

Thank you for your early reply!

How or where to purchase it.

Adjustable mid clamps and end clamps wholesale factory

Q:

Hi, I am interested in your adjustable mid clamps and end clamps, I need a quotation for 1500 adjustable mid clamp & 700 adjustable end clamp,  for a project in Saudi Arabia.

A:

Glad to receive your inquiry on our adjustable clamps for solar panel,

I have sent the price with freight cost to your email,please advise.

The feature of Adjustable Mid Clamp

Features:

Good corrosion resistance: Due to the material of aluminum and anodized treatment on surface, it's safe and durable, which could be used for very long time. It also has advantages of good toughness and light texture.
High Pre-assembly: Save labor costs and time at the installation site.
Adjustable structure: Increase flexibility to adapt to different thicknesses of solar panels.
Simple to install and easy to use, bring much convenience to you. With high construction efficiency.
Factory direct sales, higher cost performance.
Wide variety to meet the pv mounting installation.

Solar mounting adjustable mid clamp