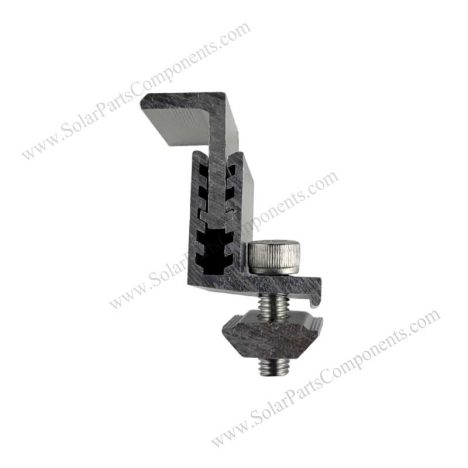 Adjustable end clamp solar
Product Type:Solar Mounting component

Product Model: SPC-ECA-AN-B

Material: Aluminium, SUS304

Max Wind Load : 60 m/s

Max Snow Load : 1.4 KN / M 2

Solar Module Orientation: Landscape / Horizontal

Application:  Solar panel installation
Contact by Email
Product Description:
This adjustable end clamp provides more simple and flexible installation for solar panel mounting. It is designed to be adjusted for different PV modules framed thickness ranging from 35mm to 50mm. It is an ideal solar component when you don't sure the framed thickness of the PV modules,it is very convenient for solar mounting system ,.
The adjustable end clamp solar hold solar panels firmly at the framed edges. It works in conjunction with mid clamp to offer more stability on rails.
Adjustable end clamp solar panel is an easy insertion modules, designed to connect the aluminum rails with stainless steel bolts and sliding aluminum nut. It can slide along the rails to get in place easily, highly reduce the mounting time.
Our adjustable end clamp kit include: base part,up fastener,SUS304 screw and aluminum sliding nut, also we can sale the clamp separately. Anodized aluminum and stainless steel fastener materials, high anti corrosion and anti rust.  We are always serious with the quality of our products from every small part to the whole bracket and provide the guarantee for all of our products.
Features of this adjustable end clamp:
Easy and fastinstallation;
Anti-corrosion and anti-rust;
Height adjustable rang from 35mm to 50mm;
10years up warranty and 20 years up life span;
High quality anodized aluminum and SUS304
www.SolarPartsComponents.com is a professional Solar Parts & Components Wholesale Factory. We provide a wild range of solar clamps include end clamp and mid clamp in different sizes,both adjustable and non adjustable, good quality,competitive price offer and best service. Welcome to purchase from us.
Brief Descriptions:
Solar Mounting Components –Adjustable End Clamp
Item type:
Solar Mounting components
Type:
SPC-ECA-AN-B
Installation Site:
Roof or Ground solar panels installation
Profile Material:
Aluminum 6005-T5
Fasten Parts:
SUS304 Steel/Aluminum sliding nut
Color:
Silver
PV Modules:
Framed
Module Orientation:
Landscape and Portrait
Standards:
AS/NZS 1170
DIN 1055
GB50009-2012
IBC2009
TUV
JIS C 8955: 2011
International   Building Code IBC 2009
California   Building Code CBC 2010
Warranty
10 years
Designed Lifespan
25 years
Packing Details:
Inner:
Bubble bag + inner box + Carton
Outer:
Wooden Box, Steel Pallet, MDF, etc
Features of Adjustable End Clamp.
Features of Adjustable End Clamp SPC-ECA-AN-B:
Good corrosion resistance: Due to the material of aluminum and anodized treatment on surface, it's safe and durable, which could be used for very long time. It also has advantages of good toughness and light texture.
High Pre-assembly: Save labor costs and time at the installation site.
Adjustable structure: Increase flexibility to adapt to different thicknesses of solar panels.
Good pressure resistance and shock resistance, able to withstand different climates.
Simple to install and easy to use, bring much convenience to you. With high construction efficiency.
Factory direct sales, higher cost performance.
Wide variety to meet the pv mounting installation.
Adjustable end clamp solar
Product Description:

This adjustable end clamp provides more simple and flexible installation for solar panel mounting. It is designed to be adjusted for different PV modules framed thickness ranging from 35mm to 50mm. It is an ideal solar component when you don't sure the framed thickness of the PV modules,it is very convenient for solar mounting system ,.

The adjustable end clamp solar hold solar panels firmly at the framed edges. It works in conjunction with mid clamp to offer more stability on rails.

Adjustable end clamp solar panel is an easy insertion modules, designed to connect the aluminum rails with stainless steel bolts and sliding aluminum nut. It can slide along the rails to get in place easily, highly reduce the mounting time.

Our adjustable end clamp kit include: base part,up fastener,SUS304 screw and aluminum sliding nut, also we can sale the clamp separately. Anodized aluminum and stainless steel fastener materials, high anti corrosion and anti rust.  We are always serious with the quality of our products from every small part to the whole bracket and provide the guarantee for all of our products.

Features of this adjustable end clamp:

Easy and fastinstallation;
Anti-corrosion and anti-rust;
Height adjustable rang from 35mm to 50mm;
10years up warranty and 20 years up life span;
High quality anodized aluminum and SUS304

www.SolarPartsComponents.com is a professional Solar Parts & Components Wholesale Factory. We provide a wild range of solar clamps include end clamp and mid clamp in different sizes,both adjustable and non adjustable, good quality,competitive price offer and best service. Welcome to purchase from us.

Brief Descriptions:
Solar Mounting Components –Adjustable End Clamp
Item type:
Solar Mounting components
Type:
SPC-ECA-AN-B
Installation Site:
Roof or Ground solar panels installation
Profile Material:
Aluminum 6005-T5
Fasten Parts:
SUS304 Steel/Aluminum sliding nut
Color:
Silver
PV Modules:
Framed
Module Orientation:
Landscape and Portrait
Standards:
AS/NZS 1170
DIN 1055
GB50009-2012
IBC2009
TUV
JIS C 8955: 2011
International   Building Code IBC 2009
California   Building Code CBC 2010
Warranty
10 years
Designed Lifespan
25 years
Packing Details:
Inner:
Bubble bag + inner box + Carton
Outer:
Wooden Box, Steel Pallet, MDF, etc

Features of Adjustable End Clamp.

Features of Adjustable End Clamp SPC-ECA-AN-B:

Good corrosion resistance: Due to the material of aluminum and anodized treatment on surface, it's safe and durable, which could be used for very long time. It also has advantages of good toughness and light texture.
High Pre-assembly: Save labor costs and time at the installation site.
Adjustable structure: Increase flexibility to adapt to different thicknesses of solar panels.
Good pressure resistance and shock resistance, able to withstand different climates.
Simple to install and easy to use, bring much convenience to you. With high construction efficiency.
Factory direct sales, higher cost performance.
Wide variety to meet the pv mounting installation.

Adjustable end clamp solar