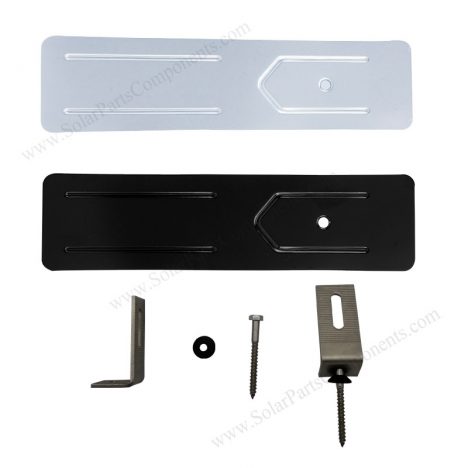 Solar Flashing Plates
Product Type: Asphalt Shingle Solar Panel Roof Flashing

Product Model:SPC-HF-02

Material: Aluminium

Application: Solar Panels Roof Installation
Contact by Email
Product Description:
L foot clamp with our roof flashing mounting kits can be well used for asphalt shingle roofing types.
360° rotatable and adjustable design for our asphalt shingle flashing which can be well position rails and PV modules.
Fast and easy for installation with just one M8 screw bolt mounted on shingle tiles.
Don't need any roof tile cutting, just slides our PV roof flashing with shingle ripper.
Aluminum mill (Silvery) or Black anodized color choices available for this roof flashing plates.
Solar roof flashing is strongly recommended for shingle tile roofing mounting system, since installers have to penetrate roof surface with tile hooks during solar racking.
The sizes of this asphalt shingle roof flashing are:
(1)L: 305mm [12.02″] × W: 80mm [3.15″] × T: 1mm [0.04″];
(2) Bolt Hole Diameter: Φ8.5mm [Φ0.33″];
Features of this solar mounting flashing for asphalt tile:
1. Prevent leaking break after solar panel mounts;
2. Cost effective for one bolt installation design;
3. aluminum made with round corners helps quickly sliding under shingle roofs;
Parts and Components for this solar flashing plate:
(1) L foot bracket – one piece;
(2) 6005-T5 high quality flashing plate – one piece;
(3) EPDM circular cone rubber – one piece;
Our solar flashings for asphalt roofing tiles are strictly PV module mounting industry compliant with 20 years up lifespan.
By using our shingle roof flashing plates, well protection to roof can be secured with rainproof performance.
Besides aluminum made for solar asphalt shingle roof flashing, customized type and design are welcome always like: galvanized metal flashing / rubber (EPDM) flashing / elevated raised section flashing / mini flashing …
Visit our web for the information you want.
https://www.SolarPartsComponents.com
Brief Descriptions:
Solar Mounting Components – solar flashing for asphalt roofing tiles
Item type:
Solar Flashing Plate
Type:
SPC-HF-02
Installation Site:
Asphalt Shingles Roof
Profile Material:
6005-T5 Aluminum
Fasten Parts:
L bracket, M8 bolt
Color:
Silvery / Black
PV Modules:
Framed, Frameless
Module Orientation:
Portrait and Landscape
Standards:
AS/NZS 1170
DIN 1055
GB50009-2012
IBC2009
TUV
JIS C 8955: 2011
International   Building Code IBC 2009
California   Building Code CBC 2010
Warranty
10 years
Designed Lifespan
25 years
Packing Details:
Inner:
Bubble bag+inner box+Carton
Outer:
Wooden Box, Steel Pallet, MDF, etc
solar panel flashing plate for shinge roof, asphalt roof
Looking for solar roof flashing plates in Black color
Q:
Hello,
I'm looking for 5000 units of roof flashing plates Model:SPC-HF-02 in black with the lag
How much and where do purchase this unit
Respectfully
Shad Bernier
A:
Hi Mr. Bernier
Factory price offer for our roof flashing plate, model:SPC-HF-02 has sent by email.
May I know more about your company?(Name/website/address)
I will calculate the freight cost for your reference if needed.
Yours early reply would be appreciated.
Thank you !
Solar Roof Flashing Plate Factory
solar flashing for Asphalt shingle roofs
The flashing is an ideal installation and waterproofing solution for photovoltaic solar installation in residential buildings with asphalt shingle roofs. The flashing is made of aluminum alloy; the accessories are only M8 wood screws (304 stainless steel) and washer. The baffle is light, efficient and waterproof, and can be installed quickly.
Feature:
1. Increase the sealing area between the fastener and the flashing;
2. Strong sealing and higher safety;
3. Anodized aluminum waterproofing board, pre-assembled washer;
4. No need to use other sealants;
5. Only need two accessories;
solar flashing for roof mounts
The roof flashing is designed to be installed on most roofs for solar panel applications. It provides a waterproof and is compatible with L feet.
How SPC solar flashing plate work for shingle tile roof?
SPC has a wide range of solar flashing plates for tile roofs. This post mainly introduces how it is working for shingle tile roofs.
How to using this asphalt shingle roof flashing ?
More details kindly check >>>