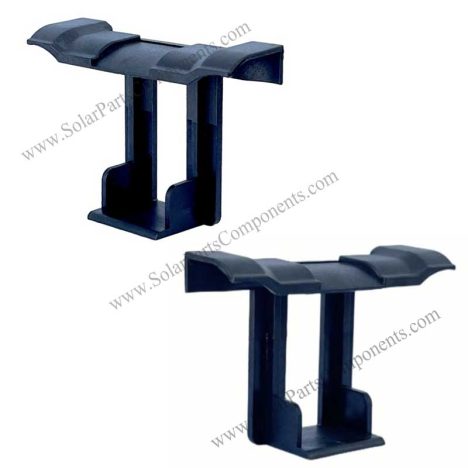 Solar Panel Water Drain Clips
Product Type:Solar parts components

Product Model:SPC-WD-01

Material:rubber

Max Wind Load : 60 m/s

Max Snow Load : 3.6 KN / M 2

Solar Module Orientation: Landscape / Horizontal

Application:  Unframed / Bifacial / Frameless modules
Contact by Email
Details:
Solar Panel Water Drain Clips is generally suitable for most solar panel on the market, has a long service life, and is made of rubber and is lightweight for transportation.
PV panels water drain clips is used to guide water and mud above the solar panel and clean dust and sand on the surface.
The installation method is simple. You only need to clamp the clip on the frame of the panel to fix it.
It can increase the power generation of the solar panels, is durable and solves the problem of drainage and dust accumulation on the solar frame.
Solar Panel Water Drain Clips supplier can prevent the formation of new mud belts, making it less likely to form new dust and mud belts when it rains. The products are directly supplied by the manufacturer and have complete product specifications.
Features of this solar water drain clip:
–Rubber material;
–Small and beautiful appearance;
–Corrosion resistance;
–Water diversion, mud removal, cleaning and dust removal.
SPC is a high-tech enterprise focusing on products in the field of solar bracket accessories, integrating R&D, manufacturing and sales.
The company has a professional automated production line for solar energy-related brackets and accessories to provide customers with satisfactory pv project services. The products are supplied directly from the manufacturer, with high quality and low price, and large quantities are preferred.
Brief Descriptions:
Solar Mounting Components – Solar Panel Water Drain Clips
Item type:
Solar parts components
Type:
SPC-WD-01
Installation Site:
Solar panel
Profile Material:
rubber
PV Modules:
Framed
Color:
Black
Module Orientation:
Portrait and Landscape
Standards:
AS/NZS 1170
DIN 1055
GB50009-2012
IBC2009
TUV
JIS C 8955:2011
International   Building Code IBC 2009
California   Building Code CBC 2010
Warranty
10 years
Designed Lifespan
25 years
Packing Details:
Inner:
Bubble bag + inner box + Carton
Outer:
Wooden Box, Steel Pallet, MDF, etc
Details:

Solar Panel Water Drain Clips is generally suitable for most solar panel on the market, has a long service life, and is made of rubber and is lightweight for transportation.

PV panels water drain clips is used to guide water and mud above the solar panel and clean dust and sand on the surface.

The installation method is simple. You only need to clamp the clip on the frame of the panel to fix it.

It can increase the power generation of the solar panels, is durable and solves the problem of drainage and dust accumulation on the solar frame.

 

Solar Panel Water Drain Clips supplier can prevent the formation of new mud belts, making it less likely to form new dust and mud belts when it rains. The products are directly supplied by the manufacturer and have complete product specifications.

 

 

Features of this solar water drain clip:

–Rubber material;

–Small and beautiful appearance;

–Corrosion resistance;

–Water diversion, mud removal, cleaning and dust removal.

SPC is a high-tech enterprise focusing on products in the field of solar bracket accessories, integrating R&D, manufacturing and sales.

The company has a professional automated production line for solar energy-related brackets and accessories to provide customers with satisfactory pv project services. The products are supplied directly from the manufacturer, with high quality and low price, and large quantities are preferred.

Brief Descriptions:
Solar Mounting Components – Solar Panel Water Drain Clips
Item type:
Solar parts components
Type:
SPC-WD-01
Installation Site:
Solar panel
Profile Material:
rubber
PV Modules:
Framed
Color:
Black
Module Orientation:
Portrait and Landscape
Standards:
AS/NZS 1170
DIN 1055
GB50009-2012
IBC2009
TUV
JIS C 8955:2011
International   Building Code IBC 2009
California   Building Code CBC 2010
Warranty
10 years
Designed Lifespan
25 years
Packing Details:
Inner:
Bubble bag + inner box + Carton
Outer:
Wooden Box, Steel Pallet, MDF, etc