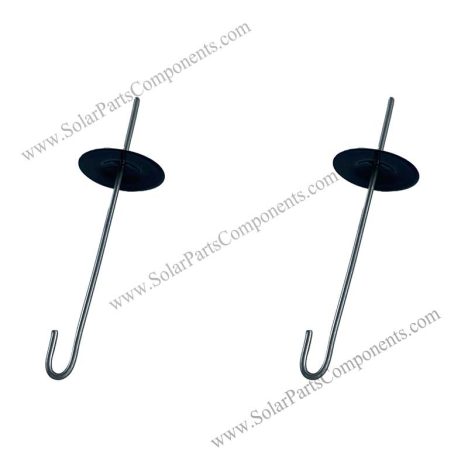 Solar panel mesh clip factory
Product Type:Solar Mounting Components

Product Model:SPC-MC-01

Material: Stainless steel

Max Wind Load : 60 m/s

Max Snow Load : 1.4 KN / M 2

Solar Module Orientation: Landscape / Horizontal

Application:  Unframed / Bifacial / Frameless modules
Contact by Email
Details:
PV panel mesh clip is in the shape of a J-shaped round cap and is made of high-quality materials. It is one of the solar system installation accessories. It has an innovative design and is specially designed to prevent birds from contacting solar panels, making it easy to repel birds from solar panels.
Mesh clip for solar panel self-locking speed clamp is used for anti-pigeon work in solar installation systems. It can fix the metal mesh to the solar panel. The clip and grid form a physical barrier to effectively prevent birds from entering and destroying.
The installation method of this solar panel mesh clip factory manufacturer is simple and easy to use. It does not require complicated steps, does not require drilling, and will not cause damage to solar panels and other components. The required quantity can be determined according to the size of the project.
Features:
–Effectively repel birds;
–Small and beautiful;
–High cost-effectiveness;
–Easy to operate.
SPC has been adhering to its original aspirations for twelve years and has always believed that product quality is our lifeline. We strictly follow industry standards in product material selection and processing to ensure quality. Factory direct sales, large inventory ensures short delivery time; at the same time, we have standard fasteners, and we also accept non-standard customization. Welcome to contact us for consultation at any time!
Brief Descriptions:
Solar mounting component-Solar panel mesh clip factory
Item type:
Solar Mounting Components
Type:
SPC-MC-01
Installation Site:
Tile Roof solar panel mounting
Profile Material:
Stainless steel
PV Modules:
Framed, Frameless
Color:
polishing
Module Orientation:
Horizontal / Vertical
Standards:
AS/NZS 1170
DIN 1055
GB50009-2012
IBC2009
TUV
JIS C 8955:2011
International   Building Code IBC 2009
California   Building Code CBC 2010
Warranty
10 years
Designed Lifespan
25 years
Packing Details:
Inner:
Bubble bag + inner box + Carton
Outer:
Wooden Box, Steel Pallet, MDF, etc
Details:

PV panel mesh clip is in the shape of a J-shaped round cap and is made of high-quality materials. It is one of the solar system installation accessories. It has an innovative design and is specially designed to prevent birds from contacting solar panels, making it easy to repel birds from solar panels.

Mesh clip for solar panel self-locking speed clamp is used for anti-pigeon work in solar installation systems. It can fix the metal mesh to the solar panel. The clip and grid form a physical barrier to effectively prevent birds from entering and destroying.

The installation method of this solar panel mesh clip factory manufacturer is simple and easy to use. It does not require complicated steps, does not require drilling, and will not cause damage to solar panels and other components. The required quantity can be determined according to the size of the project.

Features:

–Effectively repel birds;

–Small and beautiful;

–High cost-effectiveness;

–Easy to operate.

SPC has been adhering to its original aspirations for twelve years and has always believed that product quality is our lifeline. We strictly follow industry standards in product material selection and processing to ensure quality. Factory direct sales, large inventory ensures short delivery time; at the same time, we have standard fasteners, and we also accept non-standard customization. Welcome to contact us for consultation at any time!

Brief Descriptions:
Solar mounting component-Solar panel mesh clip factory
Item type:
Solar Mounting Components
Type:
SPC-MC-01
Installation Site:
Tile Roof solar panel mounting
Profile Material:
Stainless steel
PV Modules:
Framed, Frameless
Color:
polishing
Module Orientation:
Horizontal / Vertical
Standards:
AS/NZS 1170
DIN 1055
GB50009-2012
IBC2009
TUV
JIS C 8955:2011
International   Building Code IBC 2009
California   Building Code CBC 2010
Warranty
10 years
Designed Lifespan
25 years
Packing Details:
Inner:
Bubble bag + inner box + Carton
Outer:
Wooden Box, Steel Pallet, MDF, etc