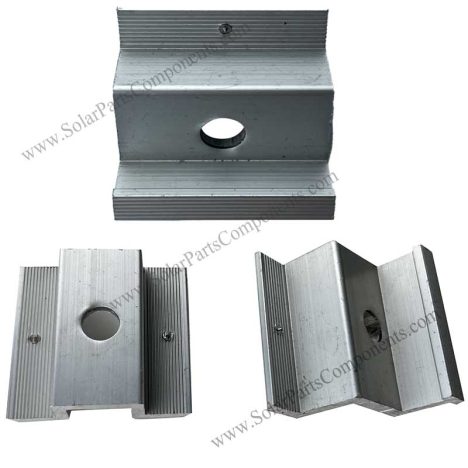 solar panel end clamps with earthing
Product Type: Solar Mounting Components

Product Model: SPC-EC-GP-40

Material: AL6005-T5

Max Wind Load : 60 m/s

Max Snow Load : 1.4 KN / M 2

Solar Module Orientation: Landscape / Horizontal

Application:  Unframed / Bifacial / Frameless modules
Contact by Email
Details:
Solar panel end clamps with earthing is a essential component for fixing solar panels, which is made of 6005-T5 aluminum with high anti-corrosion. The smooth surface and simple design make it easy to install and maintain. It must be the best choice for your buying.
Solar panel end clamps with earthing supplier provide this product can eliminate grounding clips, reducing installation costs and time. It can also ensures quality and strength. The solar panel end clamps with earthing we used is sharp, and easy to pierce the anodic oxide layer. This can form an electrical grounding channel, which can protect the solar system from lightning damage. The steel pin is installed on end clamp or mid clamp, integrated them into one. The design of pins replaces ground clips, saving materials for the solar system installation and making the solar installation faster and more economical.
At the same time, the product from solar panel end clamps with earthing factory can be compatible with framed and frameless solar module installation. Component direction also can be selected Landscape or Portrait. This product has a wide range of applications. The end clamp is installed tightly at the edge of solar panels, providing a strong grip on it. The product can also protect panels from the influence of wind or vibration, so that it can be firmly fixed to prevent slipping.
Features:
Good corrosion resistance: Due to the material of aluminum and anodized treatment on surface, it's safe and durable, which could be used for very long time.
High-quality aluminum: It has advantages of good toughness and light texture, so that the installation can be easy and fast.
High Pre-assembly: Save labor costs and time at the installation site.
The solar clamp with ground pins specially designed by our team. Its pins are sharp, which can easy to pierce the anodic oxide layer. This product can replace the grounding clips, having good conductive performance.
Good pressure resistance and shock resistance, able to withstand different climates.
Simple to install and easy to use, bring much convenience to you. With high construction efficiency.
Factory direct sales, higher cost performance.
SPC is a professional team committed to the development of solar support system products, having more than ten years of research experience. We can provide products suitable for public demand, but also customized according to customer needs. Our solar panel end clamps with earthing is a high quality product designed to install panels. For more details, please contact: www.solarpartscomponents.com
Brief Descriptions:
Solar Mounting Components –solar panel end clamps with earthing 
Item type:
Solar Mounting Components
Type:
SPC-EC-GP40
Installation Site:
Roof or Ground solar panels installation
Profile Material:
AL6005-T5
PV Modules:
Framed
Color:
Silver
Module Orientation:
Landscape/Portrait
Standards:
AS/NZS 1170
DIN 1055
GB50009-2012
IBC2009
TUV
JIS C 8955:2011
International   Building Code IBC 2009
California   Building Code CBC 2010
Warranty
10 years
Designed Lifespan
25 years
Packing Details:
Inner:
Bubble bag + inner box + Carton
Outer:
Wooden Box, Steel Pallet, MDF, etc
[contact-form-7 id="4″]
Details:

Solar panel end clamps with earthing is a essential component for fixing solar panels, which is made of 6005-T5 aluminum with high anti-corrosion. The smooth surface and simple design make it easy to install and maintain. It must be the best choice for your buying.

Solar panel end clamps with earthing supplier provide this product can eliminate grounding clips, reducing installation costs and time. It can also ensures quality and strength. The solar panel end clamps with earthing we used is sharp, and easy to pierce the anodic oxide layer. This can form an electrical grounding channel, which can protect the solar system from lightning damage. The steel pin is installed on end clamp or mid clamp, integrated them into one. The design of pins replaces ground clips, saving materials for the solar system installation and making the solar installation faster and more economical.

At the same time, the product from solar panel end clamps with earthing factory can be compatible with framed and frameless solar module installation. Component direction also can be selected Landscape or Portrait. This product has a wide range of applications. The end clamp is installed tightly at the edge of solar panels, providing a strong grip on it. The product can also protect panels from the influence of wind or vibration, so that it can be firmly fixed to prevent slipping.

Features:

Good corrosion resistance: Due to the material of aluminum and anodized treatment on surface, it's safe and durable, which could be used for very long time.
High-quality aluminum: It has advantages of good toughness and light texture, so that the installation can be easy and fast.
High Pre-assembly: Save labor costs and time at the installation site.
The solar clamp with ground pins specially designed by our team. Its pins are sharp, which can easy to pierce the anodic oxide layer. This product can replace the grounding clips, having good conductive performance.
Good pressure resistance and shock resistance, able to withstand different climates.
Simple to install and easy to use, bring much convenience to you. With high construction efficiency.
Factory direct sales, higher cost performance.

SPC is a professional team committed to the development of solar support system products, having more than ten years of research experience. We can provide products suitable for public demand, but also customized according to customer needs. Our solar panel end clamps with earthing is a high quality product designed to install panels. For more details, please contact: www.solarpartscomponents.com

Brief Descriptions:
Solar Mounting Components –solar panel end clamps with earthing 
Item type:
Solar Mounting Components
Type:
SPC-EC-GP40
Installation Site:
Roof or Ground solar panels installation
Profile Material:
AL6005-T5
PV Modules:
Framed
Color:
Silver
Module Orientation:
Landscape/Portrait
Standards:
AS/NZS 1170
DIN 1055
GB50009-2012
IBC2009
TUV
JIS C 8955:2011
International   Building Code IBC 2009
California   Building Code CBC 2010
Warranty
10 years
Designed Lifespan
25 years
Packing Details:
Inner:
Bubble bag + inner box + Carton
Outer:
Wooden Box, Steel Pallet, MDF, etc

[contact-form-7 id="4″]