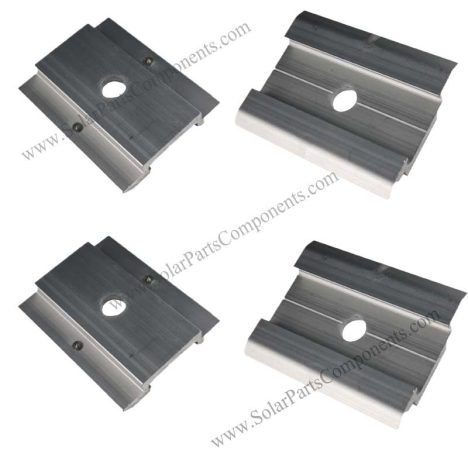 Solar Mid Clamp with Ground Pin
Product Type:Solar Clamp

Product Model: Solar clamp with pin

Profile Material: Aluminum alloy

Max Wind Load : 60 m/s

Max Snow Load : 1.4 KN / M 2

Solar Module Orientation: Landscape / Horizontal

Application:  Frameless modules
Contact by Email
Product Description:
Solar clamp with grounding pins,is a turn-key solution for solar panel mounting.The clamp with one pin in each wing of the solar mid clamp.When you fix the solar clamp,the sharp point of the pins can pierce into the surface coating of the frame of solar module instead the function of the solar ground clip.It provides more fast installation solution without needed of the solar ground clip.
The solar mid clamp with ground pin, eliminate the need of solar earthing clip,also save the material and installation time cost of the project.
Features of this solar clamp with grounding pins:
Easy and fast to install;
High quality material,corrosion resistance and maximum lifespan;
Cost-effective;
Elimination use of grounding washer;
Factory direct;
Accept customized.
We are a professional solar solar clamp with bonding pins manufacture factory,superior quality and reasonable price.The solar clamp with pins is just one of our solution.We also accept customized for the solar clamps. Moreover, our experienced work team support all detail the solar panel mounting system,structure analysis, drawings…. and also will offer full service for your solar panels installation.
For more details, do not feel hesitate to contact us , our company website: www.solarpartscomponents.com.
Brief Descriptions:
Solar Roof Mounting Bracket –Solar-clamp-with-grounding-pins
Item type:
Solar PV Clamp
Type:
Solar Mid Clamp
Installation Site:
Metal Roofing 0-60 degrees
Profile Material:
Aluminum
Fasten Parts
Stainless Steel / Aluminum T Sliding Nut
Color:
Anodized Silvery
PV Modules:
Framed
Wind Load:
60m/s
Snow Load:
1.4KN/M2
Modules Orientation:
Landscape/Portrait
Standards:
AS/NZS 1170
DIN 1055
GB50009-2012
IBC2009
TUV
JIS C 8955: 2011
International   Building Code IBC 2009
California   Building Code CBC 2010
Warranty
10 years
Designed Lifespan
25 years
Packing Details:
Inner:
Bubble bag + inner box + Carton
Outer:
Wooden Box, Steel Pallet, MDF, etc
Product Description:

Solar clamp with grounding pins,is a turn-key solution for solar panel mounting.The clamp with one pin in each wing of the solar mid clamp.When you fix the solar clamp,the sharp point of the pins can pierce into the surface coating of the frame of solar module instead the function of the solar ground clip.It provides more fast installation solution without needed of the solar ground clip.

The solar mid clamp with ground pin, eliminate the need of solar earthing clip,also save the material and installation time cost of the project.

Features of this solar clamp with grounding pins:

Easy and fast to install;
High quality material,corrosion resistance and maximum lifespan;
Cost-effective;
Elimination use of grounding washer;
Factory direct;
Accept customized.

We are a professional solar solar clamp with bonding pins manufacture factory,superior quality and reasonable price.The solar clamp with pins is just one of our solution.We also accept customized for the solar clamps. Moreover, our experienced work team support all detail the solar panel mounting system,structure analysis, drawings…. and also will offer full service for your solar panels installation.

For more details, do not feel hesitate to contact us , our company website: www.solarpartscomponents.com.

Brief Descriptions:
Solar Roof Mounting Bracket –Solar-clamp-with-grounding-pins
Item type:
Solar PV Clamp
Type:
Solar Mid Clamp
Installation Site:
Metal Roofing 0-60 degrees
Profile Material:
Aluminum
Fasten Parts
Stainless Steel / Aluminum T Sliding Nut
Color:
Anodized Silvery
PV Modules:
Framed
Wind Load:
60m/s
Snow Load:
1.4KN/M2
Modules Orientation:
Landscape/Portrait
Standards:
AS/NZS 1170
DIN 1055
GB50009-2012
IBC2009
TUV
JIS C 8955: 2011
International   Building Code IBC 2009
California   Building Code CBC 2010
Warranty
10 years
Designed Lifespan
25 years
Packing Details:
Inner:
Bubble bag + inner box + Carton
Outer:
Wooden Box, Steel Pallet, MDF, etc