SNEC PV POWER EXPO Shanghai, China
SNEC PV POWER EXPO Shanghai, China
Welcome to our Booth No. E5002, Xiamen Top Best Tech Co., Ltd
SNEC 2021 Expo, June 3 – 5th. www.SolarPartsComponents.com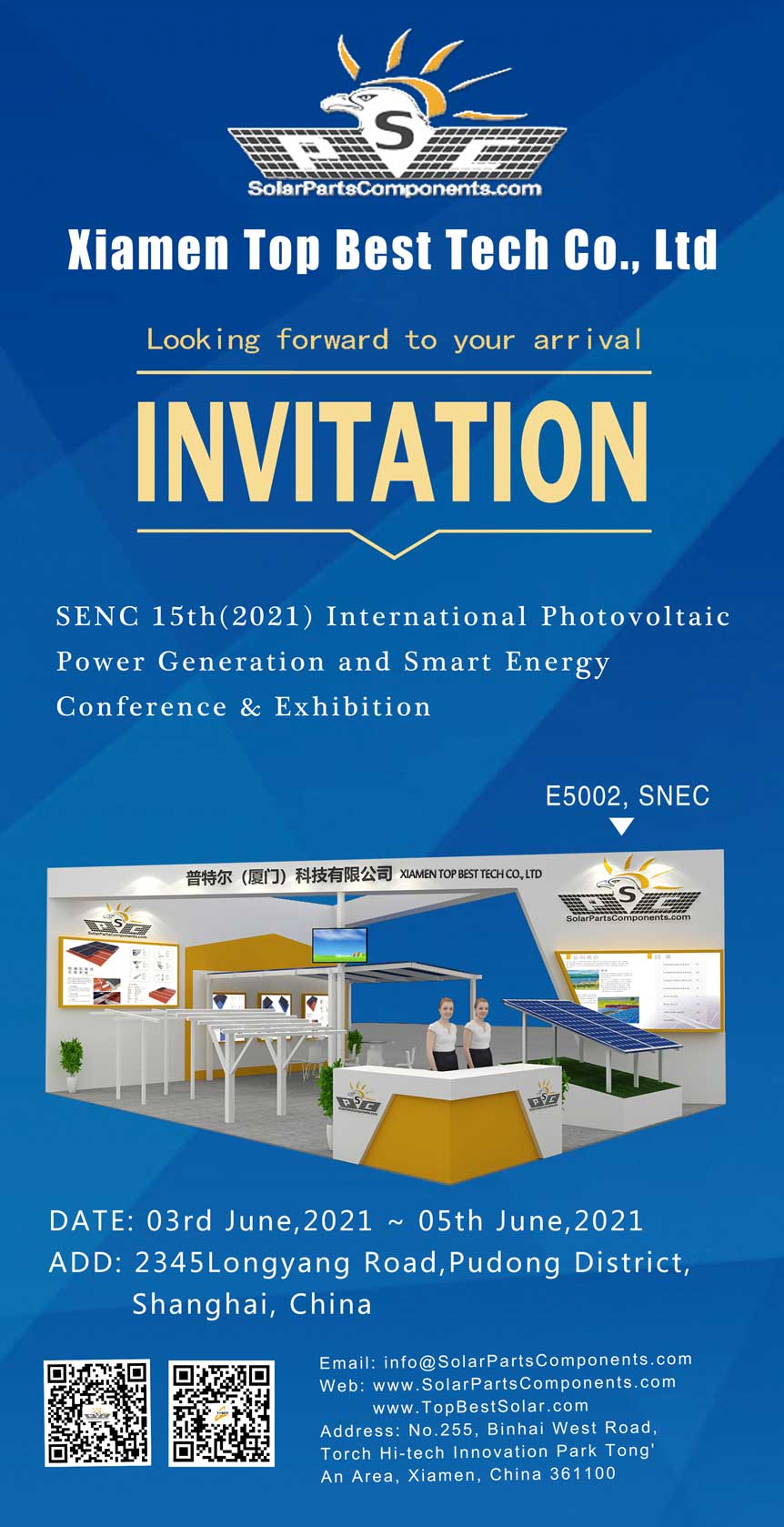 SNEC China
SNEC 15th (2021) International Photovoltaic Power Generation and Smart Energy Conference & Exhibition [SNEC PV POWER EXPO] will be held in Shanghai, China, on June 3-5, 2021. It was initiated and co-organized by Asian Photovoltaic Industry Association (APVIA), Chinese Renewable Energy Society (CRES), Chinese Renewable Energy Industries Association (CREIA), Shanghai Federation of Economic Organizations (SFEO), Shanghai Science & Technology Development and Exchange Center (SSTDEC), Shanghai New Energy Industry Association (SNEIA), etc.
The exhibition scale of SNEC has evolved from 15,000sqm in 2007 to over 150,000sqm in 2020 when it attracted over 1400 exhibiting companies from 95 countries and regions all over the world and the overseas exhibitor ratio is over 30%. SNEC has become the biggest international PV tradeshow with incomparable influence in China, in Asia and even in the world.
As the most professional PV exhibition, SNEC showcases PV manufacturing facilities, materials, PV cells, PV application products & modules, PV project and system, energy storage and mobile energy, covering every section of the whole PV industry chain.
The SNEC Conference consist of various programs incorporating different topics, covering the market trends of PV industry, collaboration and development strategies, policy directions of different countries, advanced industry technologies, PV finance and investment, etc. It is an opportunity that you cannot miss to stay up to date on the technology and market, present your results to the community, and network with industrial experts, scholars and entrepreneurs and colleagues.
We are looking forward to the worldwide PV industry friends gathering at Shanghai, China. From the industry's viewpoint, let us take pulse of the PV power market of China, Asia, and the world, so as to guide the innovative development of the PV industry! Hope all of us meet at Shanghai, on June 3-5, 2021!
Welcome to SNEC (2021) PV POWER EXPO!
See you at SNEC 2021 Shanghai
Meet you at SNEC PV POWER EXPO Shanghai, China !