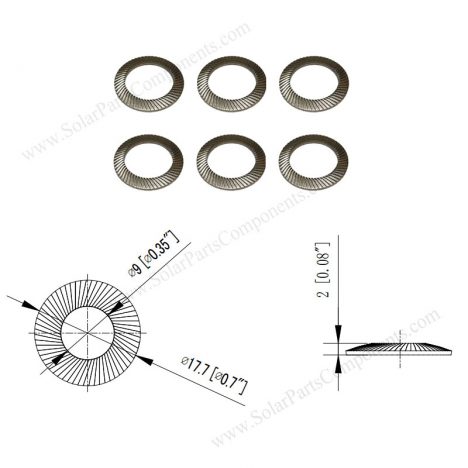 Serrated Washer Solar Mounting Components
Product Type: Solar Panel Mounting Systems Hardware

Product Model:SPC-F-W308

Material: Stainless Steel

Application: PV Module Installation
Contact by Email
Product Description:
Serrated ribbed washers have radial serrations on both concave and convex sides which help tighten screws and bolts safely.
Conical and slightly cupped shape with spring-like washer brings extra gripping power.
This design can replace one piece of flat washer and one piece of spring washer.
This conical serrated washers for solar panel installation have greater loosening prevention in vibration.
Our AET serrated washer for PV module with radius selection, there is no scratching on surface during tightening than normal spring washer.
The sizes of M8 Serrated Ribbed Washers for solar mounting are:
(1) Fits for M8 Bolt & Screws;
(2) Inner Diameter d1: Φ9mm [Φ0.35″];
(2) Outside Diameter d2: Φ17.7mm [Φ0.7″];
(3) Thickness of lock washer h:2.0mm [0.08″];
Features of this serrated washer for PV installation:
1. Well prevent loosen by vibration;
2. Use with hex / hex socket / machine screws;
3. Disc circular cone spring washers with serrations on both sides;
4. Good chemical resistance with stainless steel in material.
(Mildly magnetic feature is accredited for A2-70);
5. M8 Stainless Steel Ribbed Washer with good tension supports;
6. Eliminate bending fasteners with concentric force of this serrated washer design;
More PV module serrated washer sizes correspond for hex socket head bolts and screws are available from SPC solar too from M3 to M30.
Brief Descriptions:
Solar Mounting Components – A2-70 Ribbed Serrated Washers
Item type:
Solar Panel Mounting Washer
Type:
SPC-F-W308
Installation Site:
M8 Bolts & Screws for PV mounting
Profile Material:
SUS 304 Stainless Steel
Color:
Plain
PV Modules:
Framed, Frameless
Module Orientation:
Portrait and Landscape
Standards:
AS/NZS 1170
DIN 1055
GB50009-2012
IBC2009
TUV
JIS C 8955: 2011
International   Building Code IBC 2009
California   Building Code CBC 2010
Warranty
10 years
Designed Lifespan
25 years
Packing Details:
Inner:
Bubble bag+inner box+Carton
Outer:
Wooden Box, Steel Pallet, MDF, etc
Serrated Ribbed Washers for Solar Panel Mounting, SPC-F-W308
Q:
Dear Sir
Need to check price on Serrated Ribbed Washers for Solar Panel Mounting, SPC-F-W308. Needing 600,000 or so.
Can you let me know price and if available.
Thanks, Leon
A:
Dear Leon
Glad to get your inquiry for our M8 Serrated ribbed washers,
Yes, we are serrated washer professional factory with more than 10 years experience.
Base on 600,000 in quantity, please refer to our factory price enclosed.
Thank  you.
SPC Sale Team.
How to using this Serrated Ribbed Washer for Solar Mounts ?
More details kindly check >>>