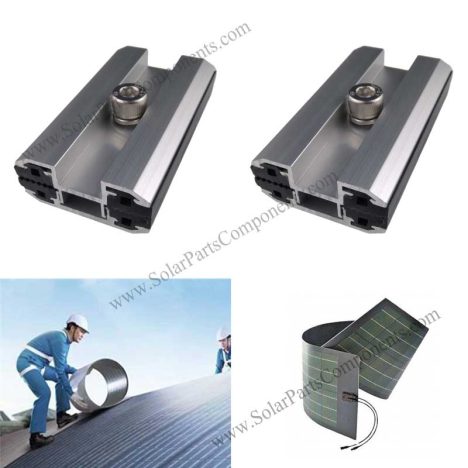 Flexible PV Module Clamps
Product Type:Solar Clamps

Product Model: Flexible PV module clamp

Material: Aluminum alloy, rubber

Max Wind Load : 60 m/s

Max Snow Load : 1.4 KN / M 2

Solar Module Orientation: Landscape / Horizontal

Application:  Flexible PV panel / Bifacial / Frameless modules
Contact by Email
Product Description:
Flexible  PV module clamps is special designed for thin film PV modules,flexible PV panels and frameless PV modules.Nowadays, more and more people use flexible PV panel for more light weight and easy to mount,our designer check out this clamps to meet many customers' demand for their flexible PV panels mounting.
Anodized AL6005-T5 material of this flexible PV panel clamps,anti-corrosion,provide long life service. The EPDM rubber strips on the mid clamp can fix the flexible PV panel well with SUS304 hex socket bolt, and avoid any damage to the panel surface,protect the flexible panel well.
As one of the professional flexible thin film PV module clamps manufacturer factory, we carry various type of flexible PV modules mid clamps compatibility range of the thickness from 1mm to 10mm.
This model of flexible PV module mid clamp is designed for the thickness range from 1mm to 4mm of the flexible PV panel.
Features of flexible PV module clamps:
High quality aluminum material, corrosion resistance;
Undergoing test for strong support;
Suitable for panel thickness range from 1mm to 4mm;
Easy and fast to mount;
EPDM rubber strip protect the PV modules well
Factory direct, available for customized.
Solar PV Modules clamps manufacture factory,produce all kinds of mid and end clamp for frame or frameless solar panels, professional sale and design team provide you solar mounting one stop service.Welcome inquiry from us anytime and visit our website: www.SolarPartsComponents.com
Brief Descriptions:
Solar Mounting Components –Flexible PV Module Mid clamps for Thin film panels
Item type:
Flexible PV module clamps
Type:
 Thin film PV module clamps
Installation Site:
Commercial ,Industrial&Residential rooftop, Carport
Profile Material:
AL6005-T5+EPDM
Fasten Parts
Stainless Steel / Aluminum T Sliding Nut
Color:
Nature/Customized
PV Modules:
Framed,Frameless
Wind Load:
60m/s
Snow Load:
1.4KN/M2
Modules Orientation:
Landscape/Portrait
Standards:
AS/NZS 1170
DIN 1055
GB50009-2012
IBC2009
TUV
JIS C 8955: 2011
International   Building Code IBC 2009
California   Building Code CBC 2010
Warranty
10 years
Designed Lifespan
25 years
Packing Details:
Inner:
Bubble bag + inner box + Carton
Outer:
Wooden Box, Steel Pallet, MDF, etc
Flexible pv module clamps
Product Description:

Flexible  PV module clamps is special designed for thin film PV modules,flexible PV panels and frameless PV modules.Nowadays, more and more people use flexible PV panel for more light weight and easy to mount,our designer check out this clamps to meet many customers' demand for their flexible PV panels mounting.

Anodized AL6005-T5 material of this flexible PV panel clamps,anti-corrosion,provide long life service. The EPDM rubber strips on the mid clamp can fix the flexible PV panel well with SUS304 hex socket bolt, and avoid any damage to the panel surface,protect the flexible panel well.

As one of the professional flexible thin film PV module clamps manufacturer factory, we carry various type of flexible PV modules mid clamps compatibility range of the thickness from 1mm to 10mm.

This model of flexible PV module mid clamp is designed for the thickness range from 1mm to 4mm of the flexible PV panel.

Features of flexible PV module clamps:

High quality aluminum material, corrosion resistance;
Undergoing test for strong support;
Suitable for panel thickness range from 1mm to 4mm;
Easy and fast to mount;
EPDM rubber strip protect the PV modules well
Factory direct, available for customized.

Solar PV Modules clamps manufacture factory,produce all kinds of mid and end clamp for frame or frameless solar panels, professional sale and design team provide you solar mounting one stop service.Welcome inquiry from us anytime and visit our website: www.SolarPartsComponents.com

Brief Descriptions:
Solar Mounting Components –Flexible PV Module Mid clamps for Thin film panels
Item type:
Flexible PV module clamps
Type:
 Thin film PV module clamps
Installation Site:
Commercial ,Industrial&Residential rooftop, Carport
Profile Material:
AL6005-T5+EPDM
Fasten Parts
Stainless Steel / Aluminum T Sliding Nut
Color:
Nature/Customized
PV Modules:
Framed,Frameless
Wind Load:
60m/s
Snow Load:
1.4KN/M2
Modules Orientation:
Landscape/Portrait
Standards:
AS/NZS 1170
DIN 1055
GB50009-2012
IBC2009
TUV
JIS C 8955: 2011
International   Building Code IBC 2009
California   Building Code CBC 2010
Warranty
10 years
Designed Lifespan
25 years
Packing Details:
Inner:
Bubble bag + inner box + Carton
Outer:
Wooden Box, Steel Pallet, MDF, etc

Flexible pv module clamps