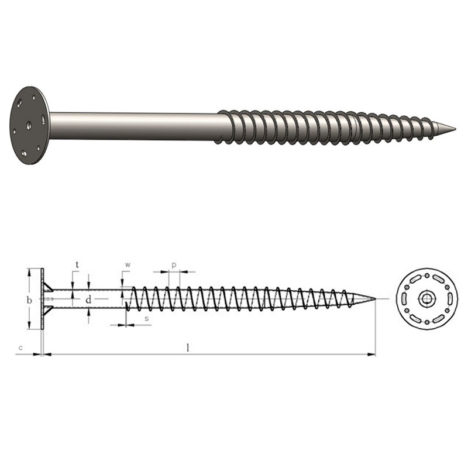 Solar Ground Screw System With Fixed Flange
Product Type: Solar Ground Screws

Product Model:Flange-Solar-Ground-Screws

Material:  Steel Q235

Processing : Hot dipped galvanized

Connector : Fixed Flange

Application: Solar ground installing, fences, billboards, wood houses and flag poles …
Contact by Email
Product Description
This solar ground screw with flange can be installed quickly and simply with pile driver or machine.
Our solar flanged helical anchors is very solid and strong after digging into ground.
The flange solar helical piers is specially designed for solar ground mounting installation which can support whole solar station systems.
This helical screw is good alternative for traditional wooden or concrete base where requires a solid footing.
It can wild applied for different hard and stony soil or sand area .
Fixed flange solar ground anchors are all made of hot-digging galvanized Q235 steel,  long life and anti-corrosive.
Easy for screw or unscrew these solar ground anchors,
in other word it's resuable.
This fixed flange solar ground screw system have had with strictly test from wind loads and lateral pull, to horizontal load and lift …
Besides solar helical screw works as foundation systems for solar ground mounts, it's also suitable for mesh fence, wood house and flag poles …
Advantages :
Seamless welded helix, quality consistency ;
Hot dipping galvanizing with ISO 1461 standard ;
High efficent installation ;
Various dimension and diameters for choosen;
Widely ground for different terrain – class 5~7.
Our company has developed different series of screws to meet varied applications. The flange solar ground screws is installed with a number of specific aids and machines, perfectly perpendicular at the exact point after minutes. As per practical requirements, the solar mounting ground screw pile is able to be planned and customized in the factory to avoid welding and cut on the spot, saving your time and cost.
More details for you. Contact us by our website:
www.SolarPartsComponents.com
Brief Descriptions :
Ground Screw with Flange for solar mounting systems, ground solar panels installation
Item type:
Solar Ground Screws
Technical Parameters :
Installation Site :
Ground solar panel mounting
Profile Material :
Q235 Steel
Surface processing :
Hot dipped galvanized
Length :
1.2m, 1.6m, 1.8m, 2.0m, 2.5m, 3.0m, customized
External diameter :
76 mm ( 3″)
Wall thickness :
3 mm ( 0.12″)
Connector :
Flange
Flange diameter :
160mm 170mm 185mm 200mm 220mm 240mm 250mm
Flange thickness :
8 mm
Application :
Solar power stations, fences, cabins, billboards and flagpoles.
Standards :
AS/NZS 1170
DIN 1055
GB50009-2012
IBC2009
TUV
JIS C 8955 : 2011
International   Building Code IBC 2009
California   Building Code CBC 2010
Warranty
10 years
Designed LifeSpan
25 years
Packing Details :
Inner :
shrinkable wrap
Outer :
Iron plate
Drawing for this Flange Solar Ground Screws
Size and details for this solar panel ground screws with fixed flange