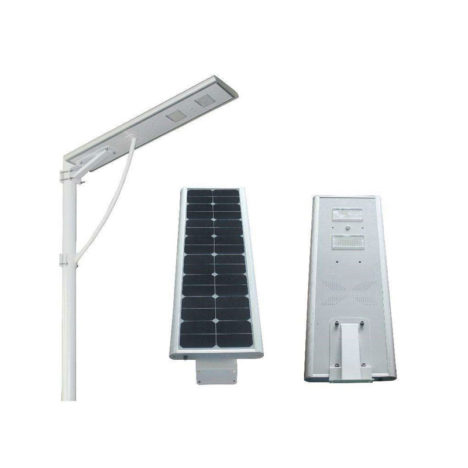 LED Solar Street Lights – All In One , solar panel integrated , 25 Watts
Product Type: LED Street Lighting

Product Model: All-In-One-Solar-Street-Lights-25W-Integrated

Lighting Source: LED

Input Voltage: 12 V / 110 V / 220 V

Power: 25 Watts

Application: gardens, parks, residential areas, courtyards, parking areas, rural areas …
Contact by Email
25W Integrated Solar LED Street Lights Products description:
This 25 W all-in-one solar street lights is 100% solar panel power in sunny days , No cable needed .
It can last 2 -3 rainy days in the dim circumstance.
On-grid switch can be availble if necessary .
It can automatically connect to city power for led boards and charging storage battery if it's low .
Our 25 Watts integrated solar street lighting is very compact and nice appearance than solar panel and lamp head seperated .
Cost saving for shipment and installation .
All in one integrated 25W solar steet light can be widely used for garden, parking lots, pathway, rural path …
We using 30 Watts monocrystal silicon panels for charging Lithium battery , our good quality 12 Volts battery bank can offer 15 – 30 hours power for LEDs . 1200 circles 90% DOD
AL 6005 – T5 aluminum housing ( Anti-Corrosion) for all in 1 solar ligths, BridgeLux 60 units LED chips, 70 CRI , super bright .
CCT : 4000K / 6000K .
Our all-in-one PV street ligths 25W is waterproof ( IP65 rated )
Advantages :
(1) LED Watts: 200 W Fluroscent Street Lights Equivalent ;
(2) Lumens: 3250 Lm, energy saving comparing neon street lamps;
(3) Solar Panel Size: 18V 30W , free maintenance for All-In-1 design;
(4) Light Distance: 80 ft – 120 ft ( 2 meters – 3 meters) , Quick installation with in 10 minutes .
(5) IP 65 class water-resistance , antirust, antidust .
Parts and Components for this All In One 25 Watts Solar Street Lights :
One set of LED Lighting head with high efficiency solar panel one the back integrated :
integrated parts includes solar panels, Li batteries, LEDs, MPPT controller and human intelligence induction system;
Four pieces of SUS 304 Hex nuts and bolts ;
One piecs of metal hoop for pole fixing ;
The light pole in not included, but we can sell them if needs .
Our whole integrated solar street lighting series can be : 6, 12, 15, 20, 25, 30, 40, 80 Watts …
Brief Description
All-In-One Solar Street Lights 25 Watts, 130Lm / watt, 110 V / 220 V, Integrated, Solar LED street light kits, Outdoor solar area lighting , parking light fixtures
Item Type
Integrated Solar Street Lights
Electrical and optical parameter
Model number:
5L- ZSX-LD-SEYH2040-Z02
Item color:
Silvery
Shape design:
Rectangel box shape
Bracket materials:
Aluminum alloy , Metal
Lighting source:
Bridgelux SMD LED
Battery:
Ternary Lithium battery
Power consumption:
LED light: 25 W
Solar panel: 30 W
Luminous flux:
3250 Lm
Power efficiency:
130 Lm/W
Input voltage:
Solar panel: 18 V
Battery: 12 V / 25AH
Control mode:
Light sensor Intelligent control
Lighting time:
Whole night lighting, 1-3 raining days
Solar panel rotate angle:
Fixed
Suggest installation height:
3-5Meters
Attached accessories:
Integrated Solar panel + LED lamp + Bracket + Screws
Life time:
Solar panel: 25 years
Lamp: 30,000hours
Battery: 8-10 years
Warranty:
3 years
Packing Dimension ( 1 Set Packing in a carton )
Unit Net Weight(lb)/[g]:
28.66 (lb) / 13000[g] / carton ( 1set )
Carton size(Inch):
915mm (L) x 375mm (W) x 100mm (H)
36 Inch (L) x 14 3/4 Inch (W) x 4 Inch (H)
How to install This All In One , solar panel integrated , 25 Watts Solar Lights ?
More details kindly check >>>