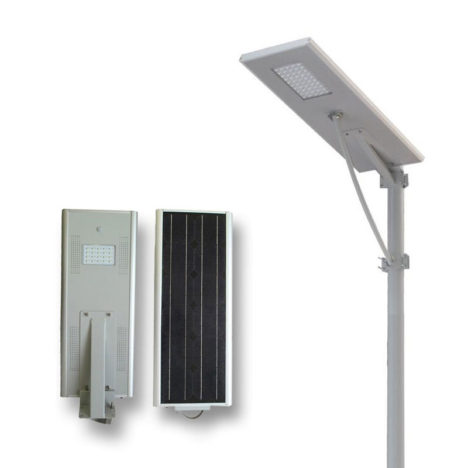 LED Solar Street Lights – All In One , solar panel integrated , 15 Watts
Product Type: LED Street Lighting

Product Model: All-In-One-Solar-Street-Lights-15W-Integrated

Lighting Source: LED

Input Voltage: 12 V / 110 V / 220 V

Power: 15 Watts

Application: gardens, parks, residential areas, courtyards, parking areas, rural areas …
Contact by Email
All-In-One Solar LED Street Lights 15W description:
This All In One Solar Street Light is only 15 watts in power consumption which it extremely energy star . It can absorb sun lights by the integrated PV solar panel module , auto lighting up at nightfall .
Just fixed with four SUS304 stainless steel screws, switch on button on the edge .
15 W integrated solar street lights can be install on lighting pole quickly .
NO need battery pack ,
No need seperated photovoltaic module ,
No need addtional wires .
With sensitive mirco controller and infrared sensor , all in on 15 wasst solar street lighting fixture can be lightened when sun sets and power off at dawn .
It can be set up flexibly at 100 % , 50 % , 30% brightness with controller inside when any creatures approach or with hours go on .
This all-in-one PV street lighting is weather proof, it reached IP 65 grade , suitable for outdoor application .
Our Lithium-ion battery bank is long life span and good performance and stability .
The reliable battery manage technology can protech power supply stable and prolong life for over 6 years .
Our light source is BridgeLux, Model : 3030,  30 units .
With excellent heat dissipaction and 130 lm per watts , the led bulbs can offer super bright lights with 30, 000 hours in life .
With AL6005-T5 aluminium frame and Stainless Steel A2 components, this all in one solar PV street lights 15 watts is light in weight, anti-corrosive .
Microwave motion detection can automatically control 100% bright to 30% dim mode as required , so that can last 3 days rainy days and increase battery life .
Parts and Components for this All In One 15 Watts Solar Street Lights :
One set of 15 watts Light head with high efficiency solar PV panel one the back integrated :
integrated parts includes solar panels, Li batteries, LEDs, MPPT controller and human intelligence induction system;
Four pieces of SUS 304 Hexagon nuts and bolts ;
One piecs of metal hoop for pole fixing ;
The light pole in not included, but we can sell them if needs .
Our whole integrated solar street lighting series can be : 15, 25, 35 Watts …
Brief Description
All-In-One Solar Street Lights 15 Watts, 130Lm / watt, 110 V / 220 V, Integrated, Solar LED street light kits, Outdoor solar area lighting , parking light fixtures
Item Type
Integrated Solar Street Lights
Electrical and optical parameter
Model number:
5L- ZSX-LD-SEYTH1015-Z01
Item color:
Silvery
Shape design:
Rectangel box shape
Bracket materials:
Aluminum alloy , Metal
Lighting source:
Bridgelux SMD LED
Battery:
Ternary Lithium battery
Power consumption:
LED light: 15 W
Solar panel: 25 W
Luminous flux:
1950 Lm
Power efficiency:
130 Lm/W
Input voltage:
Solar panel: 18 V
Battery: 12 V / 15AH
Control mode:
Light sensor Intelligent control
Lighting time:
Whole night lighting, 1-3 raining days
Solar panel rotate angle:
Fixed
Suggest installation height:
3-5Meters
Attached accessories:
Integrated Solar panel + LED lamp + Bracket + Screws
Life time:
Solar panel: 25 years
Lamp: 30,000hours
Battery: 8-10 years
Warranty:
3 years
Packing Dimension ( 1 Set Packing in a carton )
Unit Net Weight(lb)/[g]:
20.94 (lb) / 9500[g] / carton ( 1set )
Carton size(Inch):
686mm (L) x 322mm (W) x 100mm (H)
27 Inch (L) x 12 3/4 Inch (W) x 4 Inch (H)
How to install This All In One , solar panel integrated , 15 Watts Solar Lights ?
More details kindly check >>>