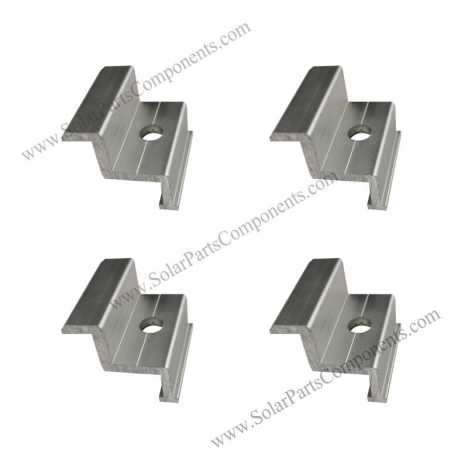 30mm solar clamps
Product Type:Solar Clamp

Product Model: SPC-EC-P30

Material: Aluminum alloy,

Max Wind Load : 60 m/s

Max Snow Load : 1.4 KN / M 2

Solar Module Orientation: Landscape / Horizontal

Application:  Framed solar modules
Contact by Email
Product Description:
This model 30mm solar end clamp SPC-EC-P30 is designed for 30mm frame thickness of solar panels mounting.The general length of the end clamp is 40mm. It is used for clamping the edge frame of the solar panel to the mounting rail.
Our 30mm solar clamps are made of high quality anodized aluminum AL6005-T5, super anti-rust and corrosion resistance.It works with stainless steel bolt and nuts to fix the framed solar panel.
End clamps for 30mm solar, make the installation of solar panels more fast and easy.It just need simple steps to mounting the solar modules, the nut of pre-assembled end clamp kit was slide into the slot of the rail, and slide to the right position flexibly,fasten tight the bolt to secure the solar panel tightly.
Features of this 30mm solar end clamp:
Simple and easy installation;
High pre-assembled in factory;
High corrosion resistance,long life span service;
Good quality and reasonable price;
Factory direct,competitive price
Accept customized from our factory
We are end clamps for 30mm solar panel manufacture factory OEM and OMD. Our factory carry various types of solar clamps to fit different solar panels.We have full sizes of end clamp  range from 20mm,25mm,30mm,32mm,35mm….to 55mm.Just let us know what you need.
For more details, to request a consultation with a specialist, or to get a quote, please feel free to visit our company website: www.solarpartscomponents.com.
Brief Descriptions:
Solar Mounting Clamps –30mm solar end clamp
Item type:
Solar Panel Mounting Clamps
Type:
SPC-EC-P30
Installation Site:
Solar Panel Installation
Profile Material:
AL6005-T5
Fasten Parts
Stainless Steel
Color:
Silvery
PV Modules:
Framed
Wind Load:
60m/s
Snow Load:
1.4KN/M2
Modules Orientation:
Landscape/Portrait
Standards:
AS/NZS 1170
DIN 1055
GB50009-2012
IBC2009
TUV
JIS C 8955: 2011
International   Building Code IBC 2009
California   Building Code CBC 2010
Warranty
10 years
Designed Lifespan
25 years
Packing Details:
Inner:
Bubble bag + inner box + Carton
Outer:
Wooden Box, Steel Pallet, MDF, etc
Product Description:

This model 30mm solar end clamp SPC-EC-P30 is designed for 30mm frame thickness of solar panels mounting.The general length of the end clamp is 40mm. It is used for clamping the edge frame of the solar panel to the mounting rail.

Our 30mm solar clamps are made of high quality anodized aluminum AL6005-T5, super anti-rust and corrosion resistance.It works with stainless steel bolt and nuts to fix the framed solar panel.

End clamps for 30mm solar, make the installation of solar panels more fast and easy.It just need simple steps to mounting the solar modules, the nut of pre-assembled end clamp kit was slide into the slot of the rail, and slide to the right position flexibly,fasten tight the bolt to secure the solar panel tightly.

Features of this 30mm solar end clamp:

 

Simple and easy installation;
High pre-assembled in factory;
High corrosion resistance,long life span service;
Good quality and reasonable price;
Factory direct,competitive price
Accept customized from our factory

We are end clamps for 30mm solar panel manufacture factory OEM and OMD. Our factory carry various types of solar clamps to fit different solar panels.We have full sizes of end clamp  range from 20mm,25mm,30mm,32mm,35mm….to 55mm.Just let us know what you need.

For more details, to request a consultation with a specialist, or to get a quote, please feel free to visit our company website: www.solarpartscomponents.com.

Brief Descriptions:
Solar Mounting Clamps –30mm solar end clamp
Item type:
Solar Panel Mounting Clamps
Type:
SPC-EC-P30
Installation Site:
Solar Panel Installation
Profile Material:
AL6005-T5
Fasten Parts
Stainless Steel
Color:
Silvery
PV Modules:
Framed
Wind Load:
60m/s
Snow Load:
1.4KN/M2
Modules Orientation:
Landscape/Portrait
Standards:
AS/NZS 1170
DIN 1055
GB50009-2012
IBC2009
TUV
JIS C 8955: 2011
International   Building Code IBC 2009
California   Building Code CBC 2010
Warranty
10 years
Designed Lifespan
25 years
Packing Details:
Inner:
Bubble bag + inner box + Carton
Outer:
Wooden Box, Steel Pallet, MDF, etc