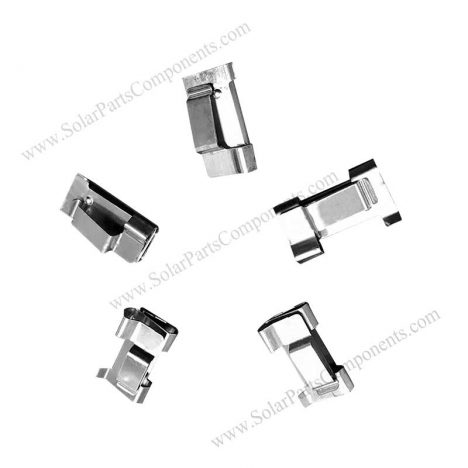 2 Wire 90° PV solar clips
Product Type: Solar Cable Clips

Product Model: SPC-PV-CC10

Material: Stainless Steel

Max Wind Load : 60 m/s

Max Snow Load : 1.4 KN / M 2

Solar Module Orientation: Landscape / Horizontal

Application:  solar wire arrangement
Contact by Email
Product Description:
2 Wire 90° PV clips also known as pv wire cable clips / photovoltaic wire clips is a hardware used to hold pv cables under solar panel edges.
90° solar clips (Model: SPC-PV-CC10) can protect pv wires in harsh environments, robust design.
2 Wires 90° PV clips are made of 304 stainless steel which can have good performance in adverse weather.
As solar power components supplier, our PV cable clips can offer a comprehensive method for solar cable management. This SPC-PV-CC10 model is specially engineered for vertical installation (90 degree) which is coincident with power plant required.
Features of this 2 Wire 90° PV solar clips:
(1) Managing pv wires in good condition;
(2) Hold wires to module frames securely;
(3) Ultraviolet light resistant / decrease wearing;
(4) Aesthetically design for quick installation;
(5) Can holding 1 / 2 cables from 5 mm to 9 mm diameter;
(6) Fits solar panel frame thickness from 1 mm to 3 mm;
(7) Reusable / removal easily with screw driver;
Wide application for pv cable diameter and panel thickness ranges, be used for single or two wires go through.
Welcome to contact SPC solar for more information about this solar module wire management clips from www.SolarPartsComponents.com
Brief Descriptions:
PV Cable Manage Components –solar panel wire management clips, 2 lines, 90°
Item type:
SPC-PV-CC10
Type:
PV Cable Fasten Hardware
Installation Site:
PV solar Panel
Profile Material:
SUS 304 Stainless Steel
Color:
Plain
PV Modules:
Framed Solar Panels
Module Orientation:
Portrait and Landscape
Standards:
AS/NZS 1170
DIN 1055
GB50009-2012
IBC2009
TUV
JIS C 8955 : 2011
International   Building Code IBC 2009
California   Building Code CBC 2010
Warranty
10 years
Designed Lifespan
25 years
Packing Details:
Inner:
Bubble bag+inner box+Carton
Outer:
Wooden Box, Steel Pallet, MDF, etc
Q:
"  Hi, I am interested in your 2 wire 90° PV Clips"
A:
"Glad to heard that you are interested in our 90° calble clips.
Refer to one of our hot sale item :
2 Wire 90° PV solar clips SPC-PV-CC10
This model is designed for managing 2 lines,
More types for 1/4 lines are available for our factory.
Please share more details and purchase quantities of your clips,
and kindly comfirm your address: Crancebrook NSW2749, Australia,
I can back to you qutation with freight cost if you need."
Q:
" Yes, that is our address, can I get 100 for test?"
A:
"Sure, I have sent Invoice through your email, please kindly check."
Q:
" Wire sent."
A:
" Well received, thank you.Will process the shipping."
Product Description:

2 Wire 90° PV clips also known as pv wire cable clips / photovoltaic wire clips is a hardware used to hold pv cables under solar panel edges.

90° solar clips (Model: SPC-PV-CC10) can protect pv wires in harsh environments, robust design.

2 Wires 90° PV clips are made of 304 stainless steel which can have good performance in adverse weather.

As solar power components supplier, our PV cable clips can offer a comprehensive method for solar cable management. This SPC-PV-CC10 model is specially engineered for vertical installation (90 degree) which is coincident with power plant required.

Features of this 2 Wire 90° PV solar clips:

(1) Managing pv wires in good condition;

(2) Hold wires to module frames securely;

(3) Ultraviolet light resistant / decrease wearing;

(4) Aesthetically design for quick installation;

(5) Can holding 1 / 2 cables from 5 mm to 9 mm diameter;

(6) Fits solar panel frame thickness from 1 mm to 3 mm;

(7) Reusable / removal easily with screw driver;

Wide application for pv cable diameter and panel thickness ranges, be used for single or two wires go through.

Welcome to contact SPC solar for more information about this solar module wire management clips from www.SolarPartsComponents.com

Brief Descriptions:
PV Cable Manage Components –solar panel wire management clips, 2 lines, 90°
Item type:
SPC-PV-CC10
Type:
PV Cable Fasten Hardware
Installation Site:
PV solar Panel
Profile Material:
SUS 304 Stainless Steel
Color:
Plain
PV Modules:
Framed Solar Panels
Module Orientation:
Portrait and Landscape
Standards:
AS/NZS 1170
DIN 1055
GB50009-2012
IBC2009
TUV
JIS C 8955 : 2011
International   Building Code IBC 2009
California   Building Code CBC 2010
Warranty
10 years
Designed Lifespan
25 years
Packing Details:
Inner:
Bubble bag+inner box+Carton
Outer:
Wooden Box, Steel Pallet, MDF, etc

Q:

"  Hi, I am interested in your 2 wire 90° PV Clips"

A:

"Glad to heard that you are interested in our 90° calble clips.

Refer to one of our hot sale item :

2 Wire 90° PV solar clips SPC-PV-CC10

This model is designed for managing 2 lines,

More types for 1/4 lines are available for our factory.

Please share more details and purchase quantities of your clips,

and kindly comfirm your address: Crancebrook NSW2749, Australia,

I can back to you qutation with freight cost if you need."

Q:

" Yes, that is our address, can I get 100 for test?"

A:

"Sure, I have sent Invoice through your email, please kindly check."

Q:

" Wire sent."

A:

" Well received, thank you.Will process the shipping."