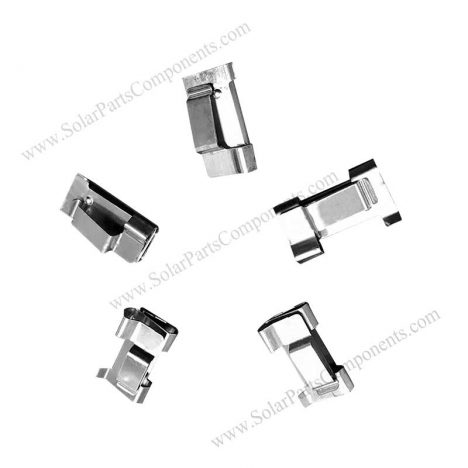 2 Wire 90° PV solar clips
Product Type: Solar Cable Clips

Product Model: SPC-PV-CC10

Material: Stainless Steel

Max Wind Load : 60 m/s

Max Snow Load : 1.4 KN / M 2

Solar Module Orientation: Landscape / Horizontal

Application:  solar wire arrangement
Contact by Email
Product Description:
2 Wire 90° PV clips also known as pv wire cable clips / photovoltaic wire clips is a hardware used to hold pv cables under solar panel edges.
90° solar clips (Model: SPC-PV-CC10) can protect pv wires in harsh environments, robust design.
2 Wires 90° PV clips are made of 304 stainless steel which can have good performance in adverse weather.
As solar power components supplier, our PV cable clips can offer a comprehensive method for solar cable management. This SPC-PV-CC10 model is specially engineered for vertical installation (90 degree) which is coincident with power plant required.
Features of this 2 Wire 90° PV solar clips:
(1) Managing pv wires in good condition;
(2) Hold wires to module frames securely;
(3) Ultraviolet light resistant / decrease wearing;
(4) Aesthetically design for quick installation;
(5) Can holding 1 / 2 cables from 5 mm to 9 mm diameter;
(6) Fits solar panel frame thickness from 1 mm to 3 mm;
(7) Reusable / removal easily with screw driver;
Wide application for pv cable diameter and panel thickness ranges, be used for single or two wires go through.
Welcome to contact SPC solar for more information about this solar module wire management clips from www.SolarPartsComponents.com
Brief Descriptions:
PV Cable Manage Components –solar panel wire management clips, 2 lines, 90°
Item type:
SPC-PV-CC10
Type:
PV Cable Fasten Hardware
Installation Site:
PV solar Panel
Profile Material:
SUS 304 Stainless Steel
Color:
Plain
PV Modules:
Framed Solar Panels
Module Orientation:
Portrait and Landscape
Standards:
AS/NZS 1170
DIN 1055
GB50009-2012
IBC2009
TUV
JIS C 8955 : 2011
International   Building Code IBC 2009
California   Building Code CBC 2010
Warranty
10 years
Designed Lifespan
25 years
Packing Details:
Inner:
Bubble bag+inner box+Carton
Outer:
Wooden Box, Steel Pallet, MDF, etc
Features of SPC-PV-CC10.
Features of SPC-PV-CC10:
Good corrosion resistance: Due to the material of stainless steel and anodized treatment on surface, it's safe and durable, which could be used for very long time.
Wire protection: Prevent wires from damage to ensure the long-term stable operation of the solar system.
Tidy up wire: Reducing cable clutter, cable clip helps to organize it, reducing to improvie the overall appearance of your solar system.
Burr-free: Smooth surface prevents damage to cable insulation. It's safe to use.
Clip structure and barb design: Easy to apply, to hold wires tightly and neatly at the same time, hard to falling off, keeping the wires from tangling.
Special tab for easy installation and removal without any tool.
Simple to install and easy to use, bring much convenience to you. With high construction efficiency.
High Pre-assembly: Save labor costs and time at the installation site.
Factory direct sales, higher cost performance.
90°solar cable clips
2 Wire 90°PV Clip factory
2 Wire 90°PV Clip factory,OEM & ODM for more than 12 years experience.We carry various type of wire clip to meet different requirement.This model SPC-PV-CC10 is used for arrange 1 to 2 wires and vertical mounted to the frame of solar panel,super easy installtion without any tools.
If you are interested in our wire PV clips, please feel free to contact us, we will provide you turn-key solution with our professional knowledge,and competitive price with good quality.
Q:
"  Hi, I am interested in your 2 wire 90° PV Clips"
A:
"Glad to heard that you are interested in our 90° calble clips.
Refer to one of our hot sale item :
2 Wire 90° PV solar clips SPC-PV-CC10
This model is designed for managing 2 lines,
More types for 1/4 lines are available for our factory.
Please share more details and purchase quantities of your clips,
and kindly comfirm your address: Crancebrook NSW2749, Australia,
I can back to you qutation with freight cost if you need."
Q:
" Yes, that is our address, can I get 100 for test?"
A:
"Sure, I have sent Invoice through your email, please kindly check."
Q:
" Wire sent."
A:
" Well received, thank you.Will process the shipping."
How to use the 2 Wire 90° PV clips, SPC-PV-CC10?
SPC-PV-CC10 is used for wire management in solar panel installation. It can accommodate 1-2 cables with a diameter of 5mm ~ 9mm at the same time.
It is suitable for the solar panel frame with a thickness of 1mm to 3mm. The cable is fixed on the edge of the solar panel,
and the wire is managed reasonably to protect the safe use of the solar system, so that the solar system is clean and beautiful.
Suitable for 90° vertical installation, installation without additional processing only need to use a screwdriver can be disassembled, the product can be reused.
[contact-form-7 id="4″]
Product Description:

2 Wire 90° PV clips also known as pv wire cable clips / photovoltaic wire clips is a hardware used to hold pv cables under solar panel edges.

90° solar clips (Model: SPC-PV-CC10) can protect pv wires in harsh environments, robust design.

2 Wires 90° PV clips are made of 304 stainless steel which can have good performance in adverse weather.

As solar power components supplier, our PV cable clips can offer a comprehensive method for solar cable management. This SPC-PV-CC10 model is specially engineered for vertical installation (90 degree) which is coincident with power plant required.

Features of this 2 Wire 90° PV solar clips:

(1) Managing pv wires in good condition;

(2) Hold wires to module frames securely;

(3) Ultraviolet light resistant / decrease wearing;

(4) Aesthetically design for quick installation;

(5) Can holding 1 / 2 cables from 5 mm to 9 mm diameter;

(6) Fits solar panel frame thickness from 1 mm to 3 mm;

(7) Reusable / removal easily with screw driver;

Wide application for pv cable diameter and panel thickness ranges, be used for single or two wires go through.

Welcome to contact SPC solar for more information about this solar module wire management clips from www.SolarPartsComponents.com

Brief Descriptions:
PV Cable Manage Components –solar panel wire management clips, 2 lines, 90°
Item type:
SPC-PV-CC10
Type:
PV Cable Fasten Hardware
Installation Site:
PV solar Panel
Profile Material:
SUS 304 Stainless Steel
Color:
Plain
PV Modules:
Framed Solar Panels
Module Orientation:
Portrait and Landscape
Standards:
AS/NZS 1170
DIN 1055
GB50009-2012
IBC2009
TUV
JIS C 8955 : 2011
International   Building Code IBC 2009
California   Building Code CBC 2010
Warranty
10 years
Designed Lifespan
25 years
Packing Details:
Inner:
Bubble bag+inner box+Carton
Outer:
Wooden Box, Steel Pallet, MDF, etc

Features of SPC-PV-CC10.

Features of SPC-PV-CC10:

Good corrosion resistance: Due to the material of stainless steel and anodized treatment on surface, it's safe and durable, which could be used for very long time.
Wire protection: Prevent wires from damage to ensure the long-term stable operation of the solar system.
Tidy up wire: Reducing cable clutter, cable clip helps to organize it, reducing to improvie the overall appearance of your solar system.
Burr-free: Smooth surface prevents damage to cable insulation. It's safe to use.
Clip structure and barb design: Easy to apply, to hold wires tightly and neatly at the same time, hard to falling off, keeping the wires from tangling.
Special tab for easy installation and removal without any tool.
Simple to install and easy to use, bring much convenience to you. With high construction efficiency.
High Pre-assembly: Save labor costs and time at the installation site.
Factory direct sales, higher cost performance.

90°solar cable clips

2 Wire 90°PV Clip factory

2 Wire 90°PV Clip factory,OEM & ODM for more than 12 years experience.We carry various type of wire clip to meet different requirement.This model SPC-PV-CC10 is used for arrange 1 to 2 wires and vertical mounted to the frame of solar panel,super easy installtion without any tools.

If you are interested in our wire PV clips, please feel free to contact us, we will provide you turn-key solution with our professional knowledge,and competitive price with good quality.

Q:

"  Hi, I am interested in your 2 wire 90° PV Clips"

A:

"Glad to heard that you are interested in our 90° calble clips.

Refer to one of our hot sale item :

2 Wire 90° PV solar clips SPC-PV-CC10

This model is designed for managing 2 lines,

More types for 1/4 lines are available for our factory.

Please share more details and purchase quantities of your clips,

and kindly comfirm your address: Crancebrook NSW2749, Australia,

I can back to you qutation with freight cost if you need."

Q:

" Yes, that is our address, can I get 100 for test?"

A:

"Sure, I have sent Invoice through your email, please kindly check."

Q:

" Wire sent."

A:

" Well received, thank you.Will process the shipping."

How to use the 2 Wire 90° PV clips, SPC-PV-CC10?

SPC-PV-CC10 is used for wire management in solar panel installation. It can accommodate 1-2 cables with a diameter of 5mm ~ 9mm at the same time.

It is suitable for the solar panel frame with a thickness of 1mm to 3mm. The cable is fixed on the edge of the solar panel,

and the wire is managed reasonably to protect the safe use of the solar system, so that the solar system is clean and beautiful.

Suitable for 90° vertical installation, installation without additional processing only need to use a screwdriver can be disassembled, the product can be reused.

[contact-form-7 id="4″]