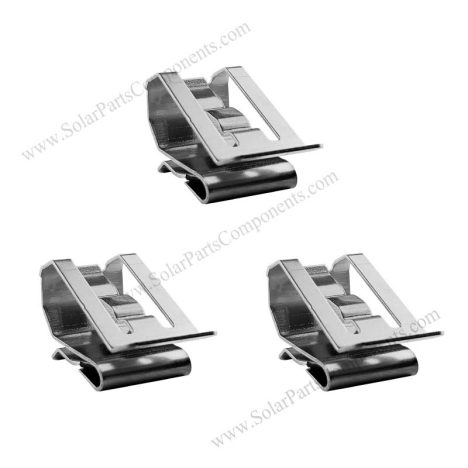 wire clips for solar panels, good quality
Product Type: Solar mounting component

Product Model:SPC-PV-CC08

Material: Stainless Steel

Max Wind Load : 60 m/s

Max Snow Load : 1.4 KN / M 2

Solar Module Orientation: Landscape / Horizontal

Application:  Solar panel installation
Contact by Email
Product Description:
Wire clips for solar panels, which takes an important role in the solar mounting components is made of stainless steel 304, which makes for a durable, long lasting and reliable solution in all environments and is good at protecting the cable clips from corrosion. It is also known as solar panel clips, PV wire cable clips or photo-voltaic wire clips and is used to fix the wires under the solar panels on the edges.Wire clips for solar panels, which is used for solar wire management can help to settle solar cable well in solar panel, in order to protect solar cable from dropping down and damage with no special tools needed to install. It has a widely application for the PV mounting system. Compared to others, the wire clips for solar panels, which fits to framed PV panels can provide the perception of aesthetic for us.
Features of wire clips for solar panels:
Make the wires in a clean and tidy arrangement;
Good performance for anti-corrosion;
Aesthetically designed;
Fits for most of solar mounting system;
Flexibility and removal.
If you're interested in solar mounting system, we'd love to discuss with you about more and answer any questions you might have. As a professional manufacturer of PV mounting system, SPC is a great option for you.
Click here for more details and information:
www.SolarPartsComponents.com
Brief Descriptions:
Solar mounting components- wire clips for solar panels
Item type:
SPC-PV-CC08
Type:
wire clips for solar panels installation
Installation Site:
PV module mounting
Profile Material:
SUS304

Color:
Natural
Wind Load:
60 m / s
Snow Load:
1.4 KN / M2
PV Modules:
Framed, Frameless
Module Orientation:
Landscape / Portrait
Standards:
AS/NZS 1170
DIN 1055
GB50009-2012
IBC2009
TUV
JIS C 8955: 2011
International   Building Code IBC 2009
California   Building Code CBC 2010
Warranty
10 years
Designed Lifespan
25 years
Packing Details:
Inner:
Bubble bag+inner box+Carton
Outer:
Wooden Box, Steel Pallet, MDF, etc
Why use wire clips?
The wire clips for solar panels SPC-PV-CC08 adopts a double compression design in the manufacturing process. The product has high strength and flexibility, is not easy to deform, can adapt to harsh environments in various regions, and can safely provide support and management for solar cables.
Designed to provide a better way to manage wires, this cable clip is aesthetically pleasing while protecting cables, and can be used anywhere for single or multiple cable management.
When using, you only need to firmly fix the clip to the frame of the module, and put the cable inside the clip. The installation method is simple, convenient and easy to use, without additional auxiliary tools, which can save a lot of labor and time costs during installation.
How do you secure solar panel wires? Do you know about wire clips for solar panels ?
Can your wire clip fits for Panasonic EverVolt solar panel?
Question:
I'm looking for clips that may be attached to the side/edge of a Panasonic EverVolt solar panel and the clip to have a loop to hang/hold a wire; which by the attachment is 1.18" high (or thickness of panel).
2 each of different sizes to fit that approximate height of 1.18" high (or 30mm high)
You may send a few different size samples to 14704 Setters Rd Carmel IN 46033 so that I may check out to see which is best fitting to the side of the panel.
If wire clip sample approval, the order can be 100,000 units.
Thanks
Tim
Answer:
Yes, our wire clips are designed for solar panels.
They can meet most of framed pv modules in the market.
Thank you,
Solar Wire Clip Manufacturer
[contact-form-7 id="4″]
Product Description:

Wire clips for solar panels, which takes an important role in the solar mounting components is made of stainless steel 304, which makes for a durable, long lasting and reliable solution in all environments and is good at protecting the cable clips from corrosion. It is also known as solar panel clips, PV wire cable clips or photo-voltaic wire clips and is used to fix the wires under the solar panels on the edges.Wire clips for solar panels, which is used for solar wire management can help to settle solar cable well in solar panel, in order to protect solar cable from dropping down and damage with no special tools needed to install. It has a widely application for the PV mounting system. Compared to others, the wire clips for solar panels, which fits to framed PV panels can provide the perception of aesthetic for us.

Features of wire clips for solar panels:

Make the wires in a clean and tidy arrangement;
Good performance for anti-corrosion;
Aesthetically designed;
Fits for most of solar mounting system;
Flexibility and removal.

If you're interested in solar mounting system, we'd love to discuss with you about more and answer any questions you might have. As a professional manufacturer of PV mounting system, SPC is a great option for you.

Click here for more details and information:

www.SolarPartsComponents.com

Brief Descriptions:
Solar mounting components- wire clips for solar panels
Item type:
SPC-PV-CC08
Type:
wire clips for solar panels installation
Installation Site:
PV module mounting
Profile Material:
SUS304

Color:
Natural
Wind Load:
60 m / s
Snow Load:
1.4 KN / M2
PV Modules:
Framed, Frameless
Module Orientation:
Landscape / Portrait
Standards:
AS/NZS 1170
DIN 1055
GB50009-2012
IBC2009
TUV
JIS C 8955: 2011
International   Building Code IBC 2009
California   Building Code CBC 2010
Warranty
10 years
Designed Lifespan
25 years
Packing Details:
Inner:
Bubble bag+inner box+Carton
Outer:
Wooden Box, Steel Pallet, MDF, etc

Why use wire clips?

The wire clips for solar panels SPC-PV-CC08 adopts a double compression design in the manufacturing process. The product has high strength and flexibility, is not easy to deform, can adapt to harsh environments in various regions, and can safely provide support and management for solar cables.

Designed to provide a better way to manage wires, this cable clip is aesthetically pleasing while protecting cables, and can be used anywhere for single or multiple cable management.

When using, you only need to firmly fix the clip to the frame of the module, and put the cable inside the clip. The installation method is simple, convenient and easy to use, without additional auxiliary tools, which can save a lot of labor and time costs during installation.

How do you secure solar panel wires? Do you know about wire clips for solar panels ?

Can your wire clip fits for Panasonic EverVolt solar panel?

Question:

I'm looking for clips that may be attached to the side/edge of a Panasonic EverVolt solar panel and the clip to have a loop to hang/hold a wire; which by the attachment is 1.18" high (or thickness of panel).

2 each of different sizes to fit that approximate height of 1.18" high (or 30mm high)

You may send a few different size samples to 14704 Setters Rd Carmel IN 46033 so that I may check out to see which is best fitting to the side of the panel.

If wire clip sample approval, the order can be 100,000 units.

Thanks
Tim

Answer:

Yes, our wire clips are designed for solar panels.

They can meet most of framed pv modules in the market.

Thank you,

Solar Wire Clip Manufacturer

[contact-form-7 id="4″]