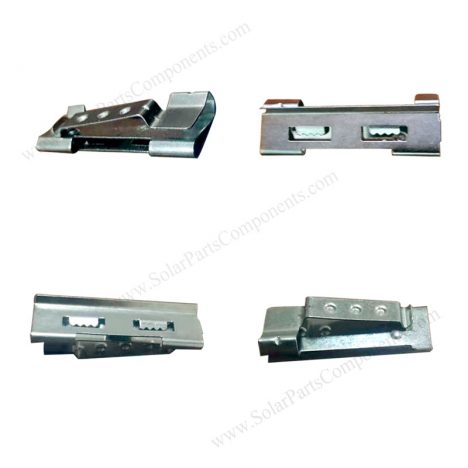 PV Wire Management Clips
Product Type: Cable Clips

Product Model: SPC-PV-CC09

Material: Stainless Steel

Max Wind Load : 60 m/s

Max Snow Load : 1.4 KN / M 2

Solar Module Orientation: Landscape / Horizontal

Application:  Solar Mounting
Contact by Email
Product Description:
SPC solar wire management clips model: SPC-PV-CC09 are produced in A2-70 (SUS 304) stainless steel in high quality.
Ten years' warranty and twenty-five years' life span design for our solar cable clip series.
Around 10 types of clip options for your cable position array, prevent pv wires from insulation and destroying.
Coined round edge design can help wires fixed into gap of our 4 lines management cable easily.
Hangnail of back end of clip can prevent wire clips fall off solar panel edges.
3 /4 wires can go through this SPC-PV-CC09 solar wire management clips with diameter of 4mm / 5mm / 6mm …
Features for solar panel wire management clips:
(1) Holding PV wire cable firmly;
(2) Corrosion resistant for 20 years' up;
(3) Can secure 4.0 / 5.0 / 6.0 mm cable diameter;
(4) Quick install, no tool required;
(5) Customized services for factory is available;
(6) Solar cable clips for four-line wires and 90° installation method;
(7) Designed for 1 / 2 mm thickness of solar panel edges;
Most of PV module frames is compatible for this 4-line cable clips, 90° design means this clip can be installed on perpendicular of solar panels.
Welcome to contact SPC solar for more information about this solar cable management clips from www.SolarPartsComponents.com
Brief Descriptions:
Solar Cable Manage Components –solar panel wire management clips, 3/4 lines, 90°
Item type:
SPC-PV-CC09
Type:
Cable Fasten Hardware
Installation Site:
PV solar Panel
Profile Material:
SUS 304 Stainless Steel
Color:
Plain
PV Modules:
Framed Solar Panels
Module Orientation:
Portrait and Landscape
Standards:
AS/NZS 1170
DIN 1055
GB50009-2012
IBC2009
TUV
JIS C 8955 : 2011
International   Building Code IBC 2009
California   Building Code CBC 2010
Warranty
10 years
Designed Lifespan
25 years
Packing Details:
Inner:
Bubble bag+inner box+Carton
Outer:
Wooden Box, Steel Pallet, MDF, etc
How do I use 90 degree solar cable clips?
How to use 4 Wire 90° solar cable clips, SPC-PV-09B ?
4 Wire 90 Degree solar panel clips also known as pv wire cable clips / photovoltaic wire clips is one of components of pv system, and used to hold pv cables under solar panel edges.
solar cable clips (Model: SPC-PV-CC09B) can protect pv wires in a wide variety environment.
4 Wires 90° solar clips are made of 304 stainless steel which can protect itself in all kinds of weather.
Comparing cable ties, our cable clips manufactured from www.SolarPartsComponents.com can support 25 years up lifetime which can offer good protection for whole solar power system.
As solar power components supplier, our solar cable clips can offer a comprehensive method for solar cable management. This SPC-PV-CC09B model is easy to install, and it does not need any tools.
Features of these 4 Wire 90° solar panel clips:
(1) fasten the wires and make them in good order and well arranged;
(2) fix the wires firmly to the frame;
(3) resist ultraviolet radiation / reduce the wear and tear;
(4) Aesthetically design for quick installation;
(5) Can holding 1 / 2 cables from 5 mm to 9 mm diameter;
(6) Reliable / Robust for solar PV cable fixing;
PV Cable Manage Components –solar panel wire management clips, 4 lines, 90°
Item type:
SPC-PV-CC09B
Type:
PV Cable Fasten Clamps
Installation Site:
PV solar Panel
Profile Material:
SUS 304 Stainless Steel
Our solar cable clips are wide scope for selection, they all can be used for fixing electrical cables.
The solar wire routing clips are installed over alone / on the side of PV panel edges or aluminum rails.
Wide application for pv cable diameter and panel thickness ranges, be used for four wires go through.
Welcome to purchase variety solar panel clips from Xiamen Top Best Tech Co., LTD for single and multiple cables.
Solar Wire Management Clips Supplier
Solar Wire Management Clips supplier,professional manufacture factory direct, high quanlity SUS304 Steel,anti-corrission durable.
We provide solar wire clips range from 1 to 4 wires management solution. This Model SPC-PV-CC09 is design for 4 wires 90 degress mounting, easy and fast to be mounted.
For more details, welcome contact us.
Thank you.
SPC Solar Wire Management Clips Factory
[contact-form-7 id="4″]
Product Description:

SPC solar wire management clips model: SPC-PV-CC09 are produced in A2-70 (SUS 304) stainless steel in high quality.

Ten years' warranty and twenty-five years' life span design for our solar cable clip series.

Around 10 types of clip options for your cable position array, prevent pv wires from insulation and destroying.

Coined round edge design can help wires fixed into gap of our 4 lines management cable easily.

Hangnail of back end of clip can prevent wire clips fall off solar panel edges.

3 /4 wires can go through this SPC-PV-CC09 solar wire management clips with diameter of 4mm / 5mm / 6mm …

Features for solar panel wire management clips:

(1) Holding PV wire cable firmly;

(2) Corrosion resistant for 20 years' up;

(3) Can secure 4.0 / 5.0 / 6.0 mm cable diameter;

(4) Quick install, no tool required;

(5) Customized services for factory is available;

(6) Solar cable clips for four-line wires and 90° installation method;

(7) Designed for 1 / 2 mm thickness of solar panel edges;

Most of PV module frames is compatible for this 4-line cable clips, 90° design means this clip can be installed on perpendicular of solar panels.

Welcome to contact SPC solar for more information about this solar cable management clips from www.SolarPartsComponents.com

Brief Descriptions:
Solar Cable Manage Components –solar panel wire management clips, 3/4 lines, 90°
Item type:
SPC-PV-CC09
Type:
Cable Fasten Hardware
Installation Site:
PV solar Panel
Profile Material:
SUS 304 Stainless Steel
Color:
Plain
PV Modules:
Framed Solar Panels
Module Orientation:
Portrait and Landscape
Standards:
AS/NZS 1170
DIN 1055
GB50009-2012
IBC2009
TUV
JIS C 8955 : 2011
International   Building Code IBC 2009
California   Building Code CBC 2010
Warranty
10 years
Designed Lifespan
25 years
Packing Details:
Inner:
Bubble bag+inner box+Carton
Outer:
Wooden Box, Steel Pallet, MDF, etc

How do I use 90 degree solar cable clips?

How to use 4 Wire 90° solar cable clips, SPC-PV-09B ?

4 Wire 90 Degree solar panel clips also known as pv wire cable clips / photovoltaic wire clips is one of components of pv system, and used to hold pv cables under solar panel edges.

solar cable clips (Model: SPC-PV-CC09B) can protect pv wires in a wide variety environment.

4 Wires 90° solar clips are made of 304 stainless steel which can protect itself in all kinds of weather.

Comparing cable ties, our cable clips manufactured from www.SolarPartsComponents.com can support 25 years up lifetime which can offer good protection for whole solar power system.

As solar power components supplier, our solar cable clips can offer a comprehensive method for solar cable management. This SPC-PV-CC09B model is easy to install, and it does not need any tools.

Features of these 4 Wire 90° solar panel clips:

(1) fasten the wires and make them in good order and well arranged;

(2) fix the wires firmly to the frame;

(3) resist ultraviolet radiation / reduce the wear and tear;

(4) Aesthetically design for quick installation;

(5) Can holding 1 / 2 cables from 5 mm to 9 mm diameter;

(6) Reliable / Robust for solar PV cable fixing;

PV Cable Manage Components –solar panel wire management clips, 4 lines, 90°
Item type:
SPC-PV-CC09B
Type:
PV Cable Fasten Clamps
Installation Site:
PV solar Panel
Profile Material:
SUS 304 Stainless Steel

Our solar cable clips are wide scope for selection, they all can be used for fixing electrical cables.

The solar wire routing clips are installed over alone / on the side of PV panel edges or aluminum rails.

Wide application for pv cable diameter and panel thickness ranges, be used for four wires go through.

Welcome to purchase variety solar panel clips from Xiamen Top Best Tech Co., LTD for single and multiple cables.

Solar Wire Management Clips Supplier

Solar Wire Management Clips supplier,professional manufacture factory direct, high quanlity SUS304 Steel,anti-corrission durable.

We provide solar wire clips range from 1 to 4 wires management solution. This Model SPC-PV-CC09 is design for 4 wires 90 degress mounting, easy and fast to be mounted.

For more details, welcome contact us.

Thank you.

SPC Solar Wire Management Clips Factory

[contact-form-7 id="4″]