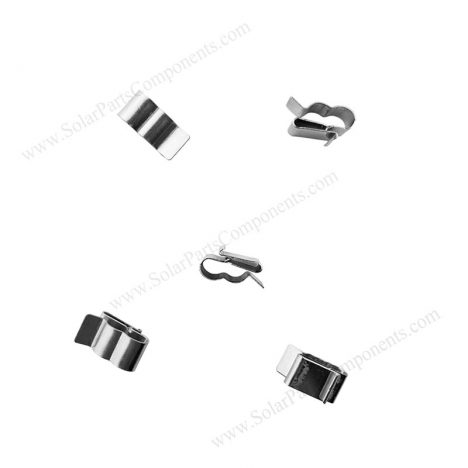 Solar Panel Wire Clip Components
Product Type: Solar Panel Wire Hardware

Product Model: SPC-PV-CC06

Material: Stainless Steel

Max Wind Load : 60 m/s

Max Snow Load : 1.4 KN / M 2

Application: Framed Solar Panels Installation
Contact by Email
Solar Panel Wire Clips,2 lines, is suitable for one to four wires to pass through to prevent wire damage. Fix it under the solar panel, and the stainless-steel spring shrapnel on the back can fix the solar panel wire clamp on the aluminum rail well, which can prevent the cable from laying on the roof or floor.
Cable wire clips are used for manage wire cable neatly goes through under solar panels.
Our solar wire clips model SPC-PV-CC06 can well work for two lines pv cables managed.
SUS 304 (A2-70) stainless steel in material, anti-rusty with 25 years life design.
Features of this SPC-PV-CC06 solar wire management clips:
1. Hole 2 line wires beneath pv modules;
2. Trimming edge corner can prevent damage of wire cables;
3. Well packed with carton and wooded pallet for good condition shipment;
4. Real manufacturer with competitive offer for our solar wire cable clips;
5. Keep solar power wires safe, prevent insulation and damaged;
6. Management of solar photovoltaic cables;
7. Strong compatibility and versatility;
8. Suitable for cable protection and management applications of photovoltaic systems;
9. High-quality materials and reliability;
10. Ensure that the cables are firmly fixed and will not cause insulation damage.
Our PV module mounting wire clips can ensure that the wiring harness is firmly fixed without any insulation damage due to wear. These easy-to-install cable clamps come in a variety of designs and can fit all types of solar panel installation systems, PV cables and array layouts.
Solar panel wire clips can be applied to various sizes of solar panels with or without frames. The solar cable clamp is installed under the frame of the solar module to ensure safety and stability. The clamp structure is easy to install and disassemble to ensure construction efficiency and save installation cost and time.
With professional skill experience in solar pv industry, we can offer solar panel wire management clips professionally and offer excellent OEM service.
Wire management is one of the most important tasks of photovoltaic installation systems. Solar wire clip management will have systems with longer service life that require less maintenance during the entire life of the photovoltaic system. Correctly managing cables refers to laying out conductors in a way that avoids damaging the insulation and conductors of the wires.
We provide support structures and components for installation. We provide wire management clips for solar system distributors and installers. The terminal clamps we provide are made of high-quality stainless steel. We can provide clamps that meet your specifications.Welcome to contact SPC for stainless steel solar wire clips, we can offer a full solution of pv cable wire fixing.
Brief Descriptions:
Solar Cable Manage Components – PV Wire Clips, 2 lines
Item type:
SPC-PV-CC06
Type:
Fasten Hardware
Installation Site:
Back side of PV Panel
Profile Material:
SUS 304 Stainless Steel
Color:
Plain
PV Modules:
Framed Solar Panels
Module Orientation:
Portrait and Landscape
Standards:
AS/NZS 1170
DIN 1055
GB50009-2012
IBC2009
TUV
JIS C 8955 : 2011
International   Building Code IBC 2009
California   Building Code CBC 2010
Warranty
10 years
Designed Lifespan
25 years
Packing Details:
Inner:
Bubble bag+inner box+Carton
Outer:
Wooden Box, Steel Pallet, MDF, etc
Solar Panel Wire Clips,2 lines, is suitable for one to four wires to pass through to prevent wire damage. Fix it under the solar panel, and the stainless-steel spring shrapnel on the back can fix the solar panel wire clamp on the aluminum rail well, which can prevent the cable from laying on the roof or floor.

Cable wire clips are used for manage wire cable neatly goes through under solar panels.

Our solar wire clips model SPC-PV-CC06 can well work for two lines pv cables managed.

SUS 304 (A2-70) stainless steel in material, anti-rusty with 25 years life design.

Features of this SPC-PV-CC06 solar wire management clips:

1. Hole 2 line wires beneath pv modules;
2. Trimming edge corner can prevent damage of wire cables;
3. Well packed with carton and wooded pallet for good condition shipment;
4. Real manufacturer with competitive offer for our solar wire cable clips;
5. Keep solar power wires safe, prevent insulation and damaged;
6. Management of solar photovoltaic cables;
7. Strong compatibility and versatility;
8. Suitable for cable protection and management applications of photovoltaic systems;
9. High-quality materials and reliability;
10. Ensure that the cables are firmly fixed and will not cause insulation damage.

Our PV module mounting wire clips can ensure that the wiring harness is firmly fixed without any insulation damage due to wear. These easy-to-install cable clamps come in a variety of designs and can fit all types of solar panel installation systems, PV cables and array layouts.

Solar panel wire clips can be applied to various sizes of solar panels with or without frames. The solar cable clamp is installed under the frame of the solar module to ensure safety and stability. The clamp structure is easy to install and disassemble to ensure construction efficiency and save installation cost and time.

With professional skill experience in solar pv industry, we can offer solar panel wire management clips professionally and offer excellent OEM service.

Wire management is one of the most important tasks of photovoltaic installation systems. Solar wire clip management will have systems with longer service life that require less maintenance during the entire life of the photovoltaic system. Correctly managing cables refers to laying out conductors in a way that avoids damaging the insulation and conductors of the wires.

We provide support structures and components for installation. We provide wire management clips for solar system distributors and installers. The terminal clamps we provide are made of high-quality stainless steel. We can provide clamps that meet your specifications.Welcome to contact SPC for stainless steel solar wire clips, we can offer a full solution of pv cable wire fixing.

Brief Descriptions:
Solar Cable Manage Components – PV Wire Clips, 2 lines
Item type:
SPC-PV-CC06
Type:
Fasten Hardware
Installation Site:
Back side of PV Panel
Profile Material:
SUS 304 Stainless Steel
Color:
Plain
PV Modules:
Framed Solar Panels
Module Orientation:
Portrait and Landscape
Standards:
AS/NZS 1170
DIN 1055
GB50009-2012
IBC2009
TUV
JIS C 8955 : 2011
International   Building Code IBC 2009
California   Building Code CBC 2010
Warranty
10 years
Designed Lifespan
25 years
Packing Details:
Inner:
Bubble bag+inner box+Carton
Outer:
Wooden Box, Steel Pallet, MDF, etc