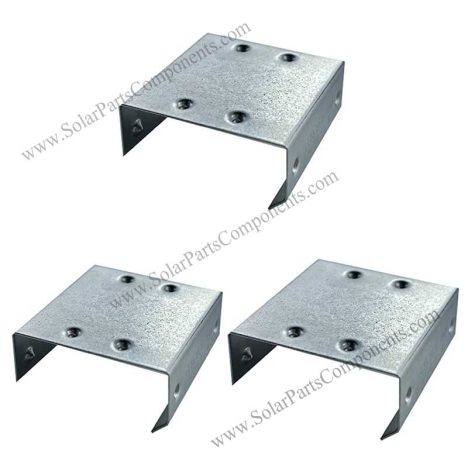 Solar water drain clip
Product Type:Solar Panel Mounting Component

Product Model:SPC-WD-01C

Material: SUS304

Max Wind Load : 60 m/s

Max Snow Load : 3.6 KN / M 2

Solar Module Orientation: Landscape / Horizontal

Application:  Unframed / Bifacial / Frameless modules
Contact by Email
Details:
Solar water drain clip are manufactured from high-quality, weather-resistant materials for superior durability and corrosion resistance. Its precision design ensures a perfect match with the solar panel, seamless connection, and effectively prevents moisture penetration.
water drain clip for solar panel can drain contaminants from the module surface, prevent water accumulation, and ensure the power generation efficiency of the module; it also provides additional structural support to ensure that solar panels are stably installed under various environmental conditions. Not only that, the use of water conduits can also keep the frame of the solar module dry, which can effectively reduce the corrosion and aging of the frame, improve the safety of its use, and ensure overall stability.
PV water drain clip is very simple to install and is available in various solar panel types and sizes. Make sure you can complete the installation easily, no professional skills required.
Features:
Prevent frame corrosion;
Provide structural support: enhance the stability of solar panels and extend their life;
High-quality materials: Made of weather-resistant materials to ensure long service life;
Precision design: Perfectly matched with solar panels, effectively preventing moisture penetration and preventing pollutants from remaining.
As a leading supplier in the field of solar accessories sales, we are committed to providing high-quality, reliable solar panel gutters to meet the needs of our customers. We have extensive industry experience and a professional team that can provide customized solutions to suit various project sizes. Our products pass strict quality control and testing to ensure stable and reliable performance. When you work with us, you'll receive superior product quality, excellent customer service, and competitive pricing. Contact us to learn more!
Brief Descriptions:
Solar mounting component-Solar water drain clip
Item type:
Solar Panel Mounting Component
Type:
SPC-WD-01C
Installation Site:
solar panel mounting
Profile Material:
SUS304
PV Modules:
Framed, Frameless
Color:
polishing
Module Orientation:
Horizontal / Vertical
Standards:
AS/NZS 1170
DIN 1055
GB50009-2012
IBC2009
TUV
JIS C 8955:2011
International   Building Code IBC 2009
California   Building Code CBC 2010
Warranty:
10 years
Designed Lifespan:
25 years
Packing Details:
Inner:
Bubble bag + inner box + Carton
Outer:
Wooden Box, Steel Pallet, MDF, etc
Details:

Solar water drain clip are manufactured from high-quality, weather-resistant materials for superior durability and corrosion resistance. Its precision design ensures a perfect match with the solar panel, seamless connection, and effectively prevents moisture penetration.

water drain clip for solar panel can drain contaminants from the module surface, prevent water accumulation, and ensure the power generation efficiency of the module; it also provides additional structural support to ensure that solar panels are stably installed under various environmental conditions. Not only that, the use of water conduits can also keep the frame of the solar module dry, which can effectively reduce the corrosion and aging of the frame, improve the safety of its use, and ensure overall stability.

PV water drain clip is very simple to install and is available in various solar panel types and sizes. Make sure you can complete the installation easily, no professional skills required.

Features:

Prevent frame corrosion;
Provide structural support: enhance the stability of solar panels and extend their life;
High-quality materials: Made of weather-resistant materials to ensure long service life;
Precision design: Perfectly matched with solar panels, effectively preventing moisture penetration and preventing pollutants from remaining.

As a leading supplier in the field of solar accessories sales, we are committed to providing high-quality, reliable solar panel gutters to meet the needs of our customers. We have extensive industry experience and a professional team that can provide customized solutions to suit various project sizes. Our products pass strict quality control and testing to ensure stable and reliable performance. When you work with us, you'll receive superior product quality, excellent customer service, and competitive pricing. Contact us to learn more!

Brief Descriptions:
Solar mounting component-Solar water drain clip
Item type:
Solar Panel Mounting Component
Type:
SPC-WD-01C
Installation Site:
solar panel mounting
Profile Material:
SUS304
PV Modules:
Framed, Frameless
Color:
polishing
Module Orientation:
Horizontal / Vertical
Standards:
AS/NZS 1170
DIN 1055
GB50009-2012
IBC2009
TUV
JIS C 8955:2011
International   Building Code IBC 2009
California   Building Code CBC 2010
Warranty:
10 years
Designed Lifespan:
25 years
Packing Details:
Inner:
Bubble bag + inner box + Carton
Outer:
Wooden Box, Steel Pallet, MDF, etc