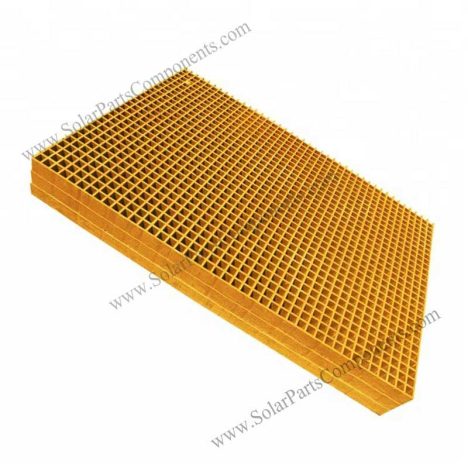 Fiberglass walkway 45x45mm grid
Product Type: Solar Roof Mounting Accessories

Product Model: SPC-FRP

Material: Fiberglass Roving, Resin

Color: Could be customized, usually in yellow, green, red, gray, black,blue

Dimension: Could be customized, common as L*B=4000*1000*25mm ; L*B=4000*365*25mm

InstallationOrientation: Landscape / Horizontal

Application: Rooftop
Contact by Email
Product Description:
Fiberglass Walkway Grilles are manufactured from high-quality raw materials that are tested on various quality parameters under the strict observation of our well-educated and experienced professionals.
The supplied FRP walkway arrays are designed for safe and controlled access. The system provides non-slip, safe and all-weather access for maintenance of solar panels and frequently accessed areas without causing unnecessary damage to the roof.
Our company is the undisputed leader in the solar industry in the manufacture and supply of FRP Molded Grating Walkways which are mainly used to make decking, flooring and walkways. In fact, our company has become very popular after offering these best solar products in the market.
Installation of this FRP walkway is also very easy and quick. It has a full one-piece construction for increased weight capacity. Not only that, it also has the characteristics of aging resistance, insulation and corrosion resistance. These are some of the distinguishing features of the range of solar products we manufacture.
Advantages of our FRP walkway grating:
(1) corrosion resistance
(2) Light weight and high strength
(3) Anti-aging
(4) Easy maintenance
(5) Excellent electromagnetic properties
(6) Excellent insulation performance.
More other mesh FRP walkway grating: 38*38mm, 45*45mm, 50*50mm…..
Our factory also accepts customization, just tell us the size you need, we provide a one-stop solar installation solution.
Welcome to contact us anytime, our company website: www.solarpartscomponents.com
Brief Descriptions:
Solar Roof Mounting Accessories – Solar Roof FRP Walkway
NO.:
SPC-FRP
Product Type:
Solar Roof Mounting Accessories
Installation location:
Rooftop
Installation angle:
0-60 degrees
Material :
Fiberglass Roving, Resin
Color:
Could be customized, usually in yellow, green, red, gray, black,blue
Warranty:
1 Year
Lifetime:
5-10 Year
Mesh size:
38*38mm, 45*45mm,50*50mm
Dimension:
Could be customized, common as L*B=4000*1000*25mm ; L*B=4000*365*25mm
Weight:
48kg/pcs for FRP 4000*1000*25mm(38*38mm mesh)
Product Description:

Fiberglass Walkway Grilles are manufactured from high-quality raw materials that are tested on various quality parameters under the strict observation of our well-educated and experienced professionals.

The supplied FRP walkway arrays are designed for safe and controlled access. The system provides non-slip, safe and all-weather access for maintenance of solar panels and frequently accessed areas without causing unnecessary damage to the roof.

Our company is the undisputed leader in the solar industry in the manufacture and supply of FRP Molded Grating Walkways which are mainly used to make decking, flooring and walkways. In fact, our company has become very popular after offering these best solar products in the market.

Installation of this FRP walkway is also very easy and quick. It has a full one-piece construction for increased weight capacity. Not only that, it also has the characteristics of aging resistance, insulation and corrosion resistance. These are some of the distinguishing features of the range of solar products we manufacture.

Advantages of our FRP walkway grating:

(1) corrosion resistance

(2) Light weight and high strength

(3) Anti-aging

(4) Easy maintenance

(5) Excellent electromagnetic properties

(6) Excellent insulation performance.

More other mesh FRP walkway grating: 38*38mm, 45*45mm, 50*50mm…..

Our factory also accepts customization, just tell us the size you need, we provide a one-stop solar installation solution.

Welcome to contact us anytime, our company website: www.solarpartscomponents.com

Brief Descriptions:

Solar Roof Mounting Accessories – Solar Roof FRP Walkway
NO.:
SPC-FRP
Product Type:
Solar Roof Mounting Accessories
Installation location:
Rooftop
Installation angle:
0-60 degrees
Material :
Fiberglass Roving, Resin
Color:
Could be customized, usually in yellow, green, red, gray, black,blue
Warranty:
1 Year
Lifetime:
5-10 Year
Mesh size:
38*38mm, 45*45mm,50*50mm
Dimension:
Could be customized, common as L*B=4000*1000*25mm ; L*B=4000*365*25mm
Weight:
48kg/pcs for FRP 4000*1000*25mm(38*38mm mesh)