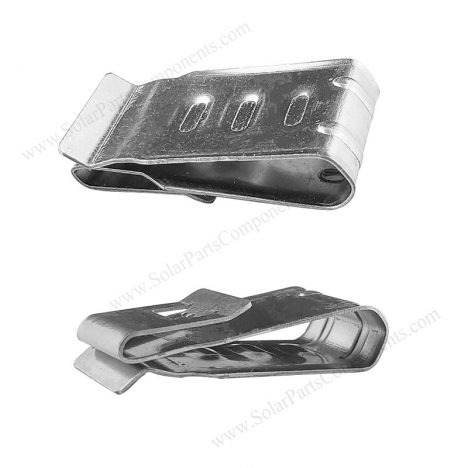 Solar PV Cable Clips
Product Type: PV Mounting Components

Product Model: SPC-PV-CC07

Material: Stainless Steel

Max Wind Load : 60 m/s

Max Snow Load : 1.4 KN / M 2

Solar Module Orientation: Landscape / Horizontal

Application:  Ground
Contact by Email
This solar pv cable clips (SPC-PV-CC07) is made of stainless steel which is designed for 3/4 pv wire management.
Cable clips can help interconnecting cable neatly between pv modules, advoiding droping under arrays.
Curved edge can prevent chafing during fixing wire cables.
The professional recommendation for installation is one cable clip each for 1 – 1.2 meters.
Each clip for model SPC-PV-CC07 is designed to holding 3-4 10-12 AWG diameter cables.
Correctly using clip components can help less maintaining and keep whole solar power system for longer life span.
Enough attention and emphasise importance of wire managements during installation can keep pv energy system healthy even in harsh condition.
This solar panel pv cable clips (SPC-PV-CC07) are engineered to advoid share pdges, tight properly or other damage for wires.
Features for PV module solar cable clips:
(1) Essential components for solar engergy cable installation;
(2) Stainless hardware for pv cable assembly managing;
(3) Export national and global wide with standard 2/3/4 wiring clips;
(4) Sample testing or customized specific made are available;
(5) Intalled back of solar panels, avoid exposing wiring;
Other series of cable clips are available for both framed / frameless pv modules in various sizes.
Welcome to apply our stainless steel solar pv cable clips from www.SolarPartsComponents.com firmly & securely.
Brief Descriptions:
Solar Cable Manage Components – Solar PV Wire Clips, 3/4 lines
Item type:
SPC-PV-CC07
Type:
Fasten Hardware
Installation Site:
PV solar Panel
Profile Material:
SUS 304 Stainless Steel
Color:
Plain
PV Modules:
Framed Solar Panels
Module Orientation:
Portrait and Landscape
Standards:
AS/NZS 1170
DIN 1055
GB50009-2012
IBC2009
TUV
JIS C 8955 : 2011
International   Building Code IBC 2009
California   Building Code CBC 2010
Warranty
10 years
Designed Lifespan
25 years
Packing Details:
Inner:
Bubble bag+inner box+Carton
Outer:
Wooden Box, Steel Pallet, MDF, etc
This solar pv cable clips (SPC-PV-CC07) is made of stainless steel which is designed for 3/4 pv wire management.

Cable clips can help interconnecting cable neatly between pv modules, advoiding droping under arrays.

Curved edge can prevent chafing during fixing wire cables.

The professional recommendation for installation is one cable clip each for 1 – 1.2 meters.
Each clip for model SPC-PV-CC07 is designed to holding 3-4 10-12 AWG diameter cables.

Correctly using clip components can help less maintaining and keep whole solar power system for longer life span.

Enough attention and emphasise importance of wire managements during installation can keep pv energy system healthy even in harsh condition.

This solar panel pv cable clips (SPC-PV-CC07) are engineered to advoid share pdges, tight properly or other damage for wires.

Features for PV module solar cable clips:

(1) Essential components for solar engergy cable installation;

(2) Stainless hardware for pv cable assembly managing;

(3) Export national and global wide with standard 2/3/4 wiring clips;

(4) Sample testing or customized specific made are available;

(5) Intalled back of solar panels, avoid exposing wiring;

Other series of cable clips are available for both framed / frameless pv modules in various sizes.

Welcome to apply our stainless steel solar pv cable clips from www.SolarPartsComponents.com firmly & securely.

Brief Descriptions:
Solar Cable Manage Components – Solar PV Wire Clips, 3/4 lines
Item type:
SPC-PV-CC07
Type:
Fasten Hardware
Installation Site:
PV solar Panel
Profile Material:
SUS 304 Stainless Steel
Color:
Plain
PV Modules:
Framed Solar Panels
Module Orientation:
Portrait and Landscape
Standards:
AS/NZS 1170
DIN 1055
GB50009-2012
IBC2009
TUV
JIS C 8955 : 2011
International   Building Code IBC 2009
California   Building Code CBC 2010
Warranty
10 years
Designed Lifespan
25 years
Packing Details:
Inner:
Bubble bag+inner box+Carton
Outer:
Wooden Box, Steel Pallet, MDF, etc