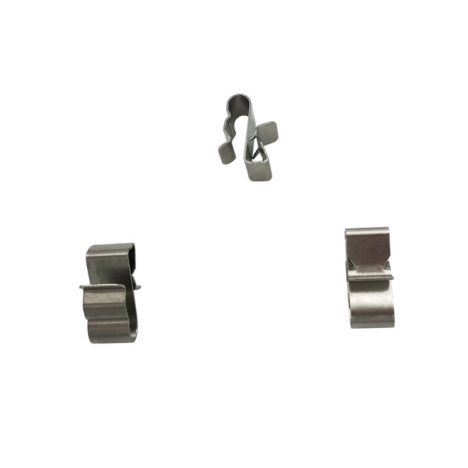 Solar Mount Component – Solar Cable Clip 2 Lines
Product Type: Solar Panel Cable Clip 2 Lines

Product Model:SPC-PV-CC02

Material: SUS 304 Stainless Steel

Max Wind Load : 60 m/s

Max Snow Load : 1.4 KN / M 2

Application: PV module Wire Management
Contact by Email
Product Description
Item Number : Solar-Cable-Clip-Two-Lines-Narrower
The narrower solar cable clips for 1 – 2 wire lines go through is made of stainless steel .
It's a good gear for solar mounting wire management for distributors / installers .
We can suppy tailor wiring clips besides this narrower two lines cable one .
Iust let me know your specification , samples can be available for testing .
No special tools required for this two lines PV cable clips installing .
3 – 4 feet one clip each is recommended during fixing cables .
This two lines solar panel cable clips is designed straight fixing on PV modules , can securely hold cords well .
Advantages :
(1) Stock & samples quick dispatching ;
(2) Easy installation and labor effective ;
(3) Customized design flexibility with factory direct ;
(4) Suitable for 1 or 2 12 AWG MAX wires ;
(5) Neatly , firmly , securely ;
(6) Smooth finishing , anti-rusty .
Buy more solar panel cable clips and more hardware / components from www.SolarPartsComponents.com
Brief Descriptions :
Solar Cable Wire Clips Two Lines for solar panels / PV modules installation
Item type:
Solar Mounting Accessories
Technical Parameters :
Installation Site :
Carport / Ground / Roof solar panel mounting
Profile Material :
SUS 304 Stainless Steel
Color :
polishing
Wind Load :
60 m / s
Snow Load :
1.4 KN/M2
PV Modules :
Framed / Frameless
Module Orientation :
Horizontal / Vertical
Standards :
AS/NZS 1170
DIN 1055
GB50009-2012
IBC2009
TUV
JIS C 8955 : 2011
International   Building Code IBC 2009
California   Building Code CBC 2010
Warranty
10 years
Designed Life Span
25 years
Packing Details :
Inner :
Bubble bag+inner box+Carton
Outer :
Wooden Box, Steel Pallet, MDF, etc
Drawing & Size for Two Lines Solar Cable Clips ( Narrower ) SPC-PV-CC02
Solar Cable Clips SPC-PV-CC02
How can I figure out Solar Panel Cable Clip quantities for PV mounting project ?
"
Dear Sir,
Good Morning.
Interesting to see your solar component products – Solar Panel Cable Clip 2 Lines
Please provide us CIF Bahrain price for the following item,
Information of our PV mounting project :
Mounting Type : Metal Sheet
Solar Panel size : (2 x 1)m 375watts JA Solar Module with frame
Total No. of Strings : 228 nos.
· Total no. of PV modules – 3334 nos.
· Solar DC Cable size – 4sqmm
· 2 wire (from panel to panel – all strings)
Give me your right recommendation (maximum distance) for two wire clip for each string.
How much quantity of this two lines solar panel clips should I need?
How to figure out?
Waiting for your email, call or chat reply.
Regards
Mohamed Uvaiz
Project Manager
Techmaaxx Projects and Services WLL
Kingdim of Bahrain
"
"
Dear Mohamed
As you can check through this 2 lines solar panel cable clip drawing,
It is be matched for your 4mm diameter cable application.
The recommend quantity is 3 units per PV module, so 3334 nos would need around 10,000 units in total.
I also offer freight by DHL / Fedex / UPS express flight for your reference.
Thank you !
Have a nice day.
Best regards,
Solar Parts and Components Sales Team
"
"
Dear SPC solar
Greetings from Techmaaxx projects and services wll.
Trust this email finds you well and in good health.
Yes. We are looking for solar panel cable clips 10,000 units as you recommended (2 lines).
Your active support really feels wow…
Thanks you so much for your freight offer with reasonable express freight charges.
I would like to confirm our order for the supply of solar panel cable clips as per your proforma invoice ref no. SPC 201221.
Kindly find the payment transfer confirmation document in the trailing email for your kind confirmation and early action.
Kindly acknowledge the receipt of the same.
Once again thank you very much for your great support.
Regards
Mohamed Uvaiz
Project Manager
"
"
Dear Mohamed
Best wishes for you and your whole family.
The 10,000 of two lines cable clips are on the way to Kingdim of Bahrain,
the tracking details have sent by email.
Thank you for always supports.
SPC solar sales team
"
What is SPC cable clips different from others?
How to using this narrower two lines Solar Cable Clips ?
Drawing Size detail for this narrow two line cable clips .
Solar Cable Clip Two Lines Wholesale
This model 2 lines solar cable clip is suitable for arrange 1 or 2 lines(12AWG MAX wire) and available for the
panel frame thickness of 1/8″ Max.It is easy and fast for installation, best choice for the solar installers.
Good quality and professional service from manufacture factory.
Solar cable clips for two lines
The solar cable clip is made of stainless steel sus304, which is quick and easy to install and can be reused.
What is the difference between two lines solar cable clips and normal cable?
SPC-PV-CC02 adopts compression structure design, can be fixed single or double cable, our products in strict accordance with industry standards, we provide 10 years of warranty and 25 years of service life for solar cable clamp.
Features of this two lines solar cable clips:
Surface processing;
Dual-line management design;
Back barb design;
Small and light in appearance.
solar panel cable clips for two lines
Why choose our solar panel cable clip for two lines?
Our stainless steel solar cable clips break through the traditional plastic wire clips, practical, strong corrosion resistance, reusable, the cable is neat and not entangled, ensuring the safety of the cable. Using solar cable clips to fix the cable to the module frame is the most effective way to properly fix the photovoltaic cable.
We design for two-wire, three/four-wire and four-wire cable clips, please feel free to contact us if you have any needs.
Feature:
1. The most effective way to fix wires;
2. Prevent damage to the installation cable insulation;
3. Provides excellent durability;
4. High quality stainless steel;
5. Pre-assembled components, quick installation;
How to buy 60,000 nos of solar pv clips?
Dear sir
Please see the attached photo of solar PV cable clip on ss material if available of you please send me Quatation
Qty Required – 60,000 Nos
Paresh
Dear Paresh
Appreciated for your inquiry about our solar cable clips 2 lines model:SPC-PV-CC02,
Base on 60,000 in quantity, our factory price sent by email for you.
Can I know the delivery address ?
If you can share with your name card or company info that would be great.
I will come back to you with freight info in the next email.
Thank you !
Solar PV Clips Factory
What is the feature of Two Lines Solar Cable Clips ( Narrower ) SPC-PV-CC02?
Features of this Two Lines Solar Cable Clips ( Narrower ) SPC-PV-CC02:
Low cost;
Small and light;
High installation efficiency;
Suitable for 1-2 wire management.
2 Lines cable clip for PV