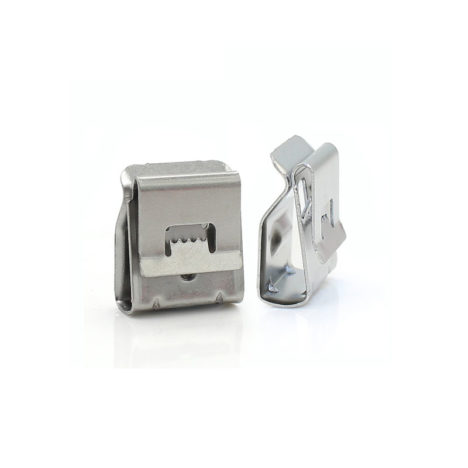 Solar Mounting Components – Solar Cable Clips
Product Type: Solar Cable Clip Two Lines

Product Model:Solar-SPC-PV-CC03

Material: SUS 304 Steel

Max Wind Load : 60 m/s

Max Snow Load : 1.4 KN / M 2

Application: Solar Panel Mounting Accessories
Contact by Email
Product Description
Item Number : SPC-PV-CC03
This 2 lines solar cable clips are designed for cable arrays .
It's suitable for one or two cables go through with clean and tidy appearance and prevent wires from striping off .
Good quality SUS 304 material for this two lines pv wire clips is reliable for bad weathers with more than 10 years long life .
These PV cables should not exceed 8 mm in diameter and the aluminum rail / PV module frame thickness can be from 1.0 mm to 2.5 mm .
Two lines solar cable clips can be used for all mounting systems like : plant station / roofing / ground / carport / vehicle …
Both framed or frameless solar panel type can use our 2 line pv module wire clips .
Advantages :
(1) Corrosion resistant ;
(2) Durable , long life span ;
(3) Easy for installing , reusable ;
(4) Horizontal or Vertical installation orientation compatible
Besides the 2 lines Solar Cable Clips SPC-PV-CC03, our SPC provides the different products including the components and the solar mounting system to meet your needs.
Welcome to contact and get more information for solar mounting brackets.
https://www.SolarPartsComponents.com
Brief Descriptions :
Solar Cable Clips Two Lines for solar panels / PV modules installation
Item type:
Solar Mounting Components
Technical Parameters :
Installation Site :
Ground / Roof solar panel mounts
Profile Material :
SUS 304 Stainless Steel
Fasten Parts :
SUS 304 Stainless Steel
Color :
polishing
Wind Load :
60 m / s
Snow Load :
1.4 KN/M2
PV Modules :
Framed / Frameless
Module Orientation :
Portait and Landscape
Standards :
AS/NZS 1170
DIN 1055
GB50009-2012
IBC2009
TUV
JIS C 8955 : 2011
International   Building Code IBC 2009
California   Building Code CBC 2010
Warranty
10 years
Designed Life Span
25 years
Packing Details :
Inner :
Bubble bag+inner box+Carton
Outer :
Wooden Box, Steel Pallet, MDF, etc
Drawing & Size for 2 lines Solar Cable Clips SPC-PV-CC03
Toggle content goes here, click edit button to change this text.
Two line solar cable clips
What is stainless solar cable clamp, SPC-PV-CC03
What is stainless solar cable clamp 2 wire, SPC-PV-CC03
Stainless solar cable clamp is a solar mounting installation component using for solar wire management, in order to hold pv cables under solar panel edges and protect solar cable from dropping down and damage.
2 Wires PV clips (Model: SPC-PV-CC03) are made of corrosion resistant 304 stainless steel, which makes for a durable, long lasting and reliable solution in all environments.
As solar power components supplier, our PV cable clips can offer a comprehensive method for solar cable management. Stainless steel cable clamps are specially engineered for PV power plant installation which is coincident with power plant required.
Features of this 2 Wire PV solar stainless steel cable clips:
(1) High quality clip to keep module interconnect cables neatly connected to solar module frames;
(2) Designed to help protect cable insulation from damage;
(3) Attaches to frames or rails.;
(4) Handy installation, without special tools.
(5) Each clip holds 1 or 2 cables, seated firmly and securely.
PV Cable Manage Components –stainless cable clamp, 2 lines, SUS 304
Item type:
SPC-PV-CC03
Type:
stainless steel cable clamps
Installation Site:
PV solar Panel Frame
Profile Material:
A2-70 Stainless Steel
Wide application for pv cable diameter and panel thickness ranges, be used for single or two wires go through.
Welcome to contact SPC solar for more information about this solar module wire management clips from www.SolarPartsComponents.com
How to buy these solar cable clamps 2 line?
Question:
Hey
How much can you do me 500 or 1000 2 lines Solar Cable Clips for ?
Are they made of SUS304 stainless steel (A2-70)?
Also, would choose cheaper post if available?
so what is the total cost?
and how can I pay you ?
Thank you
Peter
Answer:
Dear Peter
As per 2 line cable clip you chose :
Yes, they are made of stainless steel.
Our factory price & Flat express cost to Australia has replied by email.
Thank you !
Have a nice day.
Best regards,
SPC Solar
P.S.
Testimony:
Hello,
I have received the 2 line cable clips and they are great.
Thank you for sending me the clips, you are very good for business.
They do clamp tight on the panel well and the cable is secured.
Thank you very much, good to do business with you.
Best regards
Peter Dix
How to buy and hold solar cable with clips?
"
Dear Sirs,
We are planning office and installation function for photovoltaics and are looking for a supplier for Solar Cable Clip Two Lines.
Would you please be so kind and send us your best price and delivery time for 20.000 pcs of the above mentioned product.
After forward offer to our sales manger and will contact as soon as possible for purchase these Solar Cable Clips 2 lines .
Many thanks in advance.
Kind regards
Sonja D'Agostino
"
"
Dear Sonja
Nice to receive cable clip 2 ways order from us .
Great news for you ,
we have a promotion prices for item two lines Solar Cable Clips this month .
Please refer to packing details:
Thank you !
Have a nice day.
PV Cable Clips Factory
"
"
Dear SPC solar,
We are pleased to our first order with your company for:
20.000 pcs Two Line Cable Clips with Promotion price.
Regarding the received cable clips we are glad to inform you that the cable clips are flexible and easy to open the clips on the upper side to insert the cable.
The material stainless steel is very good.
Thanks for your solution.
And we look forward to buy them again.
Kind regards,
Sonja D'Agostino
Teamassistenz & Büroorganisation
"
Solar cable clips 2 line factory
2 lines Solar Cable Clips SPC-PV-CC03 is designed for arrange 1-2 lines,it is an super easy and simple installation solution without any tools needed. SUS304 steel material,durable and long life service suitbale for out door application.Suits 2 x 4.0mm cable(solar/DC)
Solar cable clip factory competitive price!
Do you want to know more about the details of the two lines solar cable clips for PV module?
Two lines solar cable clips for PV module
Two lines SUS304 solar cable clips
2 line cable clips for solar panel
How to using this two line solar cable clamp ?
size details for this two line solar cable clip ,