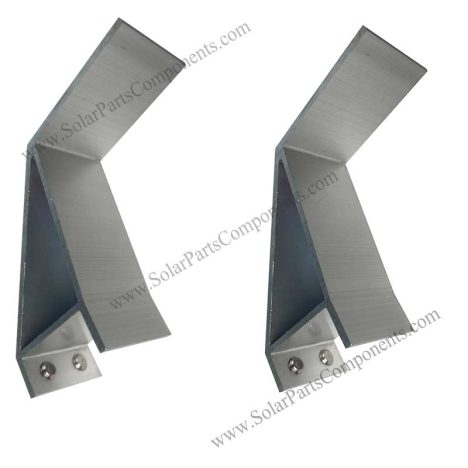 snow guard clamp for solar
Product Type:Solar Panel Mounting Component

Product Model:SPC-SG-01

Material: Aluminum alloy

Max Wind Load : 60 m/s

Max Snow Load : 1.4 KN / M 2

Solar Module Orientation: Landscape / Horizontal

Application:  Unframed / Bifacial / Frameless modules
Contact by Email
Details:
Snow guard clamp for solar is a solar bracket accessory that can be easily installed on existing solar panels. It plays the role of cutting snow blocks on pv modules, which can achieve the effect of snow blocking on the original basis, and can prevent safety hazards caused by snow on pv panels from sliding off.
Snow guard clamp for solar panel strictly use aluminum alloy materials in the production process of their products, with excellent workmanship and anodizing treatment on the surface. Each process is strictly implemented in accordance with industry standards. The surface is smooth and burr-free, with sufficient materials, reliable quality and various specifications.
Snow guard clamp for solar installation's products has been specially treated to have a stable structure that is resistant to rain, exposure and corrosion. It strictly follows the technical requirements to ensure the strength and accuracy of the product and its long service life.
Features of this snow guard clamp for solar:
High quality aluminum alloy;
The surface is smooth and burr-free;
Effectively cut snow blocks;
Large inventory.
Our products are provided by source manufacturers, with selected raw materials, precision quality, high temperature resistance and customization, easy to use, professional quality assurance and reliable after-sales service. We have a large amount of ready stock and complete specifications to support our customers in customizing products. A powerful source manufacturer that provides a one-stop purchasing experience. Customers from all walks of life are welcome to inquire and place orders.
Brief Descriptions:
Solar mounting component-snow guard clamp for solar
Item type:
Solar Panel Mounting Component
Type:
SPC-SG-01
Installation Site:
Metal Roof solar panel mounting
Profile Material:
Aluminum alloy
PV Modules:
Framed, Frameless
Color:
polishing
Module Orientation:
Horizontal / Vertical
Standards:
AS/NZS 1170
DIN 1055
GB50009-2012
IBC2009
TUV
JIS C 8955:2011
International   Building Code IBC 2009
California   Building Code CBC 2010
Warranty
10 years
Designed Lifespan
25 years
Packing Details:
Inner:
Bubble bag + inner box + Carton
Outer:
Wooden Box, Steel Pallet, MDF, etc
Details:

Snow guard clamp for solar is a solar bracket accessory that can be easily installed on existing solar panels. It plays the role of cutting snow blocks on pv modules, which can achieve the effect of snow blocking on the original basis, and can prevent safety hazards caused by snow on pv panels from sliding off.

Snow guard clamp for solar panel strictly use aluminum alloy materials in the production process of their products, with excellent workmanship and anodizing treatment on the surface. Each process is strictly implemented in accordance with industry standards. The surface is smooth and burr-free, with sufficient materials, reliable quality and various specifications.

Snow guard clamp for solar installation's products has been specially treated to have a stable structure that is resistant to rain, exposure and corrosion. It strictly follows the technical requirements to ensure the strength and accuracy of the product and its long service life.

Features of this snow guard clamp for solar:

High quality aluminum alloy;
The surface is smooth and burr-free;
Effectively cut snow blocks;
Large inventory.

Our products are provided by source manufacturers, with selected raw materials, precision quality, high temperature resistance and customization, easy to use, professional quality assurance and reliable after-sales service. We have a large amount of ready stock and complete specifications to support our customers in customizing products. A powerful source manufacturer that provides a one-stop purchasing experience. Customers from all walks of life are welcome to inquire and place orders.

Brief Descriptions:
Solar mounting component-snow guard clamp for solar
Item type:
Solar Panel Mounting Component
Type:
SPC-SG-01
Installation Site:
Metal Roof solar panel mounting
Profile Material:
Aluminum alloy
PV Modules:
Framed, Frameless
Color:
polishing
Module Orientation:
Horizontal / Vertical
Standards:
AS/NZS 1170
DIN 1055
GB50009-2012
IBC2009
TUV
JIS C 8955:2011
International   Building Code IBC 2009
California   Building Code CBC 2010
Warranty
10 years
Designed Lifespan
25 years
Packing Details:
Inner:
Bubble bag + inner box + Carton
Outer:
Wooden Box, Steel Pallet, MDF, etc