Residential BIPV Sun shed roof system ZAM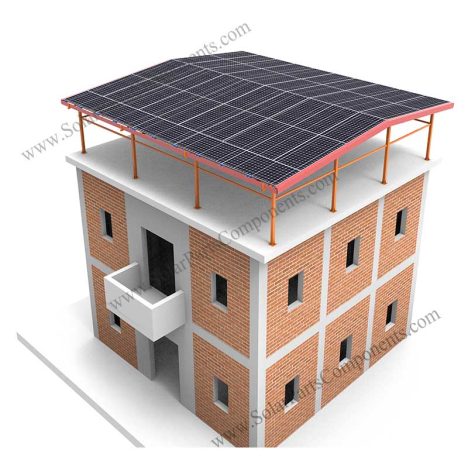 Residential BIPV Sun shed roof solar system
Product Type: Building Integrated PV system

Product Model:SPC-BIPVR

Material: zinc-aluminum-magnesium ZAM275 & Al6005-T5

Max Wind Load : 60 m/s

Max Snow Load : 1.4 KN / M 2

Solar Module Orientation: Landscape / Horizontal

Application: Concrete roof / Flat roof
Contact by Email
Product Description:
The Residential BIPV Sun shed roof system belongs to the BIPV type, which is specially designed for various civil cement roofs. Building a solar conservatory on the roof that can generate electricity can not only make full use of the roof space to generate electricity, but also effectively protect the floor from cracking and leaking due to wind and sun.
The photovoltaic sun shed does not need to destroy the old roof, but builds a brand new roof on the entire floor, which is beautiful and generous.
The photovoltaic sun shed provided by our company is made of high-quality zinc-aluminum-magnesium and aluminum alloy, which is anti-corrosion and anti-rust, and has a service life of more than 25 years.
Advantages of our Residential BIPV Sun shed roof system:
It is equivalent to building a "green greenhouse" on the roof to make full use of the roof space;
Stable structure; strong corrosion resistance
Easy installation; short construction period
Cost-effective, 10-year warranty;
Highly waterproof
Welcome to contact us anytime, our company website: www.solarpartscomponents.com
Datasheet
Description:
Residential BIPV Sun shed roof system
NO.:
SPC-BIPVR
Product Type:
Building Integrated PV system
Installation location:
Concrete roof / Flat roof
Installation angle:
0-30 degrees
Material :
ZAM275 & Al6005-T5
Module:
Frame solar Module
Warranty:
10 Years
Lifetime:
20 Years
Orientation:
Landscape,Portrait
Wind speed:
60 M/s
Snow load:
3.6 KN / M2
Building height;
20M
Standard:
AS/NZS1170 & DIN 1055
Information about the Residential BIPV Sun shed roof system.
Residential sun shed system
Steel-aluminum combined bracket form, welded bracket with hot-dip galvanized steel pipe, a
form of photovoltaic power generation that installs conventional photovoltaic modules on concrete
roofs.
Advantages
Suitable for concrete flat roofs;
It is suitable for installing modules of any specification and frameless modules, and can be quickly
replaced with settings;
Carry out strength testing in strict accordance with design standards to produce products with stable performance;
The installation operation is simple, the efficiency is high, and the construction period is short. There are only 4 to 5 parts in a system, and the installation can be realized with a few tools;
Made of anodized aluminum and stainless steel, it has a long service life.
BIPV Roof Sun Shed Mounting System Supplementary Information
BIPV RCC Roof Sun Shed Mounting System
The Roof BIPV System provides the perfect solution for building with PV generation, adopting innovative product design to ensure the whole structure 100% waterproof and easy to maintain. The BIPV roof solar racking solution enables the solar power generation system to better ft the roof surface.
Compared with ordinary standing seam roof solar mount, it has full waterproof performance and greatly improved the service life.
The picture below is a detailed picture of our exhibition sample model
Advantages:
(1)ZM275 Supe Dyma steel, high-corrosion-resistance;
(2)Can be fully customized;
(3)Waterproof
(4)Elegant appearance;
(5)High Strength;
(6)Easy and fast installation
Project
BIPV solar waterproof sun room system
The BIPV Roof Mounting System is fully waterproof through the horizontal and vertical waterproof components. BIPV solar roof structure ZM275 is perfectly designed for energy solar PV mounting system. Latest patented design for maximum water resistance.Suitable for a variety of occasions. Replace the traditional factory roof.
Features
Waterproof the roof;
High corrosion resistance;
Stronger racking and support.
This video is the roof BIPV solar waterproof sun room system I specially made for the Shanghai Photovoltaic Exhibition. Glass is used to replace solar panels so that visitors can more clearly see the inner workings of our entire BIPV system
Product Description:

The Residential BIPV Sun shed roof system belongs to the BIPV type, which is specially designed for various civil cement roofs. Building a solar conservatory on the roof that can generate electricity can not only make full use of the roof space to generate electricity, but also effectively protect the floor from cracking and leaking due to wind and sun.

The photovoltaic sun shed does not need to destroy the old roof, but builds a brand new roof on the entire floor, which is beautiful and generous.

The photovoltaic sun shed provided by our company is made of high-quality zinc-aluminum-magnesium and aluminum alloy, which is anti-corrosion and anti-rust, and has a service life of more than 25 years.

Advantages of our Residential BIPV Sun shed roof system:

It is equivalent to building a "green greenhouse" on the roof to make full use of the roof space;
Stable structure; strong corrosion resistance
Easy installation; short construction period
Cost-effective, 10-year warranty;
Highly waterproof

Welcome to contact us anytime, our company website: www.solarpartscomponents.com

Datasheet
Description:
Residential BIPV Sun shed roof system
NO.:
SPC-BIPVR
Product Type:
Building Integrated PV system
Installation location:
Concrete roof / Flat roof
Installation angle:
0-30 degrees
Material :
ZAM275 & Al6005-T5
Module:
Frame solar Module
Warranty:
10 Years
Lifetime:
20 Years
Orientation:
Landscape,Portrait
Wind speed:
60 M/s
Snow load:
3.6 KN / M2
Building height;
20M
Standard:
AS/NZS1170 & DIN 1055

Information about the Residential BIPV Sun shed roof system.

Residential sun shed system

Steel-aluminum combined bracket form, welded bracket with hot-dip galvanized steel pipe, a

form of photovoltaic power generation that installs conventional photovoltaic modules on concrete

roofs.

Advantages

Suitable for concrete flat roofs;

It is suitable for installing modules of any specification and frameless modules, and can be quickly

replaced with settings;

Carry out strength testing in strict accordance with design standards to produce products with stable performance;

The installation operation is simple, the efficiency is high, and the construction period is short. There are only 4 to 5 parts in a system, and the installation can be realized with a few tools;

Made of anodized aluminum and stainless steel, it has a long service life.

BIPV Roof Sun Shed Mounting System Supplementary Information

BIPV RCC Roof Sun Shed Mounting System

The Roof BIPV System provides the perfect solution for building with PV generation, adopting innovative product design to ensure the whole structure 100% waterproof and easy to maintain. The BIPV roof solar racking solution enables the solar power generation system to better ft the roof surface.

Compared with ordinary standing seam roof solar mount, it has full waterproof performance and greatly improved the service life.

The picture below is a detailed picture of our exhibition sample model

Advantages:

(1)ZM275 Supe Dyma steel, high-corrosion-resistance;

(2)Can be fully customized;

(3)Waterproof

(4)Elegant appearance;

(5)High Strength;

(6)Easy and fast installation

Project

BIPV solar waterproof sun room system

The BIPV Roof Mounting System is fully waterproof through the horizontal and vertical waterproof components. BIPV solar roof structure ZM275 is perfectly designed for energy solar PV mounting system. Latest patented design for maximum water resistance.Suitable for a variety of occasions. Replace the traditional factory roof.

Features

Waterproof the roof;
High corrosion resistance;
Stronger racking and support.

This video is the roof BIPV solar waterproof sun room system I specially made for the Shanghai Photovoltaic Exhibition. Glass is used to replace solar panels so that visitors can more clearly see the inner workings of our entire BIPV system