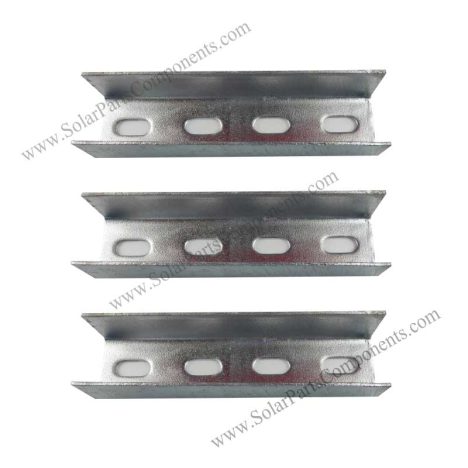 HDG Rail Connector
Product Type:Solar Mounting Components

Product Model:HDG rail splice

Material: HDG stell

Max Wind Load : 60 m/s

Max Snow Load : 1.4 KN / M 2

Solar Module Orientation: Landscape / Horizontal

Application: solar rails mounting
Contact by Email
Product Description:
Galvanized steel rail connector is designed for HDG steel rail solar mounting.It is used for long rails span, connect two steel c rails. Making them seamlessly stronger when joined together,complete with bolts and nuts.
Four pre-drilled holes design,very easy to joint two rails,often be thought to be one single rail. It provides fast and easy installation for solar mounting..
This HDG rail connector is made of Q235 steel with hot dig galvanized surface,high corrosion resistance. It is suitable for joint hot dip galvanized rail(U/C channel).The hot dip galvanized steel rail connector makes the solar PV mounting system features no re-welding and drilling, adjustable and reusable.Strictly quality control ensure the performance and life of the product.
Feature of galvanized steel rail connector:
Fast& simple installation;
Anti-corrosion and rust-resistance;
Stand up to extreme weather;
 HDG steel,strong and durable;
 Reduce costs and reduce installation time;
As a solar mounting components manufacturer with more than 10 year experience, except the galvanized steel rail splice, we also produce aluminum rail splice and stainless steel rail connector. Please tell us which type of the rail connector you need before you purchase.If you have any needs, please feel free to contact us: www.SolarPartsComponents.com
Brief Descriptions:
Solar Mounting Components- Solar Mounting Rail Connector
Item type:
Galvanized steel rail connector
Type:
HDG rail splice
Installation Site:
HDG rail mounting
Profile Material:
Q235 steel
Fasten Parts:
SUS304 Screws
Wind Load:
60 m / s
Snow Load:
1.4 KN / M2
PV Modules:
Framed, Frameless
Module Orientation:
Portrait and Landscape
Standards:
AS/NZS 1170
DIN 1055
GB50009-2012
IBC2009
TUV
JIS C 8955: 2011
International   Building Code IBC 2009
California   Building Code CBC 2010
Warranty
10 years
Designed Lifespan
25 years
Packing Details:
Inner:
Bubble bag+inner box+Carton
Outer:
Wooden Box, Steel Pallet, MDF, etc
Galvanized steel rail connector
Product Description:

Galvanized steel rail connector is designed for HDG steel rail solar mounting.It is used for long rails span, connect two steel c rails. Making them seamlessly stronger when joined together,complete with bolts and nuts.

Four pre-drilled holes design,very easy to joint two rails,often be thought to be one single rail. It provides fast and easy installation for solar mounting..

This HDG rail connector is made of Q235 steel with hot dig galvanized surface,high corrosion resistance. It is suitable for joint hot dip galvanized rail(U/C channel).The hot dip galvanized steel rail connector makes the solar PV mounting system features no re-welding and drilling, adjustable and reusable.Strictly quality control ensure the performance and life of the product.

Feature of galvanized steel rail connector:

Fast& simple installation;
Anti-corrosion and rust-resistance;
Stand up to extreme weather;
 HDG steel,strong and durable;
 Reduce costs and reduce installation time;

As a solar mounting components manufacturer with more than 10 year experience, except the galvanized steel rail splice, we also produce aluminum rail splice and stainless steel rail connector. Please tell us which type of the rail connector you need before you purchase.If you have any needs, please feel free to contact us: www.SolarPartsComponents.com

Brief Descriptions:
Solar Mounting Components- Solar Mounting Rail Connector
Item type:
Galvanized steel rail connector
Type:
HDG rail splice
Installation Site:
HDG rail mounting
Profile Material:
Q235 steel
Fasten Parts:
SUS304 Screws
Wind Load:
60 m / s
Snow Load:
1.4 KN / M2
PV Modules:
Framed, Frameless
Module Orientation:
Portrait and Landscape
Standards:
AS/NZS 1170
DIN 1055
GB50009-2012
IBC2009
TUV
JIS C 8955: 2011
International   Building Code IBC 2009
California   Building Code CBC 2010
Warranty
10 years
Designed Lifespan
25 years
Packing Details:
Inner:
Bubble bag+inner box+Carton
Outer:
Wooden Box, Steel Pallet, MDF, etc

Galvanized steel rail connector