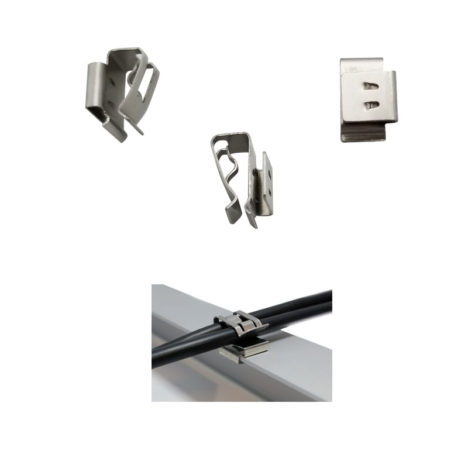 Solar Mounting Components – 90° Solar Cable Clips, 2 lines
Product Type: PV Module Wire Clip

Product Model: SPC-PV-CC05

Material: Stainless Steel

Max Wind Load : 60 m/s

Max Snow Load : 1.4 KN / M 2

Application: Solar Panel Installation
Contact by Email
Product Description
Solar Cable Clips 90 Degree are one of components for PV module wire management systems
Our stainless steel 90 Degree Solar Cable Clip can be used for Max 7.0 mm² solar cable diameter .
PV panel cable clips 90 degree can prevent damaging wire insulation which can cause ground faults
and fire .
This solar panel cable clips is installed one side to aluminum rail and 90 degree holder side for
cables, all wires can run in a manner avoiding sharp edge, rough surface and sun shine directly .
90° solar wire clips,pv wire clips can offer sufficient support for two cable lines go through , 1 meter
Max for one clip is recommended .
Can be exposed in extreme outdoor environments like salty air / desert …
Our 90 degrees edge clips are good replacement for plastic fasteners .
Advantages for our PV module cable clips :
(1) High Quality with A2 SUS 304 made ;
(2) Minimize maintenance / neat / safe for your whole solar wire system ;
(3) Stainless-steel wire clips for 20 years up life span ;
(4) No need to drill holes on alum edge ;
Installation Guide for 90° solar wire clips,pv wire clips:
Easy insertion by hand in to edges of aluminum rails ( 1 – 3 mm thickness );
Sophisticated double-compression design for two wires run side by side ;
Take high care of your PV power station wire arrangements with our two lines 90 degree solar panel
cable clips .
It's easy for overlooked but important factor to keep your whole solar system work well, safe and
long-lasting .
Various types of solar cable clips are available for us , we provide one-stop solar installation solution.  Factory direct sales, quality service!  For more information, please visit our website: www.solarpartscomponents.com
Brief Descriptions :
90° Solar Cable Clip 2 Lines for solar panels / PV modules wire arrangement
Item type:
Solar Panle Cable Components
Technical Parameters :
Installation Site :
solar panel mounts
Profile Material :
SUS 304 ( A2 )Stainless Steel
Color :
polishing
Wind Load :
60 m / s
Snow Load :
1.4 KN/M2
PV Modules :
Framed / Frameless
Module Orientation :
Portait and Landscape
Standards :
AS/NZS 1170
DIN 1055
GB50009-2012
IBC2009
TUV
JIS C 8955 : 2011
International   Building Code IBC 2009
California   Building Code CBC 2010
Warranty
10 years
Designed Life Span
25 years
Packing Details :
Inner :
Bubble bag+inner box+Carton
Outer :
Wooden Box, Steel Pallet, MDF, etc
Solar Cable Clip Inspection for Solar Cable Clips 90 Degree, 2 lines SPC-PV-CC05
Solar Cable Clip Inspection
Drawing & size for Solar Cable Clips 90 Degree, 2 lines SPC-PV-CC05
How do you secure solar cables?
The solar pv cable clamp can be fixed and integrated through the clamp.
The cable clip is one of the indispensable and important components in the solar installation system, which can manage the wires at the solar panel reasonably and beautifully.
It also protects the wires and ensures the safety of the components.
Solar Cable Clips 90 Degree
Solar Cable Clips 90 Degree is made of high-quality stainless steel 304 material, which has strong corrosion resistance.
2wires clips of 90 degree are processed according to strict industry standards. They are small and exquisite in appearance and take up little space. They are specially designed for effective management of cables during solar panel installation. The cable clip products are applied to photovoltaic modules with frames. They have a wide range of applications and low limitations. They can effectively manage the cables when installing most solar panels on the market.
2wires clips of 90 degree, which belongs to the middle line clamp of solar installation accessories products. The product is made of high-quality stainless steel 304 material and is processed by layers of technology.
2wires clips of 90 degree factory is suitable for modules with a solar panel thickness within the range of 1.3mm-2.5mm. The specification of the clamp is 2x4mm², and the single weight is only 2.6g. The installation direction of solar modules is relatively loose, vertical or Can be arranged horizontally. The color of the product is the original color, and it can also be customized according to customer requirements.
The installation method of 2wires clips of 90 degree supplier is simple and convenient, no additional auxiliary tools are needed, just clamp the cable at the clamp, the back of the clamp has a shrapnel design, which is convenient for the installation and removal of the clamp, and the barbed design is Can fix the clip, not easy to shift.
Solar Cable Clips 90 Degree, 2 lines , quantity 100
"
Dear Sir,
Thank you for your support , I would like to ask for Solar Cable Clips 90 Degree, 2 lines , quantity 100 ,
could you please send me the price and to the address below:
Al Manara Tower 1- Flat 602 , Sharjah – UAE
Please send me the invoice and the link for payment.
Best Regards,
Yousif
"
"
Dear Yousif
Nice to know that you are sourcing 90° solar wire clips as below :
More details, kindly check >>>
The invoice and payment rount has replied through rmail.
Thank you !
Have a nice day.
Best regards,
Solar Parts & Components Factory
"
"
Dear Friend,
I just received package , thank you so much !
Best Regards,
Yousif
"
What's 90° solar panel mounting clips ?
PV module edge clip for 90° wire management perpendicularly and vertically, factory direct !
Why to choose SPC solar wire clips?
This post explains SPC solar panel wire management clip in details, including features and functions. Showing how it works for solar power system.
Two lines solar cable clips for solar panel mounting
Use this high-quality cable clips to keep the cables neatly connected to the solar module frame and manage the cables.
Solar Cable Clips 90 Degree
Stainless steel solar cable clips for 2 x 4.0-6.0mm cables,90 Degree mounts.
Durable material,long life service,reuseable design.
Simple and easy to be installed to the frame of solar modules.
Solar cable clip factory direct, quality assurance, professional service
Solar PV wire management clips
This post introduces SPC 90 degree solar panel wire management clips in details, covering features and specification.
What is the difference between the 2 lines SPC-PV-CC05 and other?
This solar cable clips can manage two wires at the same time,
protect the support system before and after the installation of
the wire is not easy to be damaged by wear,
prolong the service life of the wire and the whole system.